How Is America Going To End?
Who's most likely to secede?

In 1995, a referendum on Quebec independence failed by less than 1 percent of the vote. What might have happened if Quebec had broken away, and Canada were severed into Western and Eastern chunks? As in Italy, where tax receipts from the wealthy North prop up the more-destitute South, Canada's richer west side (Alberta and British Columbia) helps support the poorer Maritime provinces back east. Without Quebec keeping the country contiguous, Canada's Westerners might want to go it alone rather than export their riches..
.
What would happen to the U.S. upon Canada's disintegration? North America's borders have remained pretty much static for the last century. (The same can't be said for, say, Europe and Africa.) But this stability shouldn't imply that our dividing lines make sense. In 1981's Nine Nations of North America, Joel Garreau argued that the continent's borders don't reflect how we live. Garreau's nine nations map—which highlighted regions where people share common values, culture, and natural resources—wasn't intended to be predictive of a future breakup. Still, something like Canadian breaking could bring on a continental reordering. British Columbia might join Washington and Oregon to form a Pacific Northwest partnership—Ecotopia? The Republic of Cascadia?—and the Maritime provinces could flit away from Canada to become a part of Novacadia.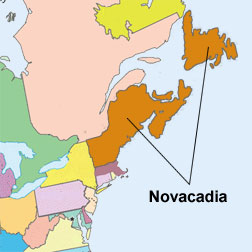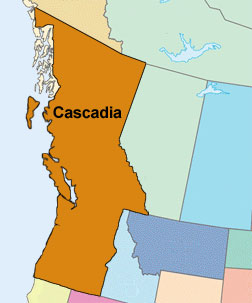 In the absence of logical borders, how have we stayed intact? Mostly because the Quebecois remain the continent's only serious nationalist movement—a sizable embedded minority with its own identity and its own language. One path to continental disintegration is the radicalization of America's Quebecois: Spanish-speaking immigrants. No matter what immigration laws go on the books, the U.S. will still need cheap labor, and Mexicans and Central Americans will continue to head north to pursue this country's higher wages. By 2050, by which time whites will be a minority in America, Hispanics are expected to make up 29 percent of the population.

Can we all just get along? In a lecture at the 2006 Pop!Tech conference, Juan Enriquez—the author of The Untied States of America: Polarization, Fracturing, and Our Future—said it depends on how we treat Spanish speakers. If Lou Dobbs and the English-only crowd become the architects of America's foreign policy, Enriquez argues, America is in peril. "How you treat people today is going to be remembered for a long time," Enriquez says, noting that the license plates in Quebec read Je me souviens—I remember.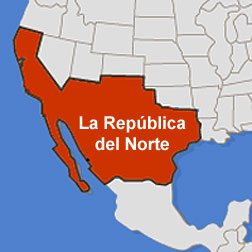 Charles Truxillo, a professor at the University of New Mexico, says it's too late to save the United States we know today. Truxillo believes this century will see the birth of La República del Norte, a sovereign "Mexicano nation" in what's now the American Southwest. "The U.S. ripped these areas off from Mexico in 1848," he says, and the debt has come due. Rather than fight what's inevitable, Truxillo says North America should toss out the melting pot and learn to love "autonomous sovereign zones"—a French-speaking nation for the Quebecois, a Spanish-speaking nation for the Latinos, and an English-speaking nation for the Anglophones. It's no accident that, when you ponder both secession and climate change, the most convincing end-of-America scenarios involve Canada and Mexico. For the last 160 years, America has been the hemisphere's alpha dog. But the United States is not a closed system—we're tightly integrated with our neighbors, and the forces that might crush the U.S. will also affect them. One conspiracy theory, pushed by loony swift-boat-truther Jerome Corsi, has it that the U.S., Canada, and Mexico will soon share a common passport, currency, and military. While the propaganda about the looming North American Union is completely bogus, it's certainly true that we are not alone. Take away the artificial borders and we're all just North Americans, clinging to each other for life. If America ends, so will Canada and Mexico. And if Canada or Mexico goes down the tubes, we won't be long for this continent either. Correction, Aug. 14, 2009: A map of Canada embedded on this article page originally omitted New Brunswick and Prince Edward Island. The map has been replaced.