Dispatches From the Republican National Convention
Paul Ryan gave a great attack speech. But it felt like a throwback to an earlier time.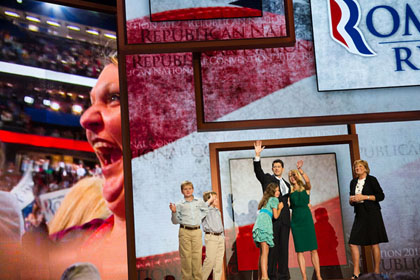 Everyone in the hall loved the iPod line last night from Paul Ryan. He listens to Led Zeppelin, and Mitt Romney doesn't. Modern. Current. Today. Led Zeppelin broke up 32 years ago. By that standard, Chris Christie is more contemporary with his love of Bruce Springsteen.
You might not have thought they made tweezers so small that I was able to accomplish that act of nit-picking, but that wasn't the only way in which the Ryan speech seemed of a previous generation.
Ryan made his case for cutting taxes and shrinking government. This is a standard Republican argument. There's nothing new about it, and in the speech there was nothing new or exciting about the way it was going to be applied. If tackling the problems of the future means you are part of a new generation, then every convention has offered a new generation.
This is a problem with the speech, and it's a problem for the Republican Party. There was no nod in this next-generation speech to the demographic changes taking place in the country. That's what the next generation is about. As Ronald Brownstein has been writing for months, and GOP strategist Mike Murphy has been counseling, the Republican Party is putting all its eggs in the white-voter basket while the country is changing. Romney needs to win a larger share of white voters than John McCain because of demographic changes in the past four years that benefit Barack Obama.
Ryan can't fix the demographic changes in a speech. And his life story can't be applied to fix that either. It's just that since the speech was supposed to make us feel like we're in a post-George Bush era that it should feel in some way like we've moved on. But maybe the fresh-faced Ryan speaks youth and that's all you need.
You know who gave a speech and ran a campaign that really tried to speak to Generation Y? Jack Kemp in 1996. Ryan is a Kemp acolyte, but there was nothing in his speech matching Kemp's words at Bob Dole's convention:
"We're taking our cause from the boroughs of New York to the barrios of Los Angeles. We will carry the word to every man, woman, and child of every color and background ... We are asking for the support of every single American. Our appeal of boundless opportunity crosses every barrier of geography, race, and belief. We may not get every vote, but we will speak to every heart. In word and action, we will represent our entire American family."
Kemp then went out and tried to campaign this way. I traveled with him to Harlem and Watts. It is now considered a joke in GOP circles that he spent all that time in places where there are no Republicans. In 2000, George Bush tried to turn the party in the same direction. That all seems a long time ago.
One final thought about Ryan's speech. He's already creating jobs; we're going to have to hire more fact-checkers. What I don't get about the distortions and fibs in his speech is that they weren't necessary at all. He gave a great attack speech. It was packed with memorable lines and images—yesterday's wind and the image of the Obama voter staring up at the poster. This is why I love conventions. Great stuff! Unlike Ann Romney's speech, it offered everyone a parting gift that they could take home or pass around at the office. He also successfully mocked President Obama's nutty claim about needing to be a better storyteller (which he repeated in a recent Time interview). So why bother with all the stuff that you so quickly categorized, Dave?