Slate's Most-Read Stories
The 10 most popular articles of 2011.
Every year, Slate publishes a list of its most-read stories, and it's always intriguing to see which topics piqued reader interest. In 2011, you were avidly following the red-hot Republican primary race, reading stories about Rick Perry's ranch, and Michele Bachmann's "crazy eyes." You were also fascinated by the secret history of the Muppets' catchy "Mahna Mahna" song—which has its origins in an Italian soft-core film—and enthusiastic about Farhad Manjoo's fervent takedown of the practice of putting two spaces between sentences. But the top story of the year was "Ghost Ship," Paul Collins' tale of the mysterious Mary Celeste, whose crew disappeared without a trace in 1872. Below you'll find links to Collins' story and the rest of our most-read pieces.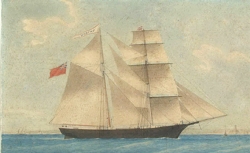 1. "Ghost Ship: In 1872, the crew of the Mary Celeste disappeared without a trace. Her story only got weirder from there," by Paul Collins. Posted Dec. 6.
6. " 'Mahna Mahna': How a ditty from a soft-core Italian movie became the Muppets' catchiest tune," by Sam Adams. Posted Nov. 23.
9. "Sex Is Cheap: Why young men have the upper hand in bed, even when they're failing in life," by Mark Regnerus. Posted Feb. 25.