Searching for Saddam
Closing in on the "Fat Man."
See a Magnum Photos gallery on the capture of Saddam Hussein. 
As the infernal Iraqi summer came to a close, Rudman Ibrahim Omar al-Musslit and his brother Mohammad still proved remarkably difficult to locate. For Eric Maddox, the interrogator with the special operations forces in Tikrit, the first breakthrough of the fall came with the capture of Ahmed Yasin Omar al-Musslit. One of the youngest in a long line of Musslit cousins, Ahmed wasn't personally suspected of major insurgent activity. But two of his brothers, Nasir and Faris, were. It took Maddox six hours to get Ahmed talking about his relatives. He swore he hadn't seen Rudman in months, but he had seen Mohammad. And contrary to what most of the American analysts had believed, Ahmed claimed it was Mohammad, not Rudman, who was taking orders directly from Saddam.
Maddox was under pressure to make all of this network business amount to something. A new special forces team had arrived in October, giving him a new set of bosses for the remaining two months of his assignment. By this time, he'd become so intimately familiar with the players in the insurgency that the insurgents themselves had a nickname for him: "the man in the blue shirt." (Maddox had not brought an elaborate wardrobe to Tikrit, so he invariably wore the same blue Oxford day in and day out.) The commander of the replacement team, whom everyone called "Bam Bam," was a smart but cynical commander. This meant Maddox had to spend time winning over someone new—a leader who didn't quite understand the point of targeting people with no known role in the insurgency, just because they happened to be somebody's cousin.
Finally, on Nov. 8, Maddox had something to show for his work. On the same day, a 4th ID battalion snagged Faris Yasin, the brother of young Ahmed Yasin, and special operations nabbed Rudman Ibrahim himself. Rudman was flown to Baghdad against the wishes of the special ops team, who wanted to interrogate him right away. Still, it was the biggest score of the fall. And then, less than 24 hours after being captured, Rudman dropped dead of a coronary. "We were furious that he died on us," says Lt. Col. Steve Russell, the commander of the 1-22 Infantry. "I mean, think about it: He would have known Saddam's location."
It was a setback with a silver lining. After Rudman's death, the insurgency continued to operate with no apparent drop-off in efficiency. This suggested that Ahmed had been correct: Rudman Ibrahim Omar al-Musslit was not the mastermind—his brother Mohammad had been calling the shots all along. "We thought, until Rudman was captured, that Mohammad was maybe this security chief, or something like that, when in reality he was the chief operator," Russell says. "He was the main guy pulling everything together."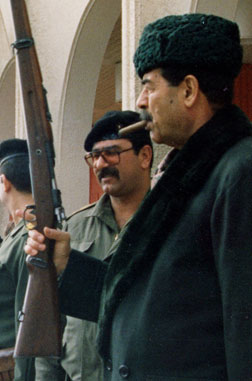 Overnight, everyone's focus shifted to Mohammad. Since his identity at the time was such a guarded secret, he became known to those hunting him as "Fat Man." The hunt was on, and more than ever the hunters were convinced that, if they found the Fat Man, Saddam Hussein would not be far behind.

I first met Eric Maddox on a rainy November day at a chili joint in Alexandria, Va. It was the day before he was to depart for another stint abroad as an interrogator, one of many since 2003.. He's a bulldoggish man, about 5-foot-9 with a strong handshake and a serious face that at first conceals his sense of humor. He does become quite animated, though, when you get him talking about social networking.
The reason social network diagrams are essential to counterinsurgency, Maddox says, is that they help you predict what will happen when someone like Rudman Ibrahim Omar al-Musslit gets killed or captured. By studying the relationships between potential targets, it's possible to make an educated guess about how the network will shift—most importantly, who will move up in the ranks—when someone is eliminated. "If you know all the relationships," Maddox said—marriages, family ties, who drinks together—"then the network does not behave irrationally."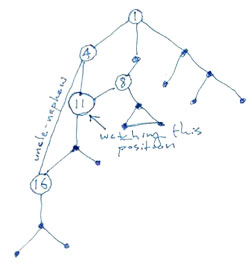 To illustrate how this all works, Maddox borrowed my legal pad and sketched out a dummy insurgency. His chart had about two dozen people, starting with a high-value target at the top. (Maddox emphatically reinforced his points by tracing lines with his pen, so the network ended up looking like an ink explosion. This is my re-creation of his drawing.)
The crux of Maddox's scenario is that one of the men near the top (No. 4) has a nephew (No. 16) with a low-level role in the insurgency. Catching and questioning the nephew could lead you to the top man, whose whereabouts are currently unknown. The trick, Maddox says, is to find someone in the network whose job, if he were eliminated, would fall to the nephew. Even if the nephew is not terribly important or experienced, the key is to understand that—particularly in Iraq—a familial bond is more important than any other relationship. If there's a sudden vacancy in an important job, there's a very good chance the man at the top will appoint his nephew to the role. Once the nephew comes out in the open, you can interrogate him and get to the uncle.