The Lincoln Bedroom Is Still Paying Dividends
Donors who spent the night in the famous bedroom are now writing checks for Hillary Clinton.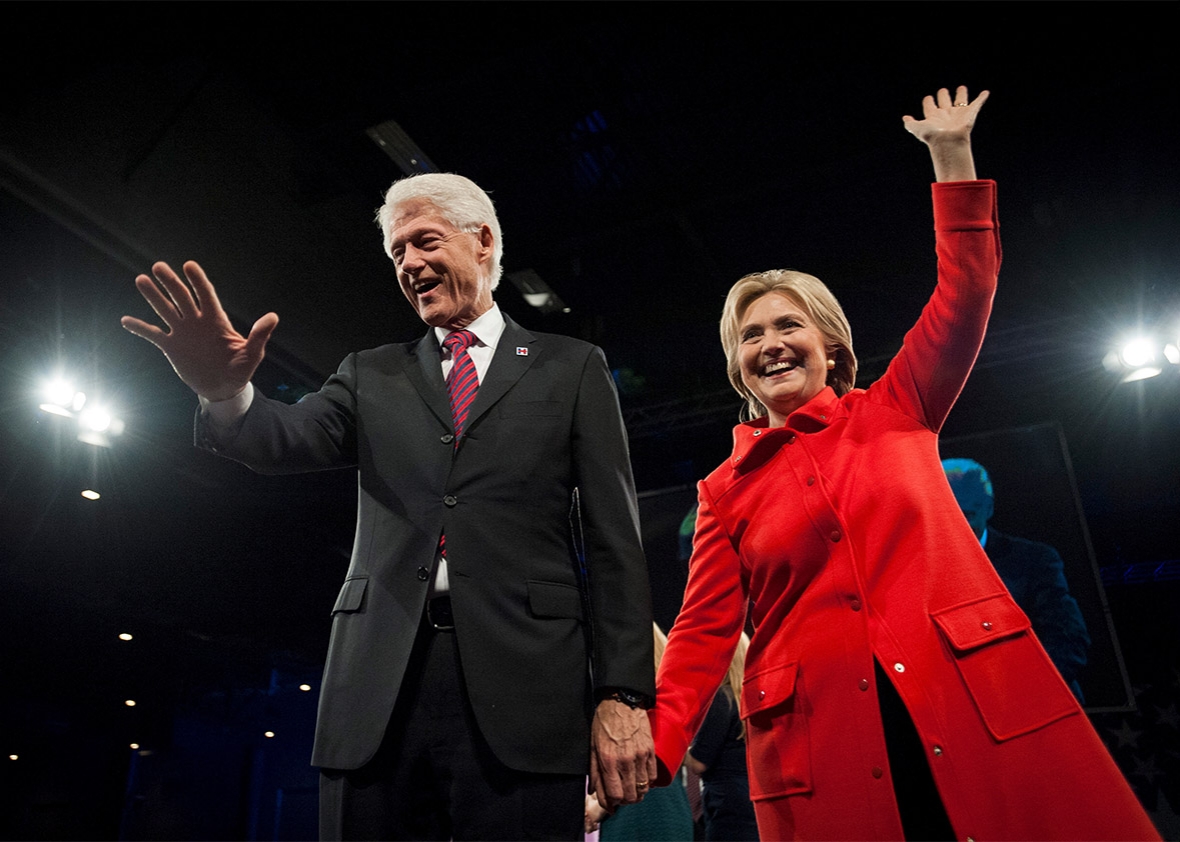 For a first family, inviting guests to spend a night in the Lincoln Bedroom can pay dividends for decades. More than half of the donors who were overnight guests to Bill Clinton's White House are still giving—this time to Hillary Clinton.
The Center for Public Integrity published the first list of donors who nabbed a night in the Clinton White House—and whose stays sparked outrage and investigations—in its 1996 report, "Fat Cat Hotel." Of the 66 original "Fat Cats" still living, 34 have donated a total of $1.15 million to Hillary Clinton's campaign or the super PACs supporting her since January 2013. With more than a year before the general election, the number of supporters and their donations will likely rise.
Most of the generous former guests contributed $2,700 to Hillary Clinton's campaign account—the maximum amount allowed under federal law during the primaries. The Clinton campaign did not respond to a request for comment.
At least one of the faithful 2016 givers, who celebrated his 10th wedding anniversary in 1993 with a stay at the White House, is looking forward to a return stay in the chief executive's mansion, courtesy of the Clintons. "Last time I stayed in the Queen's bedroom, so I need to be upgraded to the Lincoln bedroom," said former Florida state Rep. Dick Batchelor, who orchestrated the first Florida fundraiser for Bill Clinton in 1991. "I have no idea whether that would take place or not, but anybody who says they don't want to visit the White House and spend the night is probably not telling the truth. If I had an opportunity to go back, I would absolutely go back," he added. "I need to return the towels."
The original 80 Fat Cats, including those who are now deceased, are only a portion of those who ultimately crashed at the Clinton White House. The Clinton administration released records in 1997 showing that 938 guests had stayed at the mansion during the president's first term, dwarfing the 284 who stayed during the previous administration. And a Democratic National Committee memo showed that President Bill Clinton personally endorsed the idea of using sleepovers at the White House as a fundraising tactic—"Ready to start overnights right away," he wrote.
At least another 404 guests stayed the night at the Clinton White House and Camp David after Hillary Clinton began campaigning for U.S. Senate in July 1999.
The invitations for sleepovers in the Lincoln Bedroom two decades ago drew fire during Clinton's presidency, as the press dug up details and Congress probed the chief executive's fundraising efforts. Many of the original Fat Cats were Clinton friends from Arkansas. But only eight of them have given to Hillary Clinton's campaign. Another 18 Arkansas friends have not, while 10 are no longer living.
But that doesn't mean Arkansan attitudes toward Hillary Clinton have cooled, said Skip Rutherford, a longtime Clinton strategist and former White House overnight guest. "The people that I know that were friends of Bill's are friends of Hillary's," said Rutherford, who said he hasn't contributed to politicians since becoming dean of the University of Arkansas Clinton School of Public Service. His wife, Billie, gave $2,700 to the 2016 Clinton campaign. "Politics is very personal in this state. And the Clintons touched a lot of people over the years. And so there's a lot of loyal, good friends of the Clintons here."
There are some turncoats: At least four of the former Clinton guests, on top of turning lukewarm on Hillary Clinton, have contributed to her Republican rivals for the nation's highest office.
Texas oil magnate Truman Arnold, who served as finance chair for the Democratic Party in 1995 and has contributed to Democrats as recently as last year, gave $25,000 to Right to Rise USA, a super PAC backing former Florida Gov. Jeb Bush. Arnold, who was in charge of Democratic fundraising in his role as finance chair, was caught up in the Lincoln Bedroom scandal as more than just a guest. He once told journalists that he used a Clinton White House database to make sure donors were rewarded with perks, including Lincoln Bedroom stays. Arnold did not respond to requests for comment.
Little Rock bank executive Curt Bradbury and his wife Charlotte both gave to the campaign of Republican Sen. Lindsey Graham of South Carolina; in addition, Curt Bradbury gave $25,000 to a super PAC supporting New Jersey Gov. Chris Christie and $100,000 to the pro-Bush super PAC Right to Rise USA. Bradbury said staying in the White House was "a little bit like sleeping in a museum." Though he's a lifelong conservative, he supported Bill Clinton because he is a "native son" of Arkansas. "Bill's politics in Arkansas don't resemble anything I see in the Democratic Party now," he said. "He was very pragmatic in Arkansas."
Arkansas banker Warren Stephens, who has given mostly to Republicans but supported Bill Clinton's first bid for the presidency, has contributed more than $216,000 to support the presidential bids of several candidates, including Bush, Christie, Graham and Wisconsin Gov. Scott Walker, who has since dropped out of the race. "The entire Democrat party has shifted pretty hard to the left," Stephens said. "Our politics are a lot different."
Several of the Hollywood honchos who once stayed at the Clinton White House have donated to Hillary Clinton, but others have yet to commit. Director Steven Spielberg gave $1 million to a super PAC supporting the former secretary of state, as well as $2,700 to her campaign. And actor Tom Hanks, singer Barbra Streisand, producer David Geffen, and actress Mary Steenburgen also supported the former first lady's 2016 run. "I don't think there's a human being in this world more qualified because of all of her experiences," Steenburgen, an Arkansas native, told the Arkansas Times earlier this year. She has given $2,700 to the campaign fund. "I will be campaigning mightily."
But comedian Chevy Chase, actor Richard Dreyfuss, and producer Mike Medavoy have not given. Medavoy, who supported Obama during the 2008 presidential primaries, said he plans to give soon. "I will contribute at the time of my choosing," he said. "When is none of your business."
Some of the former guests who have not yet donated to the Clinton 2016 effort may be waiting for the Democratic Party to choose a nominee. Others said they plan to give soon. "Well of course I support Hillary because I'm crazy about her," said Diane Carroll, whose husband Phillip Carroll once worked with the candidate at the Rose Law Firm in Little Rock. "I just haven't really gotten around to it, to tell you the truth."