The Dark Arts
When Democrats aren't complaining about the rise of "dark money" in this year's election, they are raising it themselves.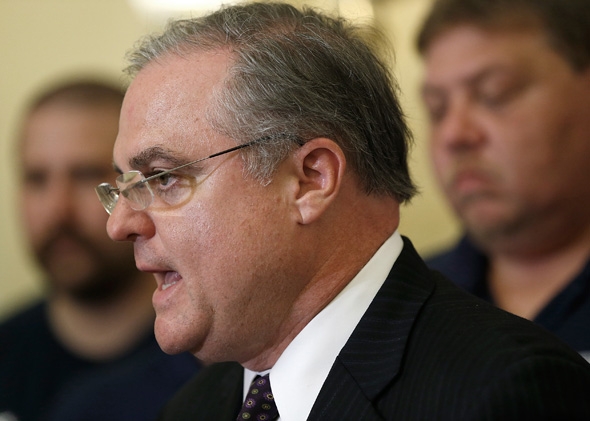 Liberals may blame conservatives for the ongoing surge of political "dark money" dominating the 2014 midterm elections, but Democrats are now taking full advantage of these secretive, free-wielding political behemoths—while bemoaning their influence.
At the forefront is the nonprofit Patriot Majority USA, which is providing Democrats with a countervailing force against the political machine of conservative billionaires Charles and David Koch. This election cycle, Patriot Majority USA has spent more than $7 million on political advertisements, according to reports filed with the Federal Election Commission. That makes it the largest Democratic-aligned dark money operation in the country.
Every dollar has fueled negative messages that call for the defeat of Republican politicians, who are seeking to pick up six Senate seats in November to win control of Congress' upper chamber and who have generally seen more support from dark money groups.
The union-backed Patriot Majority USA is led by a staunch ally of Senate Majority Leader Harry Reid, who has demonized the Koch brothers as "un-American" and railed against "hidden dark money which is corrupting our elections."
The Senate races raging in Arkansas, Louisiana, and North Carolina are of particular interest to Patriot Majority USA, which has run more than 11,000 TV ads across the three states, according to a Center for Public Integrity review of data provided by Kantar Media/CMAG, an advertising tracking service. The group has accounted for about one out of every nine ads aired in the Arkansas Senate race, one of every eight in Louisiana, and one of every 13 in North Carolina. That approaches—though does not yet match—the number of ads aired by the Koch-backed Americans for Prosperity. "They want to spend their money in places where they think they can do some good," said Charles Prysby, a political science professor at the University of North Carolina at Greensboro.
Unlike candidates, parties, and political action committees, nonprofits such as Patriot Majority USA and the Koch-funded Americans for Prosperity are not legally required to disclose their donors. But these nonprofits, frequently dubbed "dark money" groups, are allowed to fund advertising barrages that overtly call for the election or defeat of political candidates—or simply praise or criticize them. In Arkansas in particular, Patriot Majority USA has for months branded Rep. Tom Cotton, the GOP's Senate nominee, as "a politician we just can't trust" and criticized him for voting against the farm bill.
Arkansas Democratic Party spokesman Patrick Burgwinkle welcomes Patriot Majority USA's participation. "Our side will be outspent in this race," Burgwinkle said. "That's why it's important to have groups hold Congressman Cotton accountable to his reckless positions."
A spokesman for Cotton did not respond to requests for comment, but the Republican has said he supported the farm bill but voted against it because Democrats included food stamp funding in the legislation. He argued the two issues should be voted upon separately, which won him praise from the conservative Club for Growth, which, at the time, said all lawmakers should vote against the "bloated proposal."
By law, election-related expenditures cannot be the "primary purpose" of so-called social welfare nonprofits, such as Patriot Majority USA and Americans for Prosperity, which are organized under section 501(c)(4) of the U.S. tax code. However, thanks to the U.S. Supreme Court's Citizens United v. Federal Election Commission ruling in 2010, they are free to spend huge amounts of money advocating for the election or defeat of federal candidates. These nonprofits are also allowed to keep the identities of their donors secret, unless a contribution is meant to fund a particular ad—something that rarely happens.
Between January 2011 and December 2012, Patriot Majority USA raised roughly $26 million, according to tax records. The source of most of that money is not publicly known. But a Center for Public Integrity review of Department of Labor, FEC, and Internal Revenue Service filings shows that 13 contributors have combined to give Patriot Majority USA about $4.7 million since January 2011.
Among the newly identified contributors: the Partnership for Quality Home Healthcare ($500,000), the International Longshoremen's Association PAC ($50,000), the American Health Care Association ($25,000), and the American Association for Justice PAC ($10,000).
Patriot Majority USA's top known donor is the Alliance for Quality Nursing Home Care, which gave $1.25 million over two years. That health industry trade group—which last year merged with the American Health Care Association—was first identified as a contributor to Patriot Majority USA by the Center for Responsive Politics. Greg Crist, a spokesman for the American Health Care Association, declined to comment, saying, "As a general practice, we don't comment on our political giving strategies."