Why Are the Kochs Investing in Happiness?
For the conservative billionaire brothers, well-being is just another word for free enterprise.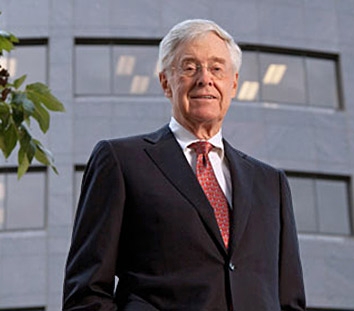 When Arthur C. Brooks stepped on stage in December, the influential conservative's mission was simple, yet ambitious: "If I do my job," Brooks began his speech, "in the next few minutes I'm going to give you the secret to happiness."
Standing before large block letters that spelled "H-A-P-P-I-N-E-S-S," the charismatic president of the American Enterprise Institute, a conservative think tank, explained how genetics, major life events, and choices all contribute to one's well-being. Brooks mentioned the importance of forging close relationships with family, promoted charitable giving, and emphasized that "money doesn't buy happiness." Nearing the end of his nearly 20-minute speech, Brooks said happiness also depends on … free markets?
"The earned-success system that brings you happiness is the system of free enterprise that lifts people out of poverty," Brooks said. "Don't work for the statism, the collectivism that suppresses this," he added. "Work for the free enterprise that makes this possible."
Proponents say the free market system encourages investment, stimulates innovation, and increases efficiency. But according to Brooks, it also makes you happy and improves your well-being—even if you're poor.
The message appears to be part of a new public relations initiative spearheaded by America's most high-profile free-market advocates: Charles and David Koch, the billionaire brothers who have built a powerful political empire based on libertarian principles.
Brooks, whose high-profile think tank receives funding from the Kochs, was recently tapped to serve on the advisory board of the Charles Koch Institute's "Well-Being Initiative," which "aims to advance our understanding of the meaning, foundations, and drivers of human flourishing" through research, education, and discussion.
The initiative may be billed as a way to explore well-being, but some critics of the Koch brothers are skeptical.
"The question needs to be: Whose well-being are we talking about?" asks Tony Carrk, a director at the Center for American Progress, a liberal advocacy group. "The policies that the Koch brothers have promoted and put forward seem to only benefit those at the very top, at the expense of everyone else."
Officials from the Charles Koch Institute did not respond to requests for comment.
The Kochs oversee a political ecosystem whose influence stretches far and wide—from think tanks and universities to trade associations and political action committees. As their public profile has risen, so too has criticism.
In January, Koch Industries, America's second-largest privately held company, hired Steve Lombardo of the global public relations firm Burson-Marsteller as "part of an effort by the Koch brothers to tell their story better," according to Politico.
"Koch Industries is working to improve the daily life of people around the world," Lombardo said, "and I look forward to working with the team to bring this story to the global marketplace."
In May, Politico reported on a memo from the Koch brothers' powerful political group Americans for Prosperity, which laid the groundwork for its future political operations.
"[W]e consistently see that Americans in general are concerned that free-market policy—and its advocates—benefit the rich and powerful more than the most vulnerable of society," the memo read. "We must correct this misconception."
Koch and the "true nature of well-being"
Charles Koch informally introduced the Well-Being Initiative in a January blog post titled, "The Importance of Well-Being."
"Through sound research, broad education and robust discussion, the Initiative aims to advance understanding of what it means to flourish, how to understand and measure the various aspects of well-being, and how to empower individuals to live better lives," he wrote.
The Charles Koch Foundation, a separate nonprofit from the Charles Koch Institute and a supporter of the Well-Being Initiative, recently posted on its website calls for research proposals, seeking "doctoral students interested in contributing to the academic exploration of the role free societies play in advancing human well-being and prosperity," one proposal request states.
Before it recently underwent a redesign and many old links died, the Charles Koch Institute's website had highlighted past well-being events and work published by Brooks and other board members dating back to last fall. It also linked to Brooks' "Secret to Happiness" speech.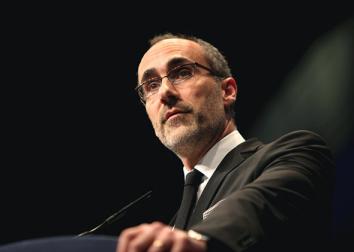 In December, Brooks published an op-ed in the New York Times titled, "A Formula for Happiness," which mirrored his American Enterprise Institute speech. A few months later, in a Times op-ed about income inequality and what he referred to as the "rising sympathy for income redistribution," he argued that there is "a strong link between economic envy and unhappiness."
In February, Brooks even managed to pull off the unthinkable: He got the Dalai Lama, a self-described socialist, to visit the American Enterprise Institute, which decries socialism. The title of the panel discussion featuring the Tibetan leader: "Happiness, free enterprise, and human flourishing."
Brooks did not respond to requests for comment.