The Big Gamble
Casino king Sheldon Adelson wants to ban Internet gambling. But states are moving fast to legalize, and even the super PAC billionaire may not be able to stop them.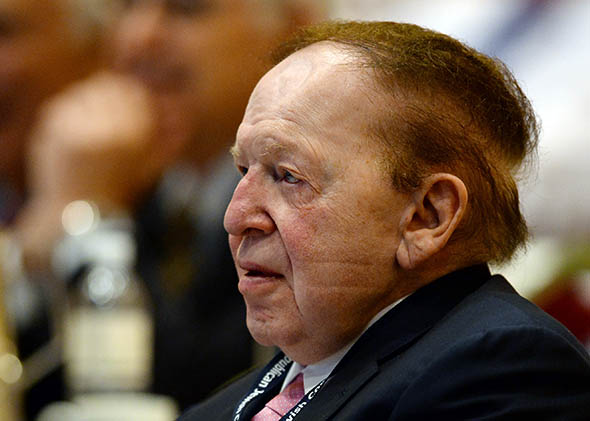 Ever since Bugsy Siegel opened the Flamingo Hotel in 1946 and launched the Las Vegas Strip, gambling has held a tenuous position in American life, suggesting glamour, wealth, and corruption all at once. Now that casinos have spread nationwide and allegedly shed their mafia ties, a new branch of the industry is fighting for legitimacy.
Las Vegas–based casinos and overseas operators have begun an all-out battle over Internet gambling, which is mostly banned nationwide but carries with it the promise of billions of dollars in additional revenue for casinos and state governments. Three states began licensing online betting last year, and Congress is facing increasing pressure to either bar or regulate the fledgling industry.
The moves are coming in response to a concerted push orchestrated by a colorful cast of characters, including Sheldon Adelson, one of the most prolific political donors of the super PAC era, an offshore company that only recently settled federal allegations of money laundering and bank fraud, and a pair of benignly named political advocacy groups backed by big-time casino cash.
Adelson, a prominent backer of conservative political causes and head of the Las Vegas Sands casino empire, has pledged to spend "whatever it takes" to get Congress to ban Internet gambling outright. In March, Sen. Lindsey Graham and Rep. Jason Chaffetz introduced a bill that was written with the help of Adelson's lobbyists to achieve that goal.
Meanwhile, industry giants like Caesars Entertainment and MGM Resorts have taken the opposite tack, banding together in an effort to legalize and tap into the growing market. Maneuvering quietly in the background are foreign entities, including the Isle-of-Man-based PokerStars, the world's biggest online poker operator. As a whole, the casino industry is among the most generous in giving to political candidates across the country. According to figures from the Center for Responsive Politics and the National Institute on Money in State Politics, the gambling industry contributed $287.6 million to state and federal campaigns from 2009 to 2012 (state data for 2013 aren't yet available).
All together, these interest groups spent $8.2 million lobbying the federal government on Internet gambling last year, according to the trade publisher GamblingCompliance, and millions more in state capitals from Trenton to Sacramento. And while Washington has drawn much of the recent attention, the real action may come in the states. New Jersey, Nevada, and Delaware have already legalized online gambling, and lawmakers are debating the issue in seven other states right now.
In these capitals, the promise of gambling profits is mixing with a need to plug budget gaps. Lawmakers face pressure to boost revenues, while proponents of online gambling are dangling the issue as a pain-free "voluntary tax." And so other states seem sure to follow—and there may be little that Sheldon Adelson or anyone else can do about that.
For years, online betting was neither forbidden nor permitted explicitly by state or federal laws. The Department of Justice had long argued that the 1961 Wire Act, passed to limit bookies' use of interstate telegraphs, prohibited all forms of betting online. Others disagreed, arguing that the act applied only to sporting events. But with the issue unresolved, a handful of companies began offering gambling online to American players beginning in the late 1990s, operating out of loosely regulated offshore locales.
Online poker took a hit in 2011, though, when the Justice Department sued several of the biggest operators, including PokerStars. Prosecutors portrayed an elaborate scheme to deceive banks, which were barred from processing online gambling payments, saying executives had established fake online businesses with names like www.petfoodstore.biz to hide transactions worth billions. The companies eventually settled the suit without admitting guilt, but the day became known as Black Friday in the industry after it decimated the country's online offerings.
Then later that same year, the department quietly reversed its opinion in response to an inquiry from the New York and Illinois lotteries, saying the Wire Act applied only to betting on sporting events. The opinion explained that the new interpretation was more consistent with the intent and language of both the Wire Act and a 2006 law that targeted illegal online gambling transactions. But some industry observers have questioned whether the decision, released on the Friday before Christmas, may also have been a political concession to the casinos and their powerful allies, including Senate Majority Leader Harry Reid. Either way, states suddenly could begin regulating online gambling within their borders.
The politically savvy online firms were ready. Some had hired their own lobbyists in D.C. years earlier. In 2005, a plucky young group called the Poker Players Alliance had appeared and quickly became the most prominent advocate for the online gambling cause, donating money to politicians, hiring former Sen. Alfonse D'Amato of New York, and testifying at hearings.
The couple, both native Californians, were living in Gibraltar at the time, and their company eventually entered into a "non-prosecution" agreement with the Justice Department in 2009, exchanging a $105 million fine and an admission that some of its past dealings had been "contrary to certain U.S. laws" for a pledge from the Justice Department not to prosecute the company. (PartyGaming had pulled out of the United States after Congress passed the 2006 Internet gambling transactions law.)
PartyGaming later merged with another company to become Bwin.party, which currently holds about 40 percent of New Jersey's Internet gambling market in its partnership with the Borgata Hotel Casino and Spa, in Atlantic City.
John Shepherd, a spokesman for Bwin.party, said the company had some contact with the Poker Players Alliance prior to 2006, but that the couple gave their own money and that the company has never donated to the group. In October, Bwin.party announced that Parasol and DeLeon would divest their 14 percent stake as part of the company's application for a license to operate in New Jersey.
But even if Bwin.party hasn't supported the alliance, other online gambling companies have: the majority of its funds come from the industry, said John Pappas, the group's executive director, including from PokerStars' parent company, the Rational Group, which declined to comment for this article.
The alliance is particularly focused on countering Sheldon Adelson's push to win a federal ban on online gambling. Adelson has been lobbying Congress through the Las Vegas Sands Corp. and has begun a broader campaign through a group he started last year called the Coalition to Stop Internet Gambling. When the coalition posted a message on its Facebook page showing an image of a child in front of a computer and warning of a "threat to kids," the Poker Players Alliance urged members to fight back. When Adelson's top political adviser testified that same month in front of a Congressional panel in support of a ban, Pappas was there too, arguing that millions of Americans are already gambling over the Internet, and that legalizing the practice would make it easier to protect those gamblers from criminal activity and addiction.
It's all good theater that is suddenly attracting a lot of attention—but the battle between these heavyweights may result in a stalemate. Meanwhile, the states are moving ahead.
By some accounts, the push for legalizing online gambling through the states can be traced back to a 2009 meeting between New Jersey state senator Raymond Lesniak and lobbyist Joe Brennan Jr., who ran a Washington D.C.-based industry group called the Interactive Media Entertainment and Gaming Association, which represented online gambling companies. Lesniak had caught Brennan's attention when he introduced a bill to legalize sports betting, but Brennan had another idea: Why not legalize gambling over the Internet?
In online betting, Lesniak saw hope for Atlantic City: a new form of gambling to draw younger clientele and help the state's struggling casinos, which had been losing money for three straight years because of increasing competition in nearby states. Lesniak proved to be a dogged sponsor, and with help from a lobbying push by Princeton Public Affairs Group—one of New Jersey's most influential lobbying firms, which was hired by Brennan's group—was able to win passage of a bill in January 2011.