The 2012 Vice Presidential Debate Awards (Danville Edition)
Who delivered the night's best zinger? The best use of one's family history for political gain? The best suck-up to Martha Raddatz? Slate hands out the honors.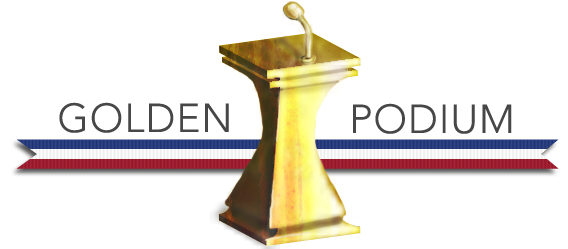 Joe Biden and Paul Ryan went toe-to-toe Thursday in the vice presidential debate. Each candidate had moments. To score the evening, Slate brings you the 2012 Vice Presidential Debate Awards—who was the best supporting actor for his party's nominee? The envelope please:
The Best Zinger from Ryan: Paul Ryan got the biggest laugh of the night at Biden's expense: "I think the vice president very well knows that sometimes the words don't come out of your mouth the right way."
The Best Zinger from Biden: Biden went right for Paul Ryan's boss: "I may be mistaken. [Romney] changes his mind so often, I could be wrong."
The Best Use of a Euphemism: Biden calls out "marlarkey" when he sees it: "This is a bunch of stuff."
The Best Suck-Up to the Moderator: Ryan tried to win over Martha: "You've been there (to Afghanistan) more than the both of us combined."
The Best Use of One's Family History for Political Gain: Ryan reached for the family scrapbook: "A little baby was in the shape of a bean. And to this day, we have nicknamed our firstborn child Liza, 'Bean.' Now I believe that life begins at conception."
The Best Invocation of a Kennedy: Biden played the Kennedy card: "Oh, now you're Jack Kennedy."
The Best Wrist-Slap: Biden called Ryan out for some stimulus hypocrisy: "And I love my friend here. I—I'm not allowed to show letters, but go on our website, he sent me two letters saying, 'By the way, can you send me some stimulus money for companies here in the state of Wisconsin?' We sent millions of dollars."
The Best Use of False Camaraderie: Biden called Ryan "my friend" 14 times. Here's one of many: "When my friend talks about fissile material …"
The Best Use of Nonverbal Cues: It might have been the Biden smile, but we gave it to the eye roll:
TODAY IN SLATE
Technocracy
Forget Oculus Rift
This $25 cardboard box turns your phone into an incredibly fun virtual reality experience.