The 2012 Presidential Debate Awards (Colorado Edition)
Who delivered the night's best zinger? The best false praise? Best statistic? Slate hands out the honors.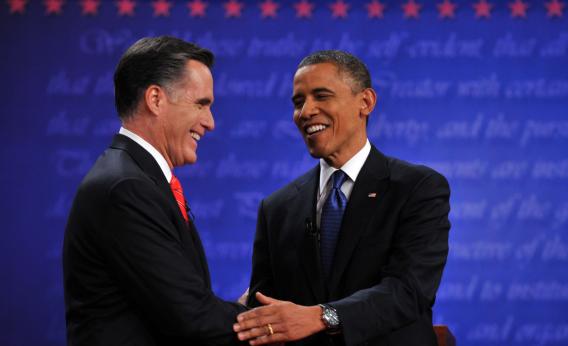 Barack Obama and Mitt Romney squared off Wednesday in their first presidential debate. Each man had his moments. To score the evening, Slate brings you the first Presidential Debate Awards—the Oscars of the Oval Office. The envelope please: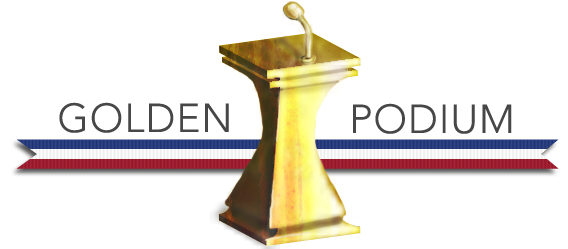 For Best Zinger: The award goes to Mitt Romney: "Mr. President, you are entitled to your own airplane and your own house but not your own facts."

Best False Apology: Romney had bad news for Jim Lehrer and Big Bird: "I'm sorry, Jim, I'm going to stop the subsidy to PBS. I'm going to stop other things. I like PBS, I love Big Bird. Actually like you, too."

For Best Wrist Slap: Obama gets snippy with Jim: "No, I think—I had five seconds before you interrupted me, was ..."

For Best Use of One's Family History for Personal Gain: Obama played the good husband right out of the gate: "And so I just want to wish, sweetie, you happy anniversary and let you know that a year from now we will not be celebrating it in front of 40 million people."

For Best False Praise: The least believable line from Obama all night: "You've done a great job, Jim."

For Best Use of a Statistic: Romney gets the award for best use of the data. "Spain spends 42 percent of their total economy on government. We're now spending 42 percent of our economy on government. I don't want to go down the path to Spain."

For Best Delivery of a Truly Tortured Line: Romney using those five rambunctious boys to make a point. "Look, I've got five boys. I'm used to people saying something that's not always true, but just keep on repeating it and ultimately hoping I'll believe it."

TODAY IN SLATE
Foreigners
More Than Scottish Pride
Scotland's referendum isn't about nationalism. It's about a system that failed, and a new generation looking to take a chance on itself.