The 2012 Presidential Debate Awards (Hofstra Edition)
Who delivered the night's best zinger? Best fight scene? Best use of slang? Slate hands out the honors.
Barack Obama and Mitt Romney just squared off in their second presidential debate. To score the evening, Slate brings you the Presidential Debate Awards—the Oscars of the Oval Office. The envelope please: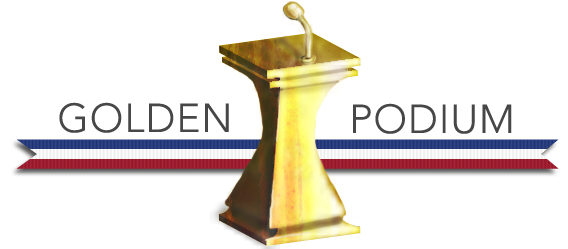 Best Zinger: Obama had the best one of the night: "I don't look at my pension. It's not as big as yours so it doesn't take as long."
Best Fight Scene: It looked like it was gonna get ugly for a moment:
Best Use of Slang: Did the president just say "sketchy"?: "If somebody came to you, Governor, with a plan that said, here, I want to spend $7 or $8 trillion, and then we're going to pay for it, but we can't tell you until maybe after the election how we're going to do it, you wouldn't take such a sketchy deal and neither should you, the American people, because the math doesn't add up."
Best Oddly Conjured Image: Romney has a very special binder: "I went to a number of women's groups and said, 'Can you help us find folks,' and they brought us whole binders full of women."
Best Back-Handed Compliment: Romney agreed with Obama on one point: "President Obama was right, he said that that was outrageous to have deficits as high as half a trillion dollars under the Bush years. He was right, but then he put in place deficits twice that size for every one of his four years."
Best False Praise: Obama did admit that there were some differences between Romney and George W. Bush: "You know, there are some things where Gov. Romney is different from George Bush. George Bush didn't propose turning Medicare into a voucher. George Bush embraced comprehensive immigration reform. He didn't call for self-deportation. George Bush never suggested that we eliminate funding for Planned Parenthood …"
Best Dodge of the Night: The question on Libya was, "Who was it that denied enhanced security and why?" Obama completely ignored it:
Best Attempted Fact Check: Candy Crowley is trying to keep them honest:
Best Town Hall Voter: Jeremy may have gotten himself a job after graduation—"Mr. President, Gov. Romney, as a 20-year-old college student, all I hear from professors, neighbors and others is that when I graduate, I will have little chance to get employment."
TODAY IN SLATE
Politics
Smash and Grab
Will competitive Senate contests in Kansas and South Dakota lead to more late-breaking races in future elections?