How Much Interest Would You Pay Under Different Student Loan Proposals?
A tool to compare student loan interest rate plans.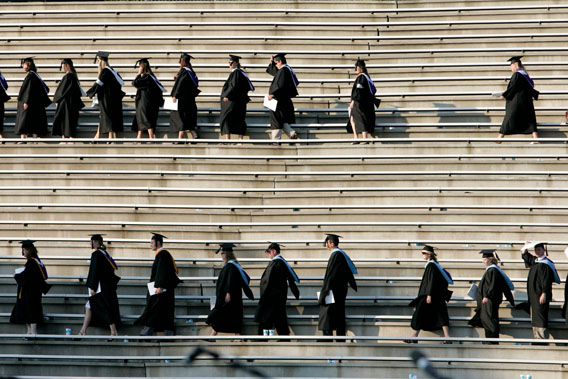 The clock has run out on federal student loans. The interest rates on newly issued subsidized Stafford loans doubled on Monday from 3.4 percent to 6.8 percent as Congress continues to argue over new legislation to rein them back in. A clear divide has emerged in the debate: fixed rates versus market-based rates. The rates are currently set arbitrarily as fixed numbers, but a market-based rate could cost students substantially less than a fixed rate in the current economy.
Most analyses of the interest rate proposals have focused on subsidized Stafford loans, the ones on which rates have just risen. However, several of the solutions on the table also address unsubsidized Stafford loans, which make up the majority of undergraduate loans distributed by the government and are available regardless of financial need. Lower rates on those loans could mean lower monthly payments for all borrowers next year.
House Republicans last month passed a bill to create variable interest rates—market-based rates that vary each year for the borrower until the loan is paid off—while most of the other proposals outlined set the interest rate over the entire life of the loan. Members of the Senate have released multiple proposals and voted on (but have not yet passed) several fixes. Below, we've outlined several of the most prominent proposals currently being debated: