All Killer Tornadoes Since 1950
A map of killer tornadoes in the U.S.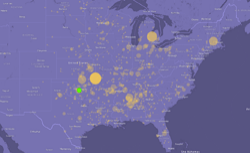 Killer Tornadoes
Tornadoes that have killed at least one person since 1950
A circle marks the end coordinates of each tornado. The area and transparency of each circle reflects the number of people killed.
Lines connect the start and end coordinates of each tornado.
Green indicates the devastating May 20, 2013, tornado around Oklahoma City (zoom there).
Source: NOAA Storm Prediction Center
Currently, 24 people are confirmed dead after a tornado swept through Moore, Okla., on Monday, leaving devastation in its wake. If the death toll goes unchanged, the tornado will rank as the 37th most deadly since 1950, according to historical data from the National Oceanic and Atmospheric Administration, mapped above. The map includes a 1953 tornado that killed 94; a 1953 tornado that killed 116; the more recent 2011 Joplin, Mo., tornado, which killed 158; and the 1999 tornado that also struck Moore, Okla., killing 36.
Correction, May 21, 2013: Circles originally appeared at the beginning of the paths of the tornadoes they represented. They were supposed to appear at the ends. They now do.