From Boxing Champion to Bombing Suspect
A timeline of Tamerlan Tsarnaev's life.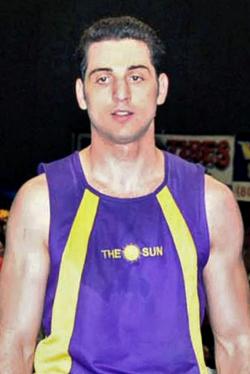 Since the FBI named Tamerlan Tsarnaev and his younger brother as the primary suspects of the Boston Marathon bombing last week, a fuller picture has emerged of the 26-year-old man who died during a firefight with police: as an abusive boyfriend, a boxing champion, and an increasingly radical Muslim fundamentalist who caught the attention of the Russian government. The timeline below includes the important facts we know of his life. Check back for updates as we learn more.
10/21/1986:
Tamerlan Tsarnaev is born in the Kalmyk Autonomous Soviet Socialist Republic, a Soviet state that is the precursor of modern-day Kalmykia.
1993:
Tamerlan's brother Dzhokhar is born after the family moves to Kyrgyzstan.
2001:
Tamerlan's family moves to Dagestan, a Russian state known for its high Muslim population.
2002:
Tamerlan's family travels to Massachusetts on a 90-day tourist visa. His father applies for political asylum, which is granted to him, his wife, and his children. Tamerlan attends Cambridge Rindge and Latin High School. He is a quiet student who often goes to the gym to box, according to a classmate.
2006:
After Tamerlan's application to the University of Massachusetts is rejected, he enrolls in Bunker Hill Community College's accounting program.
2007:
Tamerlan meets Katherine Russell, a student at Suffolk University in Boston, who grew up in North Kingstown, R.I. The two have an on-and-off relationship, sometimes abusive, for the next few years.
2009:
Tamerlan wins the New England Golden Gloves heavyweight title, which qualifies him for the national tournament in Salt Lake City.
2009:
Tamerlan is
profiled in a photo essay
by Johannes Hirn called "Will Box for Passport." One of the photos' captions includes this quote: "I don't have a single American friend, I don't understand them." In Salt Lake City, he loses his first bout.
2009:
Police arrest Tamerlan after a girlfriend (not Katherine Russell) accuses him of abusing her. "Yes, I slapped her," he tells police. A jury trial dismisses the domestic abuse charges the following year.
2009:
Katherine Russell's friends notice that Tamerlan stops drinking, smoking, and going out with them, and he begins voicing anger at the U.S. government. Russell, his girlfriend, becomes pregnant, drops out of college in her last year, converts to Islam, and marries him.
2009:
Tamerlan befriends an Armenian Muslim known as "Misha." Misha radicalizes Tamerlan, according to Tamerlan's uncle and Tamerlan's brother-in-law. "This person just took his brain," his uncle
says
. "He just brainwashed him completely."
2011:
At the request of the Russian government, the FBI investigates Tamerlan for signs of terrorist activity but finds no indication that he is a militant. FBI requests for more information from the Russian government go unanswered. The CIA
adds
Tamerlan to a database of potential terrorists, but it does not find sufficient reason to add him to the terror watchlist.
2011:
Three men are stabbed to death in an apartment in Waltham, Mass., including one of Tamerlan's friends. The murders remain unsolved.
2012:
Tamerlan takes a six-month trip to Dagestan, Russia, where
an aunt
sees him praying regularly and studying the Quran intensely.
2012:
Tamerlan returns to the U.S. He and his wife
stop receiving welfare
from the Executive Office of Health and Human Services in Massachusetts because their income no longer makes them eligible for the benefits. Tamerlan is unemployed while his wife works as a health care aide.
August 2012:
Tamerlan creates a
YouTube channel
after returning from his trip to Russia. He posts a video of an armed Russian jihadist addressing Muslim youth, a video of a fundamentalist Muslim preacher criticizing Harry Potter, and a Russian rapper's songs.
11/16/2012:
A preacher at the mosque Tamerlan attends says in a sermon that it is OK to celebrate American holidays, such as the Fourth of July. Tamerlan interrupts the sermon to argue with him.
1/18/2013:
A preacher at the mosque Tamerlan attends praises Martin Luther King Jr. Tamerlan stands up and calls the preacher a "non-believer" and accuses him of "contaminating people's minds." The congregation shouts at Tamerlan, telling him to leave the sermon. Some leaders of the mosque tell him to stop interrupting the sermons or not return. He continues to attend sermons but does not interrupt again.
2/6/2013:
Tamerlan
buys two large pyrotechnic devices
from Phantom Fireworks in Seabrook, N.H. It is the same store that sold firecrackers to Faisal Shahzad before he tried to detonate a car bomb in Times Square.
3/19/2013:
Dzhokhar
posts
a video on his Vkontakte
profile page
featuring Tamerlan humorously mimicking different accents from the brothers' homeland region in Russian.
4/15/2013:
Two explosions hit the Boston Marathon, killing three people and injuring many more at the finish line.
4/18/2013:
Tamerlan calls Alvi Tsarnaev, an uncle living in Montgomery Village, Md. The two talk for the first time in two years. "I love you and forgive me," Tamerlan reportedly says.
4/18/2013–4/19/2013:
Late at night, Tamerlan and his brother Dzhokhar allegedly kill an
MIT police officer
, hijack a car, and throw explosives at pursuing police. They are involved in a firefight with police in Watertown, Mass., where the brothers wield improvised explosive devices and homemade grenades. Tamerlan, already shot and suffering from wounds from an explosive device, dies after Dzhokhar runs over him with a car in his effort to escape.
↑ Jump to top