Map: Countries That Require Paid Sick Days
The U.S. is not one of them.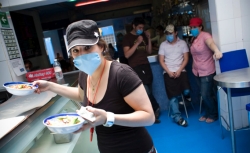 Have you joined millions of Americans this winter in the time-honored sport of projectile vomiting? Research suggests ill food-service workers cause most foodborne illness, but before you blame the guy who mixed your salad, try to keep this down: the United States is one of a handful of countries without federally mandated paid sick days for food service workers, and only a few cities and states require them. Without such laws, sick employees risk losing a day's pay or even their jobs if they stay home and keep the rest of us healthy. But as support for such mandates swells once more, lawmakers are again mulling over the requirement, though businesses say they can't stomach the potential costs.
TODAY IN SLATE
Politics
Blacks Don't Have a Corporal Punishment Problem
Americans do. But when blacks exhibit the same behaviors as others, it becomes part of a greater black pathology.
Lifetime Didn't Think the Steubenville Rape Case Was Dramatic Enough
So they added a little self-immolation.