Obama's 301 Drone Strikes
A map of every reported drone strike in Pakistan.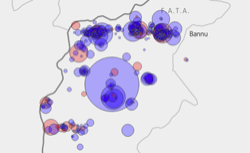 Red circles indicate strikes during the Bush administration. Blue circles indicate strikes during the Obama administration.
The area of each circle represents the maximum number of estimated deaths. Click a circle to learn more about the incident.
Source: New America Foundation
Update, May 22, 2013: The Obama administration formally acknowledged on Wednesday that U.S. drones strikes in Pakistan and Yemen have killed four Americans. The disclosure appeared in a letter to members of Congress that was obtained by the New York Times. Since Obama took office, his administration has conducted at least 301 drone strikes in Pakistan alone, according to data, mapped above, that the New America Foundation, a nonpartisan think-tank, collected from media reports. See the NAF's website for more information on the U.S.'s drone wars in Yemen and Pakistan.
Feb. 14, 2013: You won't see "drone" in the barrage of word clouds about the president's State of the Union address. Instead, Obama talked about the U.S.'s extensive drones program in Pakistan and Yemen without talking about it. Although the program has received a heap of criticism since its inception, no major leader from either party has ever spoken out against it, and it remains popular with the public. In recent weeks, however, members of Congress have criticized the administration for the program's lack of transparency and accountability. The map above, based on data from the New America Foundation, shows all of the reported drone strikes in Pakistan since 2004.