How Much Did the Gun Lobby Donate to Your Member of Congress?
The gun lobby's campaign contributions, by representative.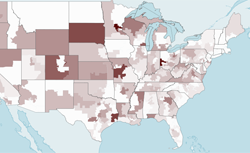 The political clout of the famously effective gun rights lobby is again under scrutiny. As Sen. Dianne Feinstein (D-Calif) said Thursday, everyone in D.C. "lives in terror of the gun lobby."
The gun organizations, through their PACs, employees, and other connected individuals, gave a record $3 million in campaign contributions in the last election cycle, according to OpenSecrets.org. Half of that sum went to House races, and almost all of it went to Republican candidates. The top contributors to federal candidates were the National Rifle Association, Safari Club International, and the National Association for Gun Rights, which together contributed $1.2 million.

So, which members of Congress did gun rights advocates help elect? The above map of congressional districts shows how much campaign money each district's current representative received from gun groups in the last election.