Where Is Romney Spending 110 Times More Than Obama?
A map of campaign expenditures by state.
Even before the candidates hit the campaign trail, pundits predicted this election would blow away fundraising and spending records. Now just over a month from Election Day, where is each campaign outspending the other? We examined expenditure data from the Federal Election Commission to see where each campaign is outspending the other. Obama and Romney outspend each other most in the states where they headquarter their campaigns, Illinois and Massachusetts respectively.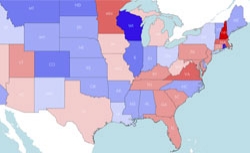 But why is Romney spending 110 times more than Obama in New Hampshire, a state with only four electoral votes? Much of the money going to a state may pay for services that help a candidate's bid in other states. Romney isn't actually betting the farm on New Hampshire. Almost all of the $36 million he spent there is going to SCM Associates, a GOP-focused direct-mail company responsible for his correspondence nationwide that is headquartered there. Similarly, Obama spent 82 times more than Romney in Wisconsin, but $29.5 million went to a single Milwaukee-based direct marketing company, AB Data.