How Much Voter Fraud Is There?
A state-by-state map reveals the answer: almost none.
Since the 2010 elections, many Republican state legislatures (as well as Rhode Island's Democratic-controlled body) have moved to pass stronger voter ID laws. Though the supposed goal of this legislation is to stop voter fraud, the data on how much fraud is actually happening are hard to come by.
News21, part of the Carnegie-Knight Initiative on the Future of Journalism Education, has mounted an intensive effort to try to flesh out that record. News21 students have requested and reviewed thousands of public records, court documents, and media reports to see how many prosecutions for election fraud have been made in each state. The result: "analysis of 2,068 alleged election-fraud cases since 2000 shows that while fraud has occurred, the rate is infinitesimal." The map above illustrates the number of confirmed voter fraud cases found by News21 dating back to 2000. Out of hundreds of millions of ballots cast, they counted 633 incidents. Among states with voter ID laws on the books, Georgia and Kansas have seen the most prosecutions, with 80 and 97 cases respectively. In Pennsylvania, which may require voters to show identification on Election Day if the state's Supreme Court does not block the new law from taking effect, the number of fraud cases was just five.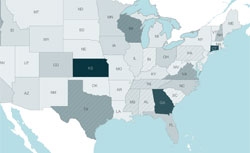 TODAY IN SLATE
The Extraordinary Amicus Brief That Attempts to Explain the Wu-Tang Clan to the Supreme Court Justices
The Human Need to Find Connections in Everything
It's the source of creativity and delusions. It can harm us more than it helps us.