A Map That Should Panic the Obama Campaign
Jobs growing, but sluggishly, in most swing states.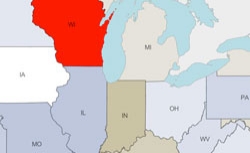 Conventional wisdom holds that the economy will determine President Obama's re-election chances, and that what really matters to voters is whether they see their own prospects improving or fading. So what does the jobs picture look like in key battleground states? New Hampshire and Wisconsin actually lost jobs over the past year. Most other swing states saw a fraction of a percentage point of growth, trailing the national average of 1.3 percent growth. Although such measly improvement is not to be discounted, it doesn't come close to compensating for job losses in previous years. Mouse over any state to see a decade of data. Note: The Pew Center on the States' Stateline news service compiled and analyzed the Bureau of Labor Statistics data used in this map, and has visualized it in a very different way.
Advertisement