How Hard Is Poverty Hitting Your County?
A map of changes in poverty, county by county.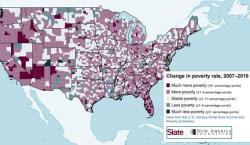 It's hardly news that the Great Recession pushed millions of Americans into poverty. In 2010, "poverty" meant having an income of less than $22,113 for a family of four; 15.1 percent of Americans were below that line. As this map shows, some areas of the country fared worse than others between 2007 and 2010. While some counties saw their poverty rates increase only slightly, and some even saw them drop, the number of people under the poverty line in Oregon's Malheur County doubled to nearly two-fifths of its population. And those "bright spots" that appear as dark blue? Look closer—a full 6-point improvement in South Dakota's Ziebach County still left more than one-half its residents below the poverty line. And even the poverty rate itself understates the privation in the country.
Drag the map to see Alaska or Hawaii. Double-click to zoom in.