Which Americans Shirk the Census?
A map of census response rates, county by county.
Posted Friday, May 25, 2012, at 6:48 AM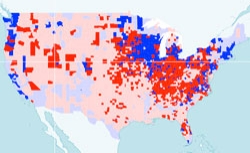 House Republicans earlier this month voted to end the American Community Survey, a rich source of detailed data about Americans' lives. But when it comes to the basic census, willingness to answer the federal government's questions seems to have more to do with where people live than which party they support, as the map below shows. Red or blue, Midwestern counties had 2010 census response rates that exceeded the national rate, while response rates in Western and Southern counties fell short of it.
MYSLATE
Matt Dodson is a Slate Web developer.
Chris Kirk is Slate's Interactives Editor.