The Tortured Tsarnaevs
The Boston bombers' family history: theft, violence, and religious strife.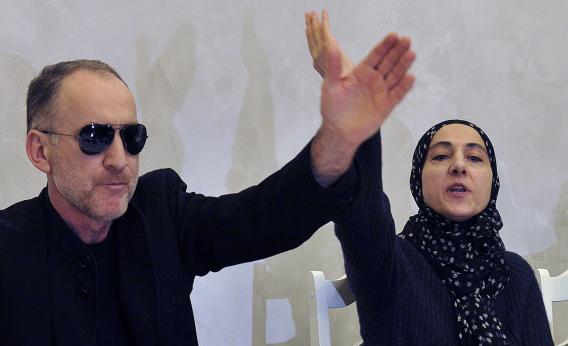 You can also listen to William Saletan read this piece.
1. Theft and lawbreaking. By now, most of us have heard that the bombers' mother, Zubeidat Tsarnaeva, was arrested last year for shoplifting and destruction of property. This weekend's stories confirm that the charge was a felony, that the quoted value of the merchandise was $1,600, and that the owner of the property was Lord & Taylor, the same company whose security cameras captured the bombers at the marathon. As many as nine dresses were involved in the theft, according to the Post. Zubeidat left the country before the case was resolved, so a warrant remains out for her arrest.
Now it turns out that the bombers' father might be a shoplifter, too. Anzor Tsarnaev fixed cars for a living. "Sometimes, when he needed parts, he would show up at Nissenbaum's Auto, a nearby parts and repair shop," the Post reports. "Several times, workers said, Anzor went into the parts yard to find a bracket or screw and emerged offering to pay a small sum for a handful of items. But employees would see his pockets stuffed. Confronted, they say, he admitted picking up a few other meager items."
The Post cites other stories in which Anzor bent laws or ethics. He "obtained cars in bad shape, made cosmetic fixes and then sold those vehicles for a profit," the article reports. A neighbor says Anzor "regularly threw his trash in neighbors' recycling bins despite being asked to stop, filled precious spaces in this parking-starved city with cars he was working on, and claimed a 10-minute loading zone as his all-day storage space." These are petty offenses, but what stands out in the neighbor's account is Anzor's imperviousness to reproach: "No matter how many times people told him it wasn't right, he did it anyway."
We've all heard that Dzhokhar was a pothead. But the Los Angeles Times says that according to his friends, he also regularly sold the drug. His sister Bella may have done the same: The Post reports that in December, she was arrested and charged with intent to distribute marijuana.
These infractions are nothing like terrorism. But a family with two shoplifting parents and two pot-selling kids is, on its face, a family with a culture of bending or breaking the law. Zubeidat's flight from justice, coupled with that line about Anzor—"No matter how many times people told him it wasn't right, he did it anyway"—doesn't suggest a lot of remorse, either. The family culture doesn't explain the bombing. But it's hard to believe that it's entirely unrelated.
2. Religious strife. Several articles have traced Tamerlan's turn toward Islam, noting that it coincided with his mother's. Last week, a team report in the Wall Street Journal painted Zubeidat as the leader in that shift. But other accounts, including the New York Times', suggest the influence was mutual. What emerges in this weekend's stories is a further twist: a rift between Zubeidat, on the one hand, and her husband and brother-in-law, on the other.
Zubeidat saw religion as a cure for Tamerlan's ills. According to the Post, she recalled in an interview that Tamerlan "would come in late at night from parties smelling of smoke and alcohol" and that she had encouraged him "to take more of an interest in religion to give his life a healthier core." But Anzor hated what the change did to his marriage and his son: "First, his wife, who once teased her hair and wore dark eyeliner, turned to religion and donned dark clothes and the hijab. Then his son, a boxer like himself, immersed himself in Islam and quit boxing. Anzor was crushed, according to relatives." The Los Angeles Times reports that Anzor "said [Tamerlan] was brainwashed by religion."
Anzor's brother, Ruslan Tsarni, goes further. In the Los Angeles Times story, Ruslan "calls [Zubeidat] a dark influence on his nephew." She "paved the way for his radicalization," says Ruslan. In previous interviews, Ruslan expressed resentment that Zubeidat was Dagestani, not Chechen, and that Tamerlan took after her. In a wrenching 25-minute interview with CNN, conducted shortly after Tamerlan's death, Ruslan said Tamerlan "would never dare to express his beliefs in Chechnya, because, with credit to the current authorities, they wipe out that disease in that region quite efficiently—the disease that took away 250,000 lives." That's a blunt defense of state repression of radical Islam. Apparently, Zubeidat and Ruslan were on opposite sides of one of the world's most violent culture wars. And in Ruslan's eyes, Zubeidat led Tamerlan to the dark side.
3. Violence. Most accounts of Tamerlan's history point to a brutal temperament. He wasn't just a boxer. He also struck people outside the ring. According to the Los Angeles Times, "In 2007, Tamerlan confronted a Brazilian youth who had dated his younger sister, Bella, for about two years, and punched him in the face." A friend of Bella "said Tamerlan did not approve because the boy was not a Muslim."
A year later, Tamerlan's sister said her husband was beating her and cheating on her. The Los Angeles Times reports that Tamerlan "immediately flew across the country" and, according to his mother, "roughed up" the husband.
The next year, Tamerlan was arrested on a domestic violence charge. Though the charge was later dropped, the police report says he admitted to slapping his girlfriend. The New York Times adds a further detail: The reason for the slap, he explained at the time, was that "she had been yelling at him about 'another girl.' "
That's one incident of violence in the name of religion, a second on behalf of his sister, and a third driven by unprincipled exasperation. Then, according to most accounts, Tamerlan found God and renounced boxing as an offense against Islam. But this leaves a puzzle: How can a man blow up innocent people in the name of a religion which, by his own reckoning, forbids punching them?
This weekend's stories point to two possible answers. One comes from the Los Angeles Times: In 2009, Tamerlan told his parents that the Quran "prohibits beating people in the face." That's a more specific description of his objection than has previously been reported. Presumably he reached this conclusion sometime after slapping his girlfriend. It's possible that Tamerlan interpreted this injunction quite literally: You mustn't hit people in the face, but it's OK to shred their legs with a bomb.
The New York Times suggests a different answer: Tamerlan's explanation of why he quit boxing is false. He didn't do it for Islam. He did it because his lack of U.S. citizenship blocked his eligibility to compete in tournaments and build a career in the sport. He just used Islam as an excuse, a story to tell others.
That would explain why, in January of this year, Tamerlan was rebuking a speaker at his local mosque who praised Martin Luther King Jr. The Post says that according to an official at the mosque, Tamerlan "yelled that King represented American values." Tamerlan's worldview wasn't about nonviolence. It was about anti-Americanism. Three months later, he detonated.
William Saletan's latest short takes on the news, via Twitter: