Christopher Hitchens Remembered
Tributes to the journalist and intellectual from Julian Barnes, Anne Applebaum, James Fenton and others.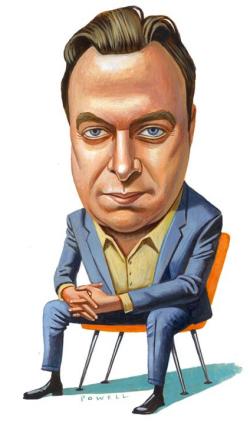 Julian Barnes, novelist
In 1980, I published my first novel, in the usual swirl of unjustified hope and justified anxiety. I gave copies to my friends, including some of those I had worked with until recently on the New Statesman. Most of them acknowledged receipt; most attempted to make the encouraging noises the skinless first novelist needs to hear. But there was no response from the Hitch. READ MORE
Jacob Weisberg, Slate Group chairman
Amazing about Hitchens: his generosity to young people. He sought them out and befriended them. He responded when they called with requests to speak at their college, contribute to a symposium, or stand with any oppressed minority. He hated to say no to anything worthwhile, and cared less about getting paid than anyone I've ever known. After doing unaccountable favors for unimportant people, he named them comrades, which meant welcoming them into his circle of solidarity and acting as if they belonged in his home, with cocktails. READ MORE
James Fenton, poet and critic
I asked Christopher not long ago if he had felt, at the time that he made his decision to move to America, that in England there was always something holding him back. He had indeed felt something like this, although I cannot say I always felt it was for good reasons. Christopher, from the time that I knew him at Oxford, was always a brilliant speaker and debater, and in conversation incomparably interesting and engaging. I regularly turned to him before writing on any political subject, for that jumpstart he could administer so well. READ MORE
Gully Wells, author of The House in France
Walking down a mossy, medieval alley in Oxford, dressed in preposterous hot pants and high heeled suede boots (don't ask, it was 1969) with my then-boyfriend, Martin Amis, we ran into two men I vaguely knew—Christopher and James Fenton—coming toward us. We stopped, I introduced them to Martin, we chatted briefly, and we all moved on.
I like to think that was the beginning of the deep, enduring friendship—actually more of a love affair—between Martin and Hitch that was to last 42 years, longer than either of their marriages. READ MORE
Annette Gordon-Reed, Harvard law professor
It is hard to believe it was six years ago that Christopher and I took a road trip to Thomas Jefferson's mountaintop home, Monticello. Christopher was to do a talk about his short biography, Thomas Jefferson: Author of America, and I was to introduce him. I came down to Washington from New York the night before to stay in his home so that we could set out early and get there at a leisurely place. The pre-trip evening was convivial, with good conversation with Carol and their daughter Antonia, who made occasional appearances. READ MORE
1. He didn't need much editing.
2. He had good ideas in the shower. That's where he came up with the title for God Is Not Great. READ MORE
Andrew Sullivan, blogger
I could sense it coming. But I couldn't write anything beforehand and I cannot write anything worthy of him now. So I just sat down an hour ago when I heard the news—Aaron told me as he clicked on Gawker—and sat a while and got up to write and then blubbered a bit and, staring at the screen, read through some emails from him. READ MORE