James Bailey Is a Liar. Is He a Murderer?
A mysterious cache of documents could prove that a man serving a life sentence for homicide was framed by corrupt Alabama authorities—if the documents, and the man, can be believed.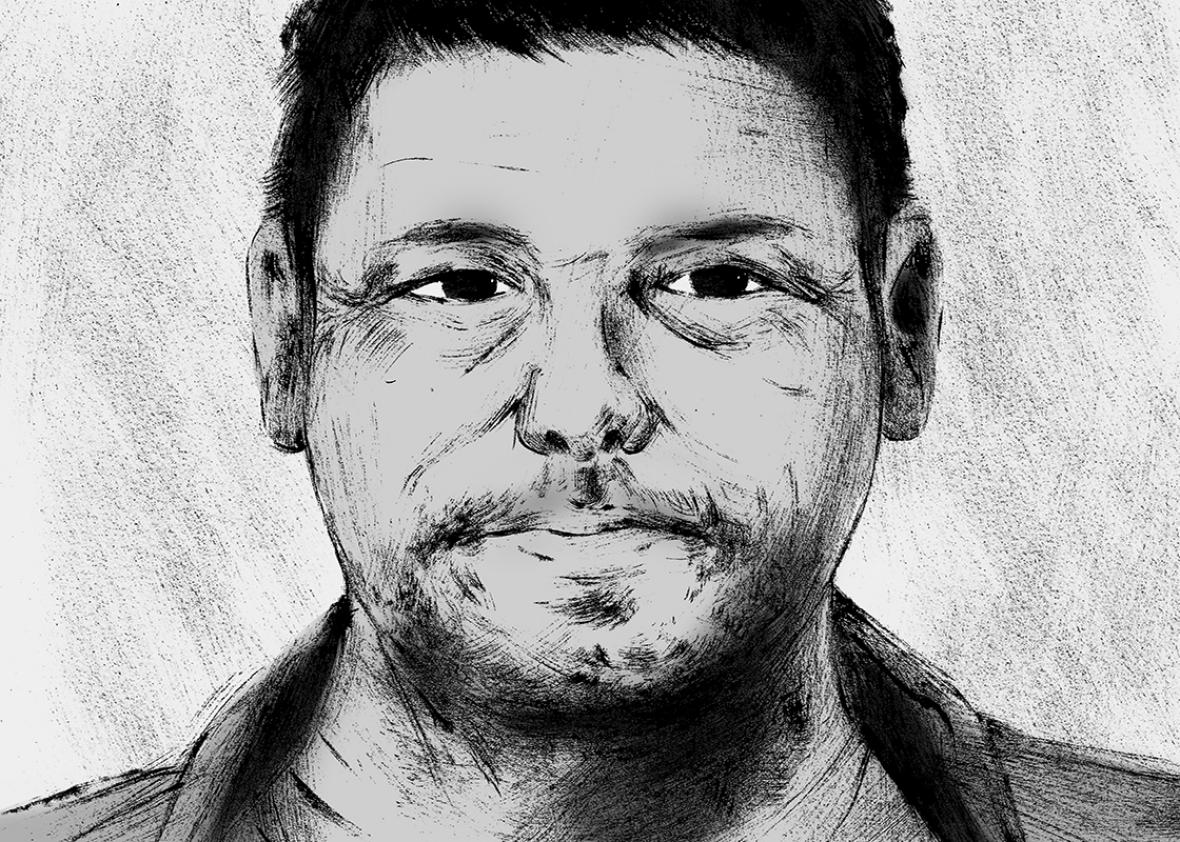 Ruth Robinson met James Bailey by accident. Robinson, a 39-year-old lawyer from Birmingham, Alabama, was trying to schedule a legal visit at Holman Correctional Facility with an inmate named Bailey. But it turned out there was more than one inmate by that name at the southern Alabama prison. When Robinson spoke to James Bailey by phone ahead of her trip, she quickly established that he was not the one she needed to see. Before she could hang up, however, the convicted murderer on the other end of the line got her attention.
Bailey swore he was serving time for a crime he didn't commit and begged Robinson to come to Holman to hear him out. Robinson, who was in the process of making a return to the legal profession after nearly a decade away from the workforce, reluctantly agreed to keep her visit on the books. "I go from Birmingham to Biloxi to see my mother anyway," she told me later. "Holman's right there, so I'm like, 'Pfft, I'm gonna go spread some joy, go buy a candy bar for some guy who has no hope.' "
On Jan. 25, 2016, in a plexiglass visitation room, Robinson met a weathered but affable man roughly her age, dressed in a white prison uniform stamped with the words Alabama Department of Corrections. Bailey recounted his story in the scattered manner of a person who has accrued so many grievances over the years that he doesn't know where to begin when someone finally agrees to listen. "He was eager to let me know how his case was the craziest case I'd ever hear about," Robinson said. "He kept saying, 'This is gonna be your favorite part—you're gonna love this.' "
Bailey had spent most of his adult life behind bars, going to prison for the first time on burglary charges at 18 and serving roughly a quarter of his 38-year sentence before he was paroled at 26. About a year later, he went to jail after being accused of operating a methamphetamine lab in his house. While awaiting trial on the drug charges, Bailey was implicated in the 2004 murder of a man named C.J. Hatfield. He eventually received three life sentences—two for the meth, and one for his role in the murder.
Sitting across from Robinson—an attentive woman with blond hair and a pillowy Southern accent—the 38-year-old Bailey explained that he'd been the victim of corrupt police officers and prosecutors in his former home of Dothan, Alabama. He wasn't a murderer, Bailey said, but he'd never had a lawyer who could help him prove it. Robinson's legal career up to this point had been limited to three years spent doing entry-level work at civil litigation firms. If Bailey was telling the truth, his case represented exactly the sort of miscarriage of justice that would vindicate her recent decision to get back into practicing law after working as a stay-at-home mother for most of her 30s.
Bailey handed Robinson a copy of his murder trial transcript, which he'd been keeping in his prison cell for years. Robinson took the document. She made no promises but told Bailey she would look into his case.
About a month after her first meeting with Bailey, on a day when the local news was predicting tornadoes, Robinson drove from Birmingham to Dothan, a flat, humid city of about 70,000 that is built around a circular four-lane highway crowded with restaurant chains, big box stores, and auto-body shops. Robinson timed her trip to Dothan to coincide with a press conference hosted by the Alabama chapter of the NAACP. The event had been organized in the wake of an incendiary article published by a local writer named Jon Carroll on a blog called the Henry Report, which accused Dothan law enforcement officials of planting drugs on hundreds of innocent black residents and participating in a neo-Confederate hate group.
The article, which was accompanied by a cache of documents that Carroll said had been leaked to him by whistleblowers, received wide attention after getting a signal boost from the Southern Poverty Law Center. It portrayed Dothan as a city infested with sadistic, racist, and dishonest cops, a characterization that prompted a nationwide furor. Ultimately, the article's most stunning claims proved impossible to verify based on the documents Carroll had posted. While the documents did suggest the possibility of wrongdoing, they did not constitute proof of even one case of drug planting, let alone hundreds.
Nevertheless, the blog post emboldened a chorus of local residents to voice their complaints about police misconduct to the NAACP and prompted the city's police chief to request an FBI investigation into his department—an investigation that is still ongoing. In December, a yearlong reporting project by the New York Times culminated with a front-page story about the Dothan area's long-serving district attorney, Doug Valeska. The Times article, published as part of a series on the corrupting role of money in the criminal justice system, described Valeska's practice of granting leniency to some defendants if they can pay a fee—a dubious policy that offers second chances to people who can afford them while leaving the area's poorest residents, who are disproportionately black, to face harsh punishments.
James Bailey, Robinson's new client, was white. Even so, she wanted to go to the NAACP event to judge for herself whether law enforcement in Dothan was as crooked as Bailey insisted. With Bailey's 60-year-old mother at her side, Robinson watched as a series of speakers stood in front of the Dothan Civic Center and described their brushes with injustice. "I listened to these people and felt like, Oh my God," she recalled later.
After the press conference, Robinson was getting ready to make the three-hour drive home to Birmingham when it became clear the tornado warnings from earlier in the day had not been empty threats. With multiple twisters touching down around the area, Bailey's mother convinced Robinson to wait out the storm at her house.
As they watched the evening news together, looking for coverage of the NAACP event and hoping to spot themselves in the crowd, Bailey's mother told Robinson about a cardboard box that had been sitting under her bed for years. The box was full of paperwork related to her son's case, and it had grown increasingly heavy with each of his failed attempts to secure post-conviction relief.
Robinson dumped the contents of the box onto the living room floor and began picking through the mess. It was then, Robinson says, that she discovered a pair of extraordinary documents. Photocopied and smelling faintly of stale cigarette smoke, the pieces of paper seemed to reveal something shocking—a plot by authorities to charge James Bailey with a crime they knew he didn't commit.
On the morning of Saturday, March 13, 2004, a pair of turkey hunters—one of whom happened to be the local coroner—found a dead body near the side of a dirt road on the rural outskirts of Dothan. The man had been shot three times: once above his right eye, once in the left cheek, and once in the throat. When investigators arrived on the scene that morning, they found several promising pieces of evidence, including two wet spots in the dirt that appeared to be urine as well as a set of tire tracks suggesting the recent presence of a large truck. The identity of the deceased, however, remained a mystery. Dressed in a gray T-shirt, a Nike windbreaker, and Phat Farm jeans, he had nothing in his possession other than the hat that sat sideways on his bloodied head—no driver's license, no credit cards, no keys.
He did have a number of distinctive tattoos, including a samurai warrior battling a dragon on his back and the word outcast in old-English lettering on his calf. That night, when the tattoos were described on the 10 o'clock news, Doni Mobley knew right away that the newscasters were talking about her 23-year-old son, C.J. Hatfield. Mobley called the police. "I want to go where he is," she told the dispatcher. "I want to see the body. I want to know if it is him."
Mobley hadn't seen her son in more than a month. They'd been arguing, she would later testify in court, about "his habits and his choice of friends," and she had unhappy suspicions about how he was earning money. In the aftermath of Hatfield's death, those suspicions were grimly validated, as law enforcement quickly settled on a suspect named Jason Stuckey who was known to be a drug dealer in Dothan and was believed to be an associate of Hatfield's.
Stuckey was 28 years old and drove a black Toyota pickup truck. He had piercings in both ears and one on his left eyebrow. In high school he had played baseball, but in the years after graduation he had become an addict—first to painkillers, then to meth—and eventually entered the drug trade himself.
Stuckey's business was modest, but at the time of Hatfield's death, he was in the process of seeking out better connections so he could move more of his product—mostly "ice," an extra-pure form of meth. Stuckey conducted most of his transactions at Dothan's biggest nightclub, Grand Central Station, where he had briefly worked at as a bar-back.
By the time of Hatfield's murder, Stuckey had left his job at Grand Central but continued making money there by selling drugs to its customers. He also continued hanging out with members of the club's staff: Three of the bouncers at the club had become Stuckey's friends and associates, and for several months starting in late 2003, they had all been roommates in his two-story Dothan townhouse. James Bailey was also part of Stuckey's crew and worked at Grand Central—sometimes as a DJ in one of the smaller rooms upstairs and other nights as a food vendor selling microwave hamburgers and pizzas to clubgoers.
The Hatfield case was handled at its outset by an old hand from the Alabama State Bureau of Investigation named Tommy Merritt and Troy Silva, a young detective from the Henry County Sheriff's Office who had never before investigated a murder. After conducting interviews with people in Stuckey's circle, Merritt and Silva began to build a timeline. Hatfield and Stuckey had driven to Atlanta to buy about $3,000 worth of meth. But instead of fulfilling their end of the deal, the people Hatfield and Stuckey met with in Atlanta robbed them at gunpoint and took their money, their cellphones, their wallets, and the keys to Stuckey's pickup. The ordeal had left the two men stranded, forcing them to hot-wire Stuckey's truck to get home to Dothan.
How Hatfield ended up dead would prove harder for investigators to nail down, as they relied almost entirely on hearsay statements made by Stuckey's bouncer friends from Grand Central Station. According to the bouncers, Stuckey had become convinced at some point after leaving Atlanta that Hatfield had set up the robbery. Enraged and resolved to exact revenge, Stuckey turned off onto a quiet, out-of-the-way road about 30 miles from Dothan, parked his truck, and invited Hatfield out for a bathroom break. When they finished, Stuckey aimed his gun at Hatfield and shot him three times.
On Tuesday, March 16, 2004, less than 72 hours after Hatfield's mother identified her son's body, Stuckey was arrested while leaving the home of his friend James Bailey. He surrendered without a struggle, though when questioned by investigators later in the day, he declined to provide a statement.
The circumstantial case against Stuckey was strong. By the time he entered his plea of not guilty, police had evidence that he had bought new tires after the murder and used them to replace a pair of all-terrain ones that seemed to match the tracks found at the crime scene. The police had also recovered a possible murder weapon—a Taurus .38 Special snub-nose revolver—from a man who said he'd purchased it from one of Stuckey's bouncer friends the day after the body was found. The man said that when he took possession of the gun, it had three empty rounds and two live ones.
But the investigation did not end with Stuckey's arrest. Though the Stuckey-as-lone-gunman theory was attractive for its simplicity, the police had heard too many conflicting stories to feel confident that it was true. They believed, instead, that one or more of the people they had interviewed in the opening days of the investigation were lying to them about their involvement in the murder. That group included Hatfield's girlfriend, two of the bouncers who used to live in Stuckey's townhouse, and the friend he'd been visiting when he was apprehended: James Bailey.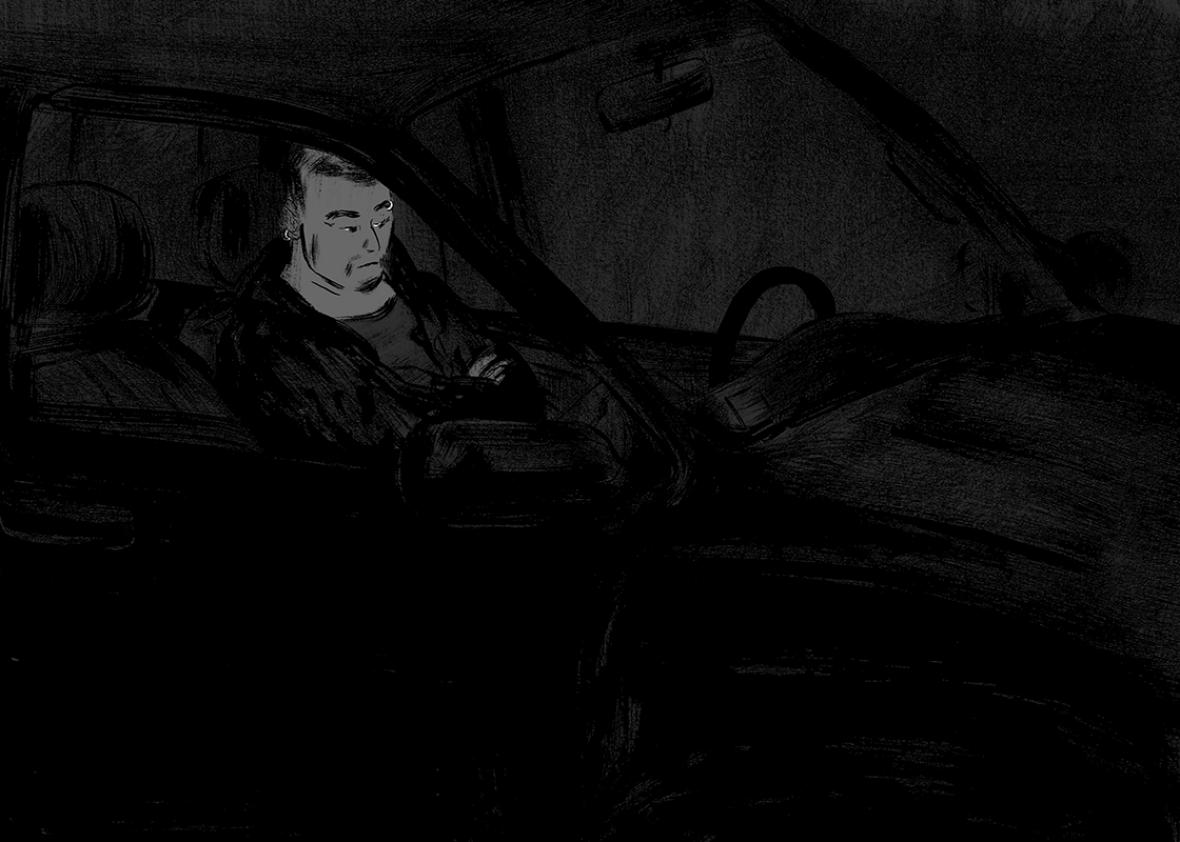 The C.J. Hatfield murder investigation dragged on for almost a full year, as Stuckey sat in jail awaiting trial. Then, in the fall of 2004, a new homicide investigator named Allen Hendrickson joined the Henry County Sheriff's Office and began working on the Hatfield case.
Within a few months of Hendrickson's arrival, the investigation was rocked by a series of breakthroughs, starting with the arrest of James Bailey on drug charges on Dec. 22, 2004. That night, the house that Bailey shared with his girlfriend, Heather Brown, was raided by a vice squad from the sheriff's office of Houston County—the larger of the two neighboring counties that make up the jurisdiction presided over by District Attorney Doug Valeska. Later, the officers who conducted the raid would testify that they found assorted chemicals used for making methamphetamine—including muriatic acid and Red Devil Lye—under the kitchen sink and recovered three trash bags full of empty Sudafed packets and acetone cans from Bailey's attic.
Though technically separate from the murder investigation, the raid was set in motion by Hendrickson, who had reported smelling suspicious chemicals at Bailey's house while trying to talk to him about the Hatfield case. Bailey was arrested, charged, and booked on the drug counts as a direct result of the tip. Heather Brown, who was also in the house at the time of the bust, was not arrested until about three weeks later—a strange delay that an officer later explained in court by stating, "I'm kind of stuck on what I can say. She was left out for a particular reason, and that was to assist us in some way."
It was also about three weeks after Bailey's arrest, during an interview with Hendrickson, that Bailey gave an incriminating statement that would eventually lead to his murder conviction. The transcript of the statement that sits in Bailey's case file begins with him repeating the story he'd told police shortly after the murder—that at the time of Hatfield's death, he and Heather Brown had been visiting her children in Pensacola, Florida, and staying with an old friend in the nearby beach town of Navarre.
About an hour into the conversation, the transcript indicates, Hendrickson suggested to Bailey that they take a short break, and the transcript cuts off. Later, at his murder trial, Bailey would testify that a group of law enforcement agents, including Hendrickson, took him out for a smoke break and took the opportunity to intimidate him, explaining out of earshot of the tape recorder that they could help him with his drug charges if he agreed to "put the gun in somebody's hand" in the Hatfield case. If he refused, Bailey alleged the police told him, they would charge him with the murder.
The transcript, of course, does not include any of this alleged exchange. Instead, it shows Hendrickson prompting Bailey to confirm that he has not been threatened or coerced while the recorder was off. He asks Bailey to repeat "some things that you told me out there."
"Just take a deep breath, OK?" Hendrickson says. "Take your time."
Bailey then abandons the Florida story. In its place, he provides an entirely new account of what happened on the night of the murder—one more in line with the officers' suspicion that Jason Stuckey had help in committing the crime. The truth, Bailey says, is that Stuckey called him from the road on his way home from Atlanta, told him he and Hatfield were about to run out of fuel, and asked him to come meet them with a gallon of gasoline. Bailey says he then picked up their mutual friend—and eventual co-defendant—Mark Hammond and took directions from him about where to go.
When they pulled up behind Stuckey's truck, Bailey says, he stayed in his car while Hammond got out and walked over to Stuckey and Hatfield. Moments later, while he was fiddling with the car stereo, Bailey heard shots—"pow, pow, pow"—and when he looked up, Hatfield was no longer visible.
All of a sudden, Bailey tells the investigators, "Mark was running to the car and he jumped in …. and he said, 'Motherfucker, if you say anything, I'm gon' kill you.' " Then Stuckey approached and made a more elaborate threat, telling Bailey that unless he kept his mouth shut, he would kill him and his girlfriend, Heather Brown.
During his murder trial three years later, prosecutors would argue that Bailey's statement constituted evidence that he had provided crucial assistance in the commission of Hatfield's shooting, and was therefore guilty of murder. Nevertheless, he wasn't charged immediately after giving his statement, nor is there any indication in the case file that authorities tried to make any arrangements for him to become a state's witness against Stuckey or Mark Hammond. It wasn't until two months later, when a second eyewitness came forward with a story that put all six eventual co-defendants on the scene, that Bailey was finally charged. In that second witness statement, the murder of C.J. Hatfield sounded like a full-fledged conspiracy.
Provided in March 2005 by a bouncer from Grand Central Station named John Edward Parmer, the statement laid out a story that was fundamentally inconsistent with the one Bailey had told two months earlier. As Parmer described it, Hatfield had been shot after being lured to a gathering in front of the home of his girlfriend, Sarah Drescher. His body, Parmer said, had then been transported in the back of a truck to the location where it was later found. This wasn't merely a different narrative than Bailey's—Parmer's statement implicated a different though overlapping set of people than Bailey's had, putting Drescher on the scene of the murder, along with Bailey, Stuckey, Parmer himself, and two other bouncers from Stuckey's crew.
Tommy Merritt, the investigator who assisted Hendrickson in the murder case, told me he never found Parmer to be particularly credible. "It was kind of like, 'This is too easy,' you know?" he said. "When things are real easy, I wonder about their validity." But when District Attorney Valeska heard about Parmer's statement, he ordered charges brought against everyone who had been implicated in it, including Bailey.
After he found out he was being charged with murder, Bailey tried to recant his incriminating statement, telling Hendrickson and Merritt he'd invented the story to win leniency on his pending drug charges. "I was looking for a deal and ended up getting caught in the middle of it," he said, according to a transcript of his police interview. "I knew y'all needed an eyewitness." It was the first of many times that Bailey would make some variation of this claim over the subsequent decade as he fought for exoneration. He had told a lie, he insisted, and he wanted to take it back.
This is the knot at the center of James Bailey's story: Either he was lying when he said he was present at the scene of the crime, or he is lying now when he says he was not. By his own admission he is a man who will lie to advance his goals, as I've witnessed for myself over the past year of reporting this story. In just the time I've known him, Bailey has created a Facebook account under an assumed name to contact his ex-girlfriend's family, posed as a government investigator to extract information from a stranger over the phone, and maintained a website about his case called "Free Alabama's Innocent" that purported to be the work of a "watch dog" group. When I confronted Bailey about his deceptions, he replied, "Sometimes you have to use bullshit to grow vegetables."
There is no question that James Bailey is a liar. But he might be a liar who had nothing to do with the murder of C.J. Hatfield.
Seated in the living room at Bailey's mother's house, Ruth Robinson dug through the cardboard box, trying to find and arrange all the pages of the documents that had caught her eye. Once she did, it took all the restraint she could muster not to tell Bailey's mother she had just found the key to her son's exoneration.
The first of the two documents appeared to be a copy of a five-page transcript, dated Nov. 22, 2004, of an interview between Heather Brown—the girlfriend Bailey was living with at the time of his drug arrest, as well as his alibi for the murder—and the sheriff's deputy Allen Hendrickson. Over the course of the conversation, Hendrickson appears to ask Brown to help him get Bailey to talk about Hatfield's death. When Brown assures him that Bailey wasn't involved, Hendrickson replies, "We know he was not there. The evidence shows that." All he wants from Bailey, he explains, is information.
Hendrickson then makes a stunning proposal. Given that Brown has worked with local police to plant drugs on people before, he says, might she be willing to place a batch of chemicals in her home so Bailey could be caught with them, then threatened into cooperating in the Hatfield case? "He don't have to be there," Hendrickson is quoted as saying. "We just need chemicals so it looks good." At the end of the five-page transcript, Brown appears to agree to the plan in exchange for unspecified "favors" and promises Hendrickson she will call him when the setup is ready.
The second document Robinson discovered was even more explosive. Short, type-written, and issued on what looked to be the official letterhead of District Attorney Doug Valeska, it was addressed to Hendrickson and appeared to be signed by Nereida Bundy, a prosecutor in Valeska's office working the Hatfield murder. In the letter, Bundy indicates she is aware of the Heather Brown interview and instructs Hendrickson to remove the transcript from Bailey's case file. "Please be advised that there are some discrepancies in the interview … which this office is not willing to support," the cryptic note reads.
The interview between Hendrickson and Brown suggested that the methamphetamine bust was a straightforward frame-up. The letter from Nereida Bundy, meanwhile, looked like evidence of prosecutorial complicity in concealing a remarkable piece of exculpatory evidence. Robinson asked Bailey's mother, Frankie McDaniel, where the documents had come from and whether they had ever been presented in court. McDaniel replied that she didn't know but assumed they had been given to her by one of the many court-appointed lawyers who had represented her son in the years since his arrest. McDaniel, a long-haul trucker who would later testify that she quit school in ninth grade, told Robinson that she had looked at the documents before but had not understood their significance.
With the new evidence in hand, Robinson felt a giddy sense of confidence, even as part of her wondered whether the documents were too good to be true. But given the accusations of police misconduct swirling around Dothan, as well as the growing faith Robinson had in her client, she was inclined to accept the documents' authenticity. When she told James Bailey about them over the phone, he said he'd never seen them before, but that they were consistent with a statement that Heather Brown had made at his 2005 parole hearing, where she'd attested that the drugs in the house had all been hers. The documents could also explain why only Bailey, and not Brown, had been arrested during the raid on their shared home.
Though Robinson had no courtroom experience, she had a hard time imagining that a judge could look at what she had discovered and decline to either invalidate Bailey's convictions outright or at the very least grant him a new trial. On Feb. 29, 2016, she filed the Brown-Hendrickson transcript and the Bundy letter in court. Soon afterward, she submitted them as part of a formal petition for a new trial. "[A] fundamental miscarriage of justice has occurred," Robinson wrote in her filing. "James Bailey hereby asserts that the State's withholding of evidence constitutes a violation of his constitutional rights." In March, Jon Carroll of the Henry Report—the writer responsible for the sensational drug-planting story from the previous December—published the documents on his website as part of a high-pitched post calling on the Justice Department to investigate the latest evidence of Dothan's corrupt law enforcement culture. "The gravity of this case cannot be underestimated," he wrote.
The reply to Robinson's filing from the prosecutors in Doug Valeska's office was swift and unequivocal. "Every material allegation" in Bailey's petition was unsubstantiated, they wrote, and "a thorough and exhaustive investigation" of his case file had failed to produce any mention of the Hendrickson transcript or the Bundy letter. The documents Robinson had found, the prosecutors alleged, were nothing more than forgeries.
Robinson dismissed the state's response as further proof that the authorities in Dothan were willing to do and say anything to hide the truth, and she began the work of demonstrating that they were wrong. To show the letter from Nereida Bundy was authentic, she would need to find a certified document examiner who could attest to its validity. To authenticate the transcript, she would need to track down Heather Brown to confirm that Allen Hendrickson had indeed urged her to plant drugs on her boyfriend.
There was a problem, though: No one knew where Heather Brown was. The last time anyone heard from her, she was due in court for a hearing in connection with the drug charges she had eventually picked up after the meth raid on her house. But Brown didn't show up to the hearing and afterward went abruptly silent: no phone calls to her siblings or her four children, no emails, no logins on her MySpace account. Everyone close to her had come to the conclusion that she was dead.
Brown's older siblings, Tim Franzen and Erin Hallman, got in touch with Robinson not long after reading about the documents on the Henry Report. (Bailey had sent the story to Brown's eldest daughter through Facebook, using the pseudonym "Frank W Price"). They had always assumed their sister had died as the result of a conflict with one of her friends or enemies in the Dothan underworld. Now, as they read the alleged transcript of her conversation with Hendrickson, they began to wonder if she'd vanished because someone in law enforcement—someone with an investment in protecting Bailey's conviction—was worried that she knew too much.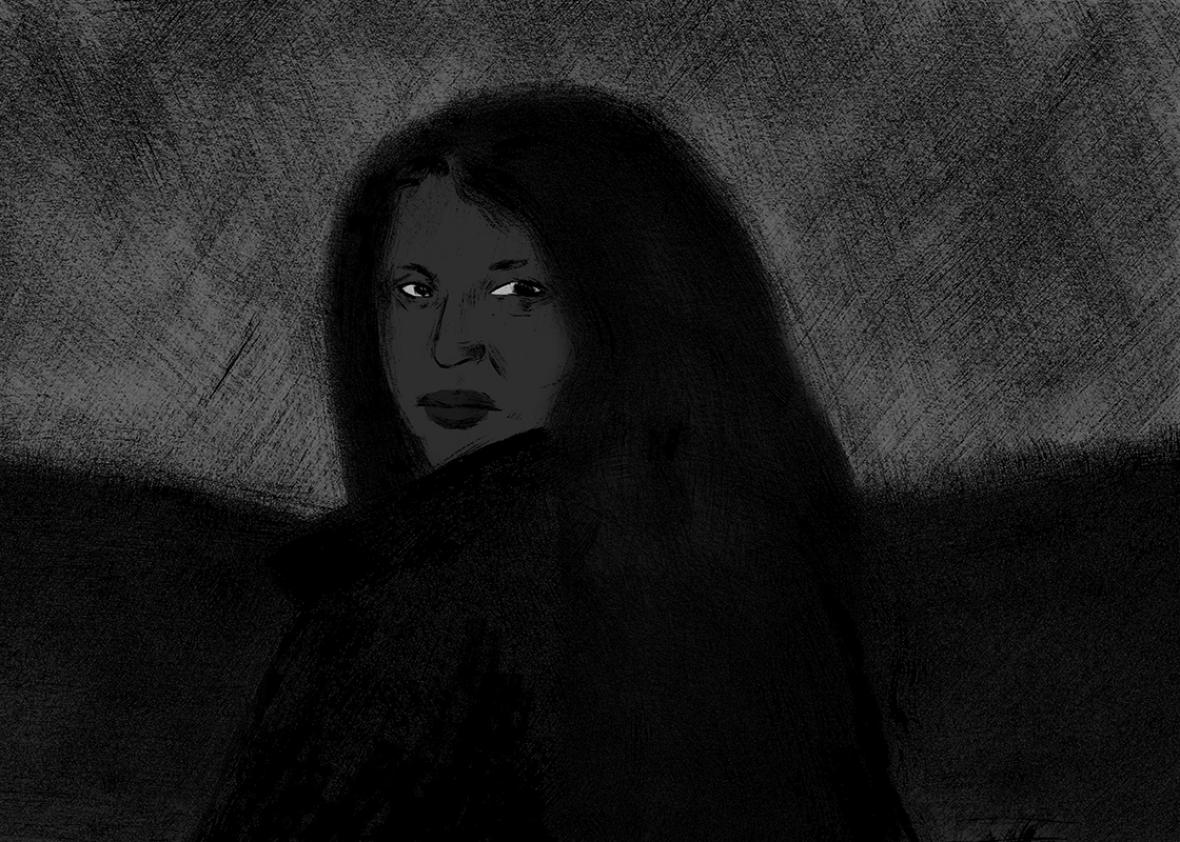 The documents from the cardboard box weren't the only reason to doubt that James Bailey was involved in C.J. Hatfield's murder. Investigators had recovered no physical evidence to link him to the crime—no DNA, no fingerprints, no footprints where the body was found. The only thing placing him at the scene was his recanted statement, which no one else had corroborated. Even the prosecutor conceded during Bailey's trial that without the statement, he couldn't definitively connect Bailey to C.J. Hatfield's murder. Every other piece of evidence presented at trial seemed to support, at worst, a scenario in which Bailey helped Jason Stuckey cover up his role in the murder after the fact. That was a crime, but not one that would have carried a punishment nearly so severe as a life sentence.
Neither the investigators who worked the case nor the prosecutors who pursued charges against the six co-defendants could seem to agree on the basic facts of the murder—when it occurred, who was involved, and whether the clearing where Hatfield's body was found was the scene of the crime or merely the place where his body had been dumped. The consequence of this uncertainty was that, in convicting Bailey and the other two individuals who are still in prison for Hatfield's death, the state advanced three completely different—and incompatible—stories of how the murder happened and which of the six co-defendants were responsible. In prosecuting Bailey, they told the jury that he had driven gas to the crime scene moments before the murder was committed by the side of a dirt road. In prosecuting Parmer, they accepted the bouncer's assertion that the murder occurred outside of someone's house and involved six different people. In prosecuting Stuckey, the key witness they put on the stand said Stuckey had killed Hatfield all by himself.
The confusion left even the victim's family unsure of whether justice had been served. "We never really got answers," C.J. Hatfield's mother told me. "I still don't know who actually did what."
Allen Hendrickson, the Henry County investigator who was credited in the Dothan Eagle with cracking the Hatfield murder in March 2005, declined to be interviewed about his work on the case, citing Ruth Robinson's ongoing efforts to overturn Bailey's conviction. But Tommy Merritt, the captain in the State Bureau of Investigation, told me that despite spending more than a year interviewing and reinterviewing the suspects and their associates, he could not tell me with certainty who had killed C.J. Hatfield. "I don't know exactly what happened," Merritt said.
The investigator blamed the co-defendants for this uncertainty, saying they had offered such a thicket of conflicting, deceitful stories that it was impossible to determine who was telling the truth. "Either these people were incredibly stupid, or incredibly smart," Merritt said. "If their intent was to really muddy the water to keep us from knowing exactly what happened, they did a really good job."
Still, Merritt seemed conflicted about the investigation. At one point during our conversation, he said he believed that no innocent people had gone to prison in connection with Hatfield's death. Moments later, he said that most likely only one of the six defendants—Stuckey—had been responsible for the killing, and that he didn't know how, exactly, James Bailey fit in. "Them all being there and this all being a conspiracy—it just doesn't make sense," he said. "I don't know if Bailey was there or not. He said he was, and then he said he wasn't."
As for the possibility that Allen Hendrickson had asked Heather Brown to plant drugs on Bailey in order to compel Bailey's cooperation, Merritt told me he could not rule it out. "He did a lot in this case alone that I did not know about and did not approve of. … I couldn't stop him from whatever he was doing and it caused problems." Later, in an email, Merritt called Hendrickson a "police officer without discipline," and added, "I would not conduct an investigation with him again, nor would I allow an Agent under my supervision to do so."
Even so, Merritt said he was at peace with the outcome of the Hatfield case. All six co-defendants had "had their day in court," he said. "It was what it was."
Merritt's confidence in the outcome of the investigation, despite his clear misgivings about how it was conducted, reflects a paradox inherent in our criminal justice system. Despite the elaborate protocols designed to correct mistakes and reverse unjust verdicts, there exists a powerful inertial force that ratifies past judgments even when they are manifestly flawed. This is especially true for a defendant like James Bailey, a "career criminal," as the state has described him in court filings, whose claim of innocence is premised on convincing the authorities he is telling the truth when he says he lied to them in the past.
The decision to charge six people on the basis of one questionable statement and several theories of the crime was a typically aggressive move by Doug Valeska, who left his job last month as district attorney for Henry and Houston counties after a 30-year career. A proud upholder of "law and order" values, Valeska is known across Alabama for his reluctance to accept plea bargains, and for his fondness of the death penalty. As AL.com reported last year, Houston County "imposes the death penalty more often than any other county in a state that imposes the death penalty more often than any other state in the nation."
Valeska's severity was also reflected in his voracious approach to charging decisions. One local bail bondsman put it to me this way: "Down here … they find a joint in the car, they'll charge everybody in the car and figure it out later." A circuit judge confirmed that characterization when a defense lawyer noted that six people had been accused of C.J. Hatfield's murder. "Yeah," the judge said in court. "This is the 20th Judicial Circuit. … The pattern is to charge anybody in all directions in the beginning, and then let somebody sort it out."
James Bailey and his five co-defendants appeared in front of a judge for a preliminary hearing in April 2005. Over the course of the all-day session, defense lawyers pointed out a string of flaws in the state's case, asking questions that prompted investigators to respond with variations of "I don't know" or "I don't recall" dozens of times. The state's witnesses couldn't account for the fact that statements given by James Bailey and John Edward Parmer contradicted one another on the most basic of facts: where the murder took place and who was there. Nevertheless, each defendant's case was bonded over to a grand jury, and formal indictments on charges of felony murder followed shortly thereafter.
It took more than five years for all the cases to be adjudicated. During that time, Sarah Drescher—who declined to comment for this article—was cleared of all charges while two of the bouncers from Jason Stuckey's crew—both of whom deny having anything to do with Hatfield's murder—avoided prison by pleading guilty to the lesser charge of hindering prosecution. In 2009, Parmer pleaded guilty to manslaughter after stipulating that he had failed to prevent Hatfield's murder and had helped to move his body.
In an interview, Parmer told me that, like Bailey, he had given his incriminating statement in an attempt to secure leniency on an unrelated charge—in his case, a robbery he had committed at a Dothan gas station while wielding an ax. "I was telling them what I thought they wanted to know," Parmer said by phone from prison. "I'm the reason all this stuff is screwed up like it is and everybody got messed around like they did," he said.
Bailey and Stuckey were both ultimately convicted by juries and sentenced to life in prison. Bailey's trial came first. It reached its climax when his court-appointed lawyer put him on the stand and exposed him to the kind of brutal cross-examination that illustrates why defense attorneys typically advise their clients not to testify.
It began smoothly enough. Bailey testified that he didn't see Stuckey until several days after the murder, at which point he confessed, tearfully, to what he'd done and asked Bailey for advice. Bailey said he told his friend to turn himself in and hire a lawyer, and that Stuckey was on his way to do just that when he was arrested outside Bailey's house.
On cross-examination, Bailey was questioned about how he'd been able to draw a picture of the crime scene for investigators during his interrogation if, as he now claimed, he had never been there. He explained that the police had shown him photos of the scene and that he'd remembered them. "I have an excellent [memory]," he said. "I have an associate's degree in drafting."
Bailey was also asked about Heather Brown, whose absence from the courtroom was glaring:
Prosecutor Gary Maxwell: Where is [Brown]?
Bailey: Your guess is as good as mine, sir.
Maxwell: Did you subpoena her?
Bailey: Did I subpoena her? I don't have an address for her.
Maxwell: She would be an important witness, wouldn't she? She could verify a lot of things you said, wouldn't she?
Maxwell: What efforts did you make to get her here?
Bailey: The Houston County Sheriff's Department has been looking for her for four years. … I tried to contact her through the last address I had. She is wanted. I don't think they will find her.
The prosecutor also confronted Bailey with a series of inconsistencies in the portion of his police interview that occurred before the suspicious smoke break:
Maxwell: So why all of a sudden are you telling lies before the break then?
Bailey: There were many lies told in that.
Maxwell: And you have told lies and lies and lies, according to what you … have said about this, right?
Maxwell: But you're telling the truth today?
Maxwell: And you want the jury to believe that you lie to the police, you lie to everybody else, but you're telling the truth today?
Bailey: The evidence will show the truth.
The jurors were not impressed by Bailey's performance. After the judge explained that they didn't need to think the defendant had himself shot C.J. Hatfield to find him responsible for the murder—only that he had been party to the planning or commission of the crime—the jury quickly came back with a guilty verdict. A month later, in December 2008, Bailey received a sentence of life without the possibility of parole.
Stuckey's trial, which took place in 2010, turned on the testimony of Scott "Bam Bam" Mathis, one of Stuckey's old friends from Grand Central Station. He told the jury what he'd told the police back in 2004: that Stuckey called him the day after he'd killed C.J. Hatfield, confessed, and asked him to sell the murder weapon. "He told me that he pulled over, C.J. woke up, and Stuckey said he had to use the bathroom," Mathis said. "He told me that he shot him in the chest area. And he said as soon as C.J. hit the ground, he walked up and shot him two more times … in the face area."
Parmer, whose testimony would have contradicted that of Mathis, was not called as an eyewitness, meaning the Stuckey-as-lone-gunman theory carried the day. The jury found him guilty, prompting Stuckey to convince the judge to let him retroactively admit to his role in the murder in exchange for a lesser sentence. The judge agreed, giving Stuckey a life sentence, but with the possibility of parole.
After the trial, Stuckey met with C.J. Hatfield's mother, Doni Mobley. "They let him go into a room and talk to me, and I told him, 'Take me through every step. I want to know every single detail,' " Mobley recalled recently. "He said that on the way home from Atlanta he was mad [about the robbery], and that he was on drugs and he was high, and he kept getting madder and madder and madder, and when they stopped somewhere to pee, he killed him. … I can't remember exactly what he said, but he told me he shot him, and then he shot him again, and then he shot him again to make sure he was dead."
Mobley told Stuckey she didn't believe him—that she was certain that other people had played a role in her son's death. But Stuckey held firm: No one else was involved, only him.
Stuckey's willingness to take sole responsibility for the murder—something he had not done at the time of Bailey's trial—became one of the main pieces of evidence in Bailey's efforts to overturn his conviction. In 2011, with help from a Dothan lawyer named Allen Mitchell, he filed a petition for an evidentiary hearing during which Stuckey would testify on his behalf. When Stuckey took the stand, he told the court the same thing he had told Mobley: that neither Bailey nor anyone else had been present when he shot C.J. Hatfield by the side of a dirt road, and that anyone who said otherwise wasn't telling the truth.
"Mr. Bailey is a lot of things, a liar is the first and foremost; [but] a murderer, he is not," Stuckey said, according to a court transcript. "I acted alone. It was me."
The presiding judge wasn't convinced. In a written opinion, he declined Bailey's petition on the grounds that he was "not inclined to pick and choose which part of the co-defendants' testimonies is true at any given time." On appeal, a different judge ruled that Stuckey's testimony couldn't be trusted because, as a convicted killer who would be spending the rest of his life in prison regardless of what happened to Bailey, he had nothing to lose by trying to clear his friend's name.
Bailey appealed the decision all the way up to the Alabama Supreme Court. His conviction was upheld every step of the way. By the beginning of 2016, he told me, he'd given up any hope of winning his freedom. Then Ruth Robinson called him in prison, hoping to speak to another man named Bailey.
A judge in the 20th Judicial Circuit scheduled an evidentiary hearing to debate the legitimacy of Robinson's documents for July 18. Technically, the hearing would be extremely limited in scope and would be concerned only with the validity of Bailey's Houston County drug conviction. But Robinson saw it as an opportunity to exonerate Bailey completely. If she could cast doubt on his drug arrest, she reasoned, the confession he had given while in custody would be called into question as well.
On June 21, the Alabama Office of the Attorney General filed a notice of appearance in the Bailey matter, informing Ruth Robinson and the court that the state's top prosecutor would be sending a few of his people down from Montgomery to Dothan to help District Attorney Valeska with the case. A week later, the AG's office took the extraordinary step of asking the court to remove Robinson as Bailey's lawyer, on the grounds that prosecutors intended to call her as a witness. The filing read:
In his petition, the Defendant alleges that he has newly discovered evidence that entitles him to post conviction relief. This alleged new evidence was discovered by Attorney Ruth Lang Robinson on February 23, 2016, underneath the Defendant's mother's bed. … The State avers that these documents are not legitimate and are, for lack of a better term, false.
Robinson was livid, if flattered, that the attorney general of Alabama wanted her off the case. "They're trying to make a Bruce Cutler out of me," she told me by phone, referring to the lawyer who was blocked from defending mob boss John Gotti in a 1991 murder case amid allegations that he had been complicit in Gotti's criminal activity. "I have done nothing wrong," Robinson said.
With less than three weeks left before the evidentiary hearing, the judge presiding over the case declined to grant the state's motion to disqualify Robinson, asking instead that she consult with the Alabama State Bar so that the issue could be discussed at the hearing. In a letter that Robinson later filed with the court, a representative for the bar advised that Bailey's mother would be no less effective than his lawyer at providing testimony about the circumstances under which the disputed documents were discovered.
In preparing for the hearing, Robinson's central task was to prove that the documents she had found in Bailey's mother's house were authentic. But Robinson's deepening obsession with Bailey's innocence—at one point she told me that even her young children had started asking her about when "James" would be getting out of prison—made it hard for her to stay focused on that goal. Instead, she immersed herself in every aspect of her client's legal history, traveling to prisons around Alabama to conduct interviews with his co-defendants in the murder case, trying to figure out where Heather Brown's body might have been buried, and doing extensive opposition research on the law enforcement agents connected to Bailey's case.
No one interested Robinson more than Allen Hendrickson, who had long since stopped working at the Henry County Sheriff's Office and was now a police officer in two tiny cities outside of Dothan. Hendrickson, Robinson learned, had joined the Hatfield investigation in late 2004 after being fired from his previous job in neighboring Houston County. The reason for his termination, according to a letter Robinson had obtained, was a pattern of refusing "to accept and conform to department policy and guidelines" and "providing false information to supervisors." The letter, written by Hendrickson's then-boss Lamar Glover, also noted that Hendrickson had tested positive for methamphetamine. (When I showed Glover a copy of the nearly 13-year-old letter, he said that while he could not recall the details, the letter was authentic.)*
As Robinson bore deeper into Bailey's case, she and her client communicated with increasing regularity, making plans for all the "secret weapons"—Bailey's phrase—they would spring on their opponents.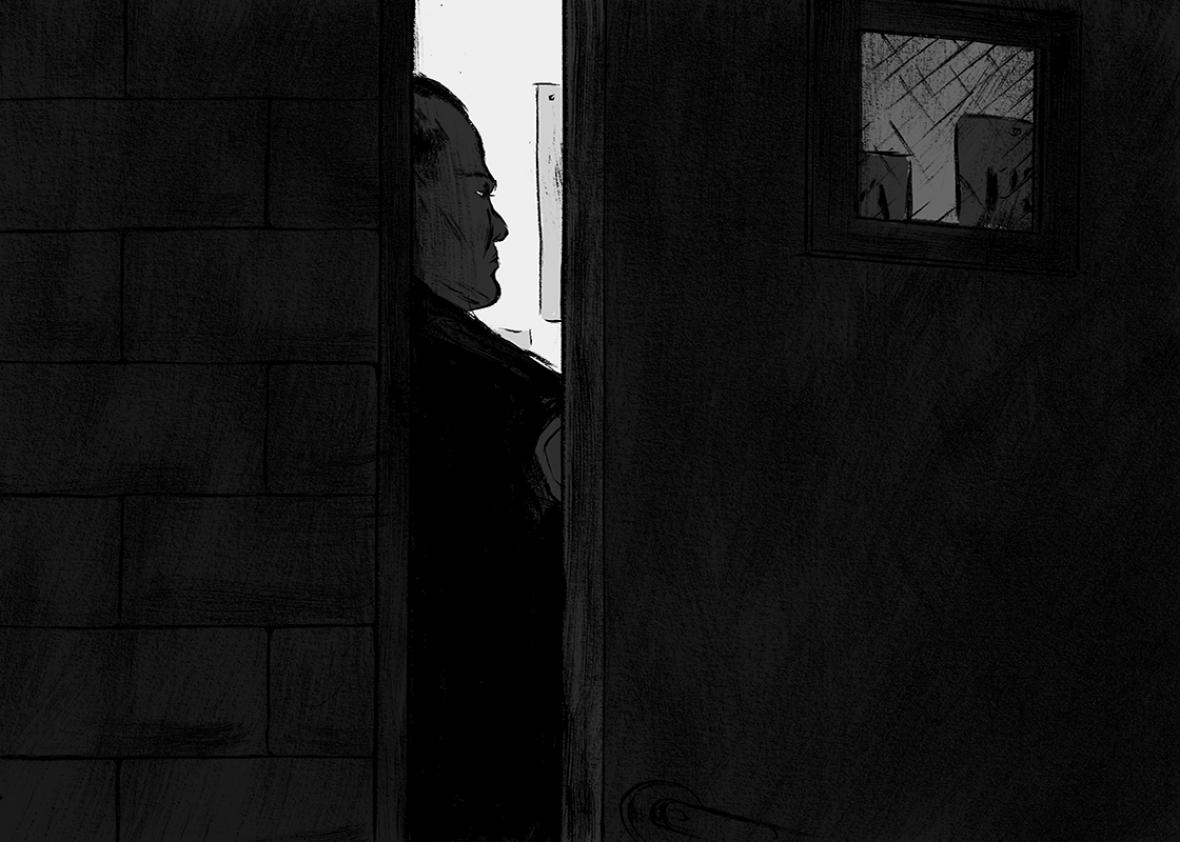 Robinson arrived in Dothan a few days before the hearing and met me and Frankie McDaniel, Bailey's mother, for dinner at a TGI Fridays. As we waited for a table, Robinson clutched her handbag as if someone might tear it from her shoulder, and her eyes rarely settled on any one part of the dining room. McDaniel seemed similarly unnerved, knowing she had to testify about the documents Robinson had found in her house. As we sat down at our table, Robinson tried to buoy McDaniel's spirits. "We're gonna win," the lawyer said. "We're gonna win."
"That's my angel," McDaniel said, softly. "I don't know where she came from, but she's my angel."
The rapport between Robinson and McDaniel was tender but tense, with the lawyer exhibiting a palpable protectiveness over her client's mother and trying to channel confidence. But Robinson was also on edge, having now dedicated months of her life to helping Bailey without any guarantee that she'd ever be paid for her work. McDaniel had managed to send her two payments of $250 over the course of six months. Robinson was proceeding with the understanding that her services would never be fully compensated unless she succeeded in exonerating Bailey and could move on to pursue civil damages.
When our food arrived, McDaniel took our hands and said a prayer. "Oh lord, thank you for this food we're about to receive," she said. "And lord, put your hands on us come Monday, and help us show that our son is innocent of the crime, and should be at home, and that we love him."
Over the course of dinner, we talked about the day McDaniel and Robinson first met and the night they discovered the documents that would be scrutinized at the upcoming hearing. We also discussed Doug Valeska; I mentioned that I'd gone to his office and asked for an interview, but that I'd been turned down. At one point, Robinson paused and indicated that we should be more discreet. "I think there's some people here who don't need to hear this conversation," she said.
"Over there?" I asked, gesturing toward two men seated near us at the bar.
"Everywhere," Robinson said.
On the morning of the hearing, an assortment of Bailey's relatives—including his mother and his 21-year-old son, Billy—stood in line in front of the Houston County Courthouse waiting for the metal detector attendant to wave them through. Heather Brown's siblings were there, too, as was C.J.'s Hatfield's mother.
Shortly after 9 a.m., Ruth Robinson walked into the courtroom and sat down next to her client, who was dressed in an orange jumpsuit and had his hands folded in front of him in a pair of chunky handcuffs. On the other side of the room sat an imposing group of prosecutors, including Doug Valeska, an assistant DA, and three lawyers from the Alabama attorney general's office. Robinson approached Frankie McDaniel, her first witness, and began her questioning:
Robinson: Hi, Ms. McDaniel. How are you this morning?
McDaniel: I'm fine. How are you?
Robinson: I'm OK. Can you kind of fill us in on what's been going on this last week or so—
Judge Bradley Mendheim: I'm sorry. Can I get her name first? I'm sorry. What's your name?
McDaniel: Frankie McDaniel.

Judge Mendheim: I'm sorry. Go ahead.
District Attorney Doug Valeska: We're going to object to "just kind of fill us in."
Judge Mendheim: Sustained as to the form.
It was an infelicitous beginning. At one point during the direct examination of McDaniel, the state objected to a line of questioning involving the Bundy letter, and the back-and-forth that followed seemed to expose Robinson's lack of familiarity with basic courtroom procedures. Seeing that Robinson was flustered by the exchange, Judge Mendheim—who, with his thin-framed eyeglasses and methodically slow diction, brought to mind a good-natured math teacher—exhibited a tentative but generous patience. "I understand, obviously, why you're anxious," he said.
Despite being unable to hide her nervousness, Robinson scored some points in the presentation of her case. The strongest came by way of a forensic handwriting analyst and document examiner named Steven Drexler, who testified that the Nereida Bundy signature at the bottom of the disputed prosecutor's letter was "probably" authentic and that the letter itself did not betray signs of Photoshop-style manipulation.
Though Drexler could only phrase his conclusions in terms of probability—"Working from a copy as a questioned document, I can't totally, 100 percent, eliminate the possibility of a very skillful cut and paste," he said—his testimony carried credibility: Drexler was the only document examiner in Alabama certified by the American Board of Forensic Document Examiners. He was also someone Allen Hendrickson had previously relied on as an expert while investigating the Hatfield murder.
In questioning her other witnesses, Robinson betrayed the scattershot approach she'd taken in her preparation, eliciting intriguing testimony that lacked clear relevance to the matter at hand. While her opponents kept their arguments relatively simple—Hendrickson denied that he had ever had a conversation like the one depicted in the transcript; Nereida Bundy said she had not written the letter—Robinson worked in fitful, impressionistic circles.
At one point, she called to the stand a woman named Crystal Boyett, a childhood friend of Bailey's who also happened to be Allen Hendrickson's former sister-in-law. Boyett's name had appeared in the disputed transcript, and when she read about it on the Henry Report, she contacted Hendrickson over Facebook. On the stand, Boyett testified that when she asked Hendrickson what to do if she got subpoenaed as a witness, he replied in a threatening manner. Robinson asked Boyett to read from a printout of the Facebook exchange:
Hendrickson: If you do get called just say it's been a long time. … They can't make you remember.
Boyett: I will not do that if James is innocent you need to let him out
Hendrickson: James Bailey is not innocent he lied to me and now he has to live with the consequences. It back fired.
Boyett: He is innocent and that is wrong and you know that
Hendrickson: But he was found guilty and that's that. … you just keep your mouth shut or I will make sure you do I'm done with this. Don't text me again
Boyett: He don't deserve that
Hendrickson: Well I didn't put him there his roommate did
The exchange, which the state did not dispute, reflected poorly on the investigator whose work on the Hatfield case had put Bailey in prison. But it didn't tell Judge Mendheim anything about whether the transcript or the Bundy letter were authentic.
The same problem plagued Robinson when she questioned Robert Brown, Heather Brown's ex-husband and the father of her children. Brown made two central assertions under oath: that his ex-wife had gone missing a decade ago and that he knew she and James Bailey were in Florida at the time of the Hatfield murder. These claims would have been consequential if Brown had been testifying at Bailey's murder trial. In the context of a hearing to determine whether the documents Robinson had found were authentic, they amounted to a useless digression.
Early on the second day of testimony, Robinson requested to have Bailey's handcuffs removed so he could write her notes while witnesses gave testimony. "I don't know if anyone really cares, but my client's handcuffs—they're bearing into him," she said. Mendheim denied the request.
Robinson's inexperience hindered her throughout the hearing. While questioning Hendrickson, she became so frustrated by his defiant manner on the stand—at one point he refused to accept the validity of an official trial transcript because his first name was spelled incorrectly—that she blurted out, to no one in particular, "Another typical Houston County …" Though she trailed off before finishing the thought, Judge Mendheim was taken aback. "Ma'am? Ms. Robinson? Ms. Robinson? I need you to stop," he said, as Robinson tried to clarify her comment. He continued in an injured tone:
Judge Mendheim: Please stop and focus on me for just a moment. Just stop. … That is a completely inappropriate comment. I take it personally. And I'm personally offended because it's from a lawyer. ... I don't care what criminal defendants say about me. But when a lawyer comes in here and insults the county that I was born and raised in, I just—I completely don't understand it. I'm not insulting where you're from. I don't even know what you're referring to. I'm trying to give you a fair trial and a fair hearing. I'm bending over backwards.
Robinson: Well, Your Honor—
Judge Mendheim: I mean, if you don't think I can be fair, you should have filed a motion to recuse.
Robinson: Yes, Your Honor. Can I do so now?
There were audible gasps in the courtroom. But before the situation could escalate further, Robinson withdrew her comments, apologized, and was allowed to move on.
After the hearing ended, Bailey was escorted out of the courtroom by a pair of deputies. On his way out, he almost collided with several members of the attorney general's team in the hallway. As he was being led away, he seemed to apologize to them on his lawyer's behalf. "This is not her thing," he said.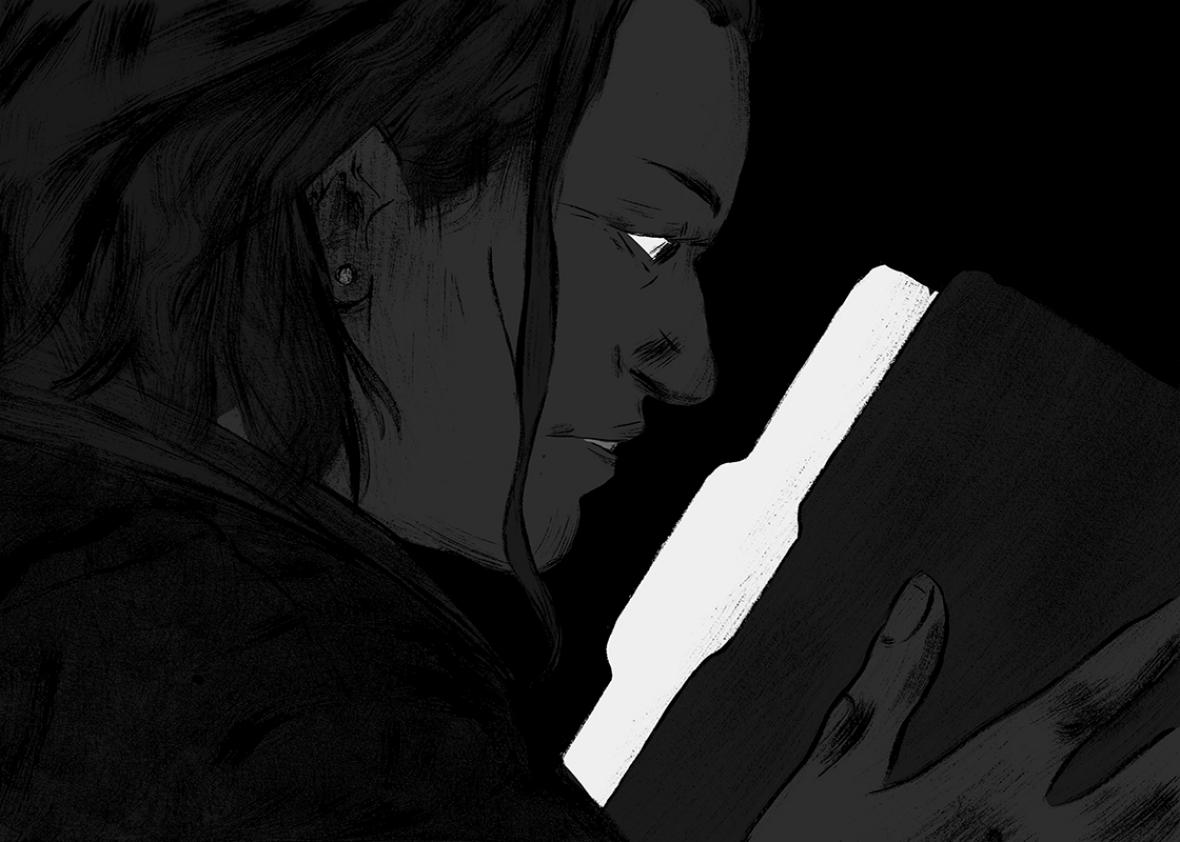 On Aug. 3, two weeks after the hearing, Robinson submitted a written pleading in which she articulated a number of legal arguments that had come through faintly, or not at all, in court. The pleading was a last stand of sorts. In it, Robinson argued that Mendheim had a responsibility to consider "the entire record" when evaluating Bailey's claim. She cited a U.S. Supreme Court case from 1976:
The [prosecutor's] omission must be evaluated in the context of the entire record. If there is no reasonable doubt about guilt whether or not the additional evidence is considered, there is no justification for a new trial. On the other hand, if the verdict is already of questionable validity, additional evidence of relatively minor importance might be sufficient to create a reasonable doubt.
Robinson ended her pleading with a quotation from Robert F. Kennedy: "Few will have the greatness to bend history itself, but each of us can work to change a small portion of events."
Mendheim was unmoved. On Aug. 12, he ruled against Bailey in a 25-page opinion. The Hendrickson-Brown transcript, he wrote, could not be authenticated given that there was no "original" version of it—only a copy—and that there was no audio recording. The Bundy letter didn't strike him as any more credible, despite the testimony of the document examiner. Nereida Bundy, Mendheim wrote, had sounded "genuinely shocked, aghast, and upset that her integrity as a lawyer, prosecutor and a person was attacked in such a way." He continued:
[T]he petitioner has offered no explanation or motive for Nereida Bundy to write not only a professionally unethical letter, but also one that could lead to criminal liability. … Why would Ms. Bundy seek to "frame" an innocent man for a crime he did not commit? Why would that person be the petitioner, James Bailey? It is illogical that Ms. Bundy, an experienced lawyer and prosecutor, a well-educated person, would memorialize a conspiracy to frame an innocent man by writing a letter. If what the petitioner claims is true, she could accomplish the same purpose verbally, and not have a lifetime of fear that her conduct may be uncovered.
In his analysis of the Bundy letter, Mendheim hit on the most basic argument for treating both documents with skepticism: Who would be so brazen, or so stupid, to conduct their conspiracy in writing? If an investigator wanted to ask Heather Brown to plant drugs on her boyfriend, he would presumably do so without a tape recorder running. If a prosecutor wanted to bury an inconvenient piece of evidence, she would almost certainly give the order in person or over the phone.
There were others reasons to be suspicious of the documents, reasons that Mendheim did not discuss in his ruling. Above all, they seemed a little too convenient—a pair of puzzle pieces perfectly configured to complete a picture of the case in which James Bailey has been railroaded by the authorities. In just a few short pages, they discredited the investigator who arrested Bailey and the assistant district attorney who prosecuted him, and did the work of absolving him of both his drug charge and his murder charge. The transcript even contained a passage that suggested Hendrickson knew that Bailey was not guilty of the murder but that he'd participated in prosecuting him anyway.
Another red flag was the similarity—pointed out to me by a team of forensic linguists led by Robert Leonard at Hofstra University—between the transcript's opening and some boilerplate from a conversation between Hendrickson and Heather Brown that had been captured on tape. Both interviews began with Hendrickson saying to Brown, "Heather, do you understand your rights? You've been advised of your rights. Do you understand your rights? Are you giving me this statement without the presence of your attorney?" In both transcripts, Brown says, "Yes," and Hendrickson responds, "Ok that's freely correct?" The repetition could suggest either that the documents Robinson had found were authentic—that that was just how Hendrickson opened his interviews—or that they'd been forged by someone who was familiar with the details of Bailey's case and had access to his case file.
James Bailey assured me on multiple occasions that he did not forge the documents. "No. Never," he said last summer. "I gave up [on my case], man. I gave up three years ago. If I had had this, you think I would have given up?" Later, he said that if he had forged the documents, he would have done a better job. "I've thought about it, you know? If I was to do it, how would I do it?" he said. "Well, there's a lot of things … that I would have done a lot differently if I'd done it."
Had Bailey asked anyone outside of Holman prison to forge the documents on his behalf? "I promise I didn't," Bailey said. "And I promise that nobody in my family did. … I mean, my son, he could do it if I could get him to talk to me. But I mean, I talk to him like once a month."
Bailey was referring to his eldest child, Billy Norton. Norton, who was 21 when I met him at a bar outside of Dothan last summer, talked nonchalantly about being the owner of six or seven email addresses and described for me the freelance work he did as a white-hat hacker for companies trying to test their security. Norton also told me that he'd offered to help his father get out of prison by forging some documents for him, but that Bailey had said it was unnecessary given the vast amount of real evidence he already had working in his favor.
"Between … what I can do with Photoshop and everything, I mean, it could be easily done," Norton said, in between puffs on a vape pen. "But never once has he asked me to do anything of that nature. In a way it surprises me, but at the same time it doesn't. … My dad, to be blunt, is honest. He's like me."
Ruth Robinson, for her part, forcefully denied playing any role in forging the documents when I asked her about it after the hearing. And despite Mendheim's unfavorable ruling, she was determined to press ahead with Bailey's case, appealing the decision to Alabama's Court of Criminal Appeals and filing a petition for a second evidentiary hearing, this time in Henry County (where Hatfield was killed) instead of Houston County (where Bailey was arrested on the drug charges).
It was around this time that I received a phone call from Heather Brown. She was calling from a jail in Canada, she told me, where she'd been arrested after living under an assumed name for more than 10 years. She also told me that everything in the Hendrickson transcript was true.
Brown had been arrested in British Columbia during the first week of September and deported about two months later to Whatcom County Jail in Washington state. She was now being held as a fugitive from justice awaiting extradition to Alabama.
Though the circumstances under which she was discovered and apprehended are murky—privacy laws in Canada make it impossible to independently verify the details of her arrest—her brother Tim Franzen told me that an FBI agent named Tracy Lollis had been looking into Brown's disappearance for several months. While there is no evidence Lollis was responsible for Brown being captured, the timing is suggestive: According to Franzen, Lollis traveled to Vancouver, British Columbia, to interview Brown in jail almost immediately after her arrest.
Reached by phone at his office, the FBI agent declined to comment, emphasizing that he could not confirm that any investigation was underway. "I'm not permitted to discuss anything," Lollis said.
When Brown called me on Oct. 18, she explained that she had fled Dothan in 2006 for a new life in Canada because she believed that she, James Bailey, and her four children in Florida would all be in mortal danger unless she disappeared.
"I was [being] threatened to keep my mouth shut and not to testify on James' behalf … or I was gonna die," Brown said, speaking in a low growl that I recognized from listening to tapes of her being interviewed by police. "I am James' alibi. James did not kill, or have anything to do with, in any shape and/or form, the death of C.J. Hatfield. He was with me, in Florida."
Brown was adamant, in our conversations, that the police interview represented in the contested transcript really happened—that she vividly remembered Hendrickson asking her one night in late November 2004 to plant drugs on Bailey in order to get him to help with the Hatfield murder. But the more I talked with Brown, the less I felt I could take her recollections at face value. On the one hand, she was consistent—the stories she recounted about fearing for her life in Dothan were the same ones she'd told her family before she disappeared. On the other, the stories strained belief: She talked of coming home to find menacing messages spray-painted on her walls, hearing people whisper ominous warnings into her ear while she was filling up her car with gas, and finding strange photographs of her children in her purse, with death threats scrawled across the back.
"They tried to run me off the road a few times," Brown told me at one point. "There is a ravine outside of Houston County on a main highway. There's a bridge, and the ravine is very, very deep. They tried to run me off the road at that ravine, at that bridge. I had been followed quite a bit. Little notes were placed around where I would find them—at my work, and on my car."
Brown described Dothan, Alabama, as "the most corrupt area that you can even think of in the majority of the U.S."—a city where police officers covered up murders, sold drugs, and blackmailed women into working for them as undercover informants. Her account of Dothan as a warren of lawlessness recalled the viral blog post that had made the city infamous one year earlier. But as Brown herself conceded, she possessed no more evidence of her claims than Jon Carroll of the Henry Report had presented in that post. Even her corroboration of the disputed documents in Bailey's case fell somewhat short: Though she insisted the Hendrickson transcript was authentic, she also swore that she never actually followed through on her promise to plant drugs on Bailey. In other words, Brown was willing to ratify the transcript insofar as it illustrated Hendrickson's misconduct, but she would not take responsibility for the chemicals that had landed Bailey in jail. Someone else must have put them there, she told me.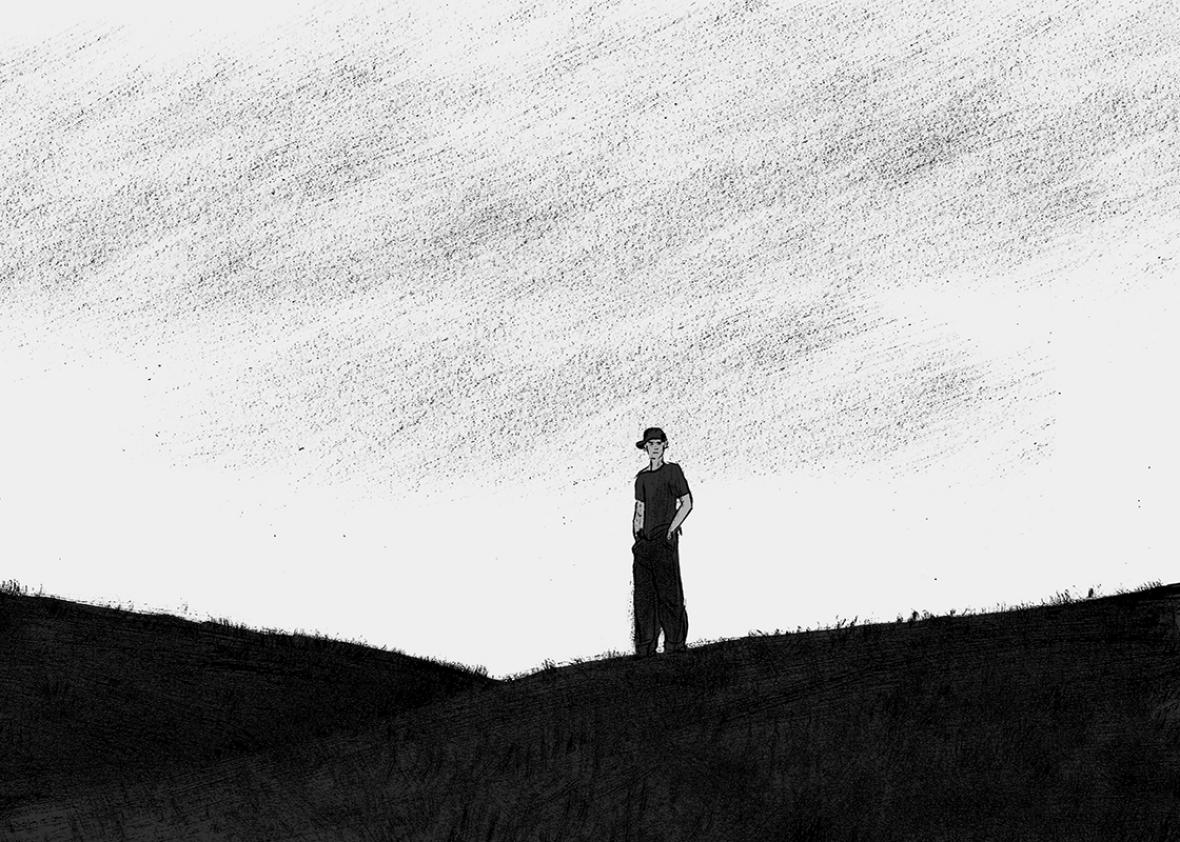 Not long after Heather Brown's reappearance in September, Bailey's exoneration effort was thrown further off course when a minor procedural hearing ended with the Dothan Police Department confiscating Ruth Robinson's cellphone. As Robinson has since described the incident in a federal civil rights lawsuit, several sheriff's deputies approached her in the Henry County Courthouse after the hearing, served her with a search warrant, and informed her that she was being investigated for intimidating a witness.
Later, Robinson explained to me that the intimidation complaint stemmed from an interaction she'd had the night before the hearing, involving a woman she had been eager to talk to about Bailey's case. According to a tip Robinson had received, the woman was privy to some information that was possibly relevant to Bailey's case. But in pursuing the tip, Robinson seems to have let her tireless dedication edge into recklessness: When the woman indicated she wouldn't talk to Robinson on the phone, the lawyer looked up her home address and showed up at her doorstep after 10 p.m. The aggressive move frightened the woman so much that she called Allen Hendrickson, a friend, and told him about it. Hendrickson, in turn, referred the matter to the Dothan police.
Robinson filed her civil rights lawsuit against the officer who took custody of her phone on Nov. 8, Election Day, accusing him of seizing her belongings "for the purpose of retaliating against her and preventing her from exercising her rights under the First Amendment to free speech." Shortly before Christmas, Robinson called me to say that the police had combed through her digital communications with Bailey and had included some of them in a court filing submitted in response to her lawsuit.
In a hushed tone, Robinson said she wanted to tell me something before I heard it from somebody else. She and James Bailey were in love.
"I don't know if we'll ever end up together," she said, emphasizing that the feelings that had developed between them did not constitute an actual relationship. "I don't even know him. … He's in prison, and I'm not. So if they were to say we're having an affair—well, not really."
I asked Robinson if she thought her feelings for her client had influenced her thinking about the evidence she'd discovered or the broader question of his innocence or guilt.
"I mean it with all purity, I want him to get out of prison because I love him, but I know he didn't do this," she replied. "If I had to pick one, if the bar came to me and said you can only do one thing, either be romantic or represent him, then I would choose to represent him, and I think he would too, because that's what he needs."
In early January, I reached out to James Bailey over Facebook Messenger. He responded to me with uncharacteristic despair: "Hey don't think it's a good idea to talk to me," Bailey wrote. "[E]veryone that does gets there life ruined and it all has to do with me."
When I convinced him to get on the phone, Bailey explained why he was feeling so defeated. Not only had the Dothan authorities confiscated his lawyer's phone, he said, but they were coming after his family, too. His mother, it turned out, had just been jailed on charges of promoting prison contraband. She stood accused of sending a package of cellphones through the mail to Holman that prison guards had intercepted.
"They're pissed," Bailey said. "Anything they can do to screw me up, they're doing it."
I asked him about his relationship with Robinson.
"I love Ruth," he said. "She's the greatest thing that's happened to me in 13 years. She's a great person. She's a kind person. She's an understanding person."
About his chances of exoneration, Bailey was less sanguine. He sighed. He didn't care about his case anymore, he said, and he didn't think Robinson should either. "I told her to quit. Leave it alone. Just, screw it. Because the deeper this shit gets, the more they're gonna hurt people. [But] she ain't going to. She won't listen. She's more hard-headed than I am."
About a month after that conversation, Heather Brown was released from the Whatcom County Jail in Washington, after authorities in Alabama failed to submit a timely extradition warrant requesting her return to Dothan.
I've been unable to reach Brown since her release from jail, and her siblings haven't told me definitively whether she plans to stay on the run or return to Alabama to face her charges and possibly testify on her ex-boyfriend's behalf.
The district attorney in Dothan declined to respond to questions about Brown's release or provide an explanation as to why a fugitive wanted for trafficking in methamphetamine had been allowed to go free.
In a recent court filing, the state reaffirmed its opposition to granting James Bailey a new trial, arguing that his petition for post-conviction relief was "meritless" and "predicated on possible criminal activity."
As of this writing, Ruth Robinson remains James Bailey's lawyer. She still believes that he will be released from prison.
Correction, Feb. 7, 2017: This article originally mischaracterized a line of testimony that Hendrickson gave about his employment history. He denied having been terminated from the sheriff's office in Henry County, not Houston County. "The new sheriff came into office and elected not to reinstate me. It does not fall under a termination," Hendrickson said, in reference to his departure from the Henry County Sheriff's Office. (Return.) Due to a production error, a caption in this article also originally misstated when the Dothan Eagle newspaper clipping announcing that a body was found was published. It was from March 14, 2004, not March 14, 2014.