The Supreme Court Shortlist
The views of the likely candidates.
Justice Sandra Day O'Connor announced Friday that she is stepping down from the Supreme Court. In anticipation of resignations—Chief Justice William Rehnquist's had been thought most likely—the Bush administration has floated several names for possible nominees. What views have the president's shortlisters expressed, on and off the bench? In order of our best guess as to the likelihood that they'll be chosen, here's a guide to the prospective nominees' records.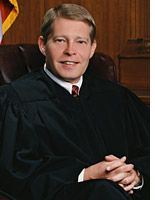 Advertisement

Age: 51 Graduated from: University of Virginia School of Law. He clerked for: then Judge Antonin Scalia, Chief Justice Warren Burger. He used to be: White House assistant counsel for Ronald Reagan and in the Justice Department during the administration of George H.W. Bush. He's now: a judge on the U.S. Court of Appeals for the 4th Circuit (appointed 1991).
His confirmation battle: Luttig is often cast as a mini-Scalia. The characterization fits him well. In his judicial opinions, he sometimes rejects the statesman model in favor of cutting sarcasm and has shown a tendency to adhere to his own restrained method of judging even on the rare occasions when it leads him to unpopular or anti-conservative positions. Fairly or not, Luttig watchers invariably speculate as to whether a personal tragedy in his past—the murder of his father in a carjacking in 1994—has influenced his approach to criminal law.
Civil Rights and Liberties
Voted unsuccessfully for the full 4th Circuit to rehear the case of Yaser Esam Hamdi, an American citizen captured in Afghanistan and held as an enemy combatant in the United States. The panel opinion (written by J. Harvie Wilkinson III) denied Hamdi's claims by deferring to the power of the president, while at the same time preserving a limited role for judicial review. Luttig charged Wilkinson both with going too far and not far enough. In Luttig's view, his approach to the case failed to acknowledge that Hamdi was denied "meaningful judicial review" and failed to defend the full authority of the president. (Hamdi v. Rumsfeld, 2003) 
Writing for the 4th Circuit as a whole, struck down certain aspects of the Violence Against Women Act, a far-reaching statute that allowed victims of gender-motivated violence to bring claims in federal court. Luttig argued that Congress could not authorize suits for damages against states through its power to regulate interstate commerce. The Supreme Court later endorsed Luttig's basic conclusions by a 5-4 vote. (Brzonkala v. Virginia Polytechnic Institute and State University, 1999)
Separation of Church and State
Voted unsuccessfully (along with Wilkinson) to reconsider a case in which a three-judge panel found that a superintendent at the Virginia Military Institute who required cadets to say a prayer before eating supper in the mess hall possibly violated the First Amendment principle of separation of church and state. (Mellen v. Bunting, 2003)
Environmental Protection and Property Rights
Dissented from an opinion (by Wilkinson) upholding various Fish and Wildlife Service regulations promulgated under the Endangered Species Act. In Luttig's view, the regulations overstepped the federal government's role because they reached only a small number of wolves with no discernable connection to any economic activity. Luttig took issue with Wilkinson for calling the pro-states'-rights decisions of the Rehnquist Court' "judicial activism." (Gibbs v. Babbitt, 2000)
Criminal Law
Failed to convince the 4th Circuit to rehear a decision that granted immunity to police officers who handcuffed a man to a metal pole in a shopping-center parking lot in the middle of the night. Luttig said the officers' actions were plainly unconstitutional. (Robles v. Prince George's County, 2002)
Abortion
Voted to deny rehearing in a case about South Carolina's decision to offer "choose life" license plates. Luttig's vote helped to uphold a ruling that the license-plate program violated the First Amendment because it did not offer pro-choice advocates a similar opportunity to make license plates that asserted their views. (Planned Parenthood of S.C. Inc. v. Rose, 2004)
TODAY IN SLATE
Technocracy
Forget Oculus Rift
This $25 cardboard box turns your phone into an incredibly fun virtual reality experience.