Joe Eszterhas
How did a B-movie screenwriter become an A-list celebrity?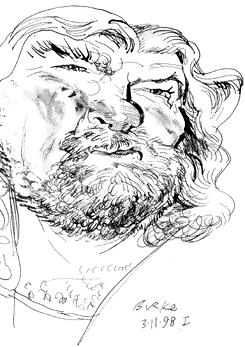 There is a mysterious disconnect between Eszterhas' self-image and his work. Eszterhas is a self-promoter but not a cynic. He honestly believes himself Hollywood's bravest outsider, and he has written passionately about the need for screenwriters to stand up for artistic integrity. He also honestly believes in his scripts. One of the most endearing qualities of B-movie makers such as Roger Corman is their self-consciousness, their recognition that they're making crass, but fun, junk. That's absent in Eszterhas: He's an Ed Wood for the '90s. Eszterhas is "delusional in the sense that he believes that everything he touches is serious," says film critic and historian David Thomson. In the publicity leading up to the release of Showgirls, Eszterhas gave interview after interview about the importance of the movie, of its deep moral message, its serious purpose. He even called it--this T & A sleazefest about a Vegas stripper--"a deeply religious experience."
Eszterhas is reminiscent of Playboy's Hugh Hefner: They share the same exaggerated sense of importance, the same pontificating humorlessness about their ridiculous jobs. Hefner published pictures of naked women and believed himself a radical. Eszterhas writes movies about naked women and believes himself an artist. (No surprise that Playboy's April issue publishes a long interview with Eszterhas.)
Eszterhas' career did not have to be this way. He's capable of much more than he usually gives. In 1990, he wrote TheMusic Box, a movie about an American lawyer who defends her Hungarian immigrant father when he is accused of Nazi war crimes. It is a beautiful, sad little movie about betrayal. It was glowingly reviewed. But the actors and the movie drew most of the publicity. Eszterhas didn't.
This is Eszterhas' tragedy and the dark side of his celebrity. When he writes sensationalist schlock, he gets the attention he craves. When he writes moving, interesting drama, he doesn't. So schlock it will be.