The Rosslyn Code
The real mystery lurking in the chapel where Dan Brown set The Da Vinci Code.
This series is now available as an e-book for your Kindle.  Download it today.
Mitchell, a former cryptographer with the Royal Air Force, first stumbled upon the chapel nearly 40 years ago, when it was largely unknown and in disrepair. He would return to Rosslyn with increasing frequency over the years, always drawn to the cubes and their mysterious symbols. While there was no obvious order to the sequence of the cubes, Mitchell noticed that, as on a strand of DNA, little patterns would repeat. The same sequence of three symbols appears at the base of two of the arches, for instance, and one arch contains long stretches in which just one symbol is repeated.
Mitchell is certain this is no accident. The symbols, he believes, form a 500-year-old code bequeathed by the chapel's founders. And the angels are the key to deciphering it.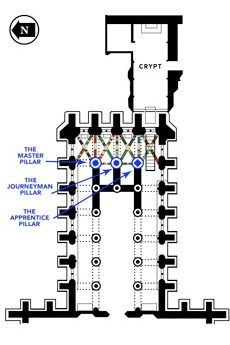 The east end of Rosslyn Chapel (on the left) sits under 13 crisscrossing arches, each of which is studded with 17 or 18 small stone cubes. The 213 cubes bear 12 distinct patterns (below) that repeat in irregular sequences. Each color in the interactive diagram of the arches (bottom) represents one of the 12 patterns. Click and hold the mouse over a square to see a photo of the cube in question.