Cynthia Cotts and Dan Kennedy
It's morning in America, Cynthia--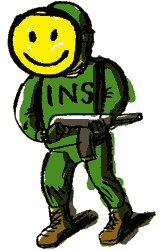 And Laurence Tribe gets it, even if his fellow writers on today's New York Times Op-Ed page do not. The Harvard Law School professor is able to hold two contradictory ideas simultaneously: that Elián González should have been reunited with his father; and that Janet Reno and her thugs "violated a basic principle of our society" by storming the Miami relatives' home without even so much as a court order. (Tribe neatly dispenses with the meaningless search warrant the government had obtained, noting that such a document applies to the seizure of evidence, not a child.) By contrast, Tom ("Reno for President"?) Friedman and Garry Wills abandon their senses by hailing Reno's dangerous and entirely unnecessary paramilitary invasion.
But yes, as you suggest, let's open this discussion up. I'm not sure why, but you seem to think I'm unaware of, or insensitive to, the Clinton administration's lack of respect for the Fourth Amendment. I guess I hadn't thought about it initially in the Elián case, since it doesn't involve the Justice Department's usual modus operandi: prosecutorial misconduct and overkill aimed at imprisoning innocent or marginally criminal people. I will confess to having followed the Monica Lewinsky affair with unseemly joy. And though of course I'm not going to deny that a scandal involving oral sex, pizza, and a Southern congressman named Sonny is inherently entertaining, I was equally (well, almost equally) amused by the squealing of Clinton's lawyers over prosecutorial tactics that had been standard operating procedure for years. Squeezing Lewinsky's mother. Imprisoning Susan McDougal because she wouldn't sing the song Ken Starr's goons wanted to hear. Setting up a perjury trap for Clinton himself. Yes, it would have been ridiculous to bring down the Clinton presidency over lies about blow jobs, but it would have been no more ridiculous than what happens to ordinary citizens every day.
As you point out, Cynthia, the erosion of Fourth Amendment rights is intimately tied to our absurd "war on drugs." So let me plug a project by a mutual acquaintance of ours, my former Boston Phoenix colleague Al Giordano. Al has started an online newsletter called the Narco News Bulletin. Drawing in large part on the Mexican press, Al will focus on narco-politics in Latin America and on the United States' role in nurturing and perpetuating policies that are killing people on both sides of the border. You wrote a nice column recently when Al was squiring around Mario Menendez, the courageous editor and publisher of Por Esto! It's good to see Al back in circulation, and I wish him well.
I was fascinated by a couple of sentences at the end of today's New York Times story on what motivated Justice's desire for a two-for-one split of Microsoft. According to the Times, government negotiators hardened their position after Bill Gates' consigliere, Steve Ballmer, gave an interview to WashingtonPost.com last week. I looked up the story. And it is remarkable how arrogant and clueless (and dorky!) the Microsofties remain, even after getting their asses handed to them by Judge Jackson. "I do not know that we broke the law in any way, shape, or form," Ballmer was quoted as saying. "I feel deeply that we behaved in every instance with super integrity. I'm not saying we don't talk tough, that people don't get a little 'grrrr' in their e-mail and all that."
Illustration by Robert Neubecker.