Toy With Me
Want to get a jump on holiday shopping? Here's where to start.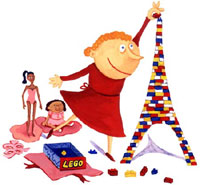 How on-the-ball are you about holiday gifts? Are you one of those hyperorganized people who goes right out and buys next-year's Christmas cards on Dec. 26? Well, then you might want to get started holiday toy shopping for your children early. Like now.
Why so soon? Well, to get it over with. And besides, pouring money into our shell-shocked economy could potentially produce the same result we get when we feed our kids ice cream before bedtime—an upsurge in activity with no sign of a slowdown.
Some toy stores have not yet opened their secret coffers to reveal this winter's toy crazes. But hip and entertaining toys there are aplenty out there already, so why not get your shopping done early and then sit around drinking eggnog lattes later while all your friends are pulling their hair out and wondering if razor scooters are hopelessly passé and which is the right Barbie?
To make shopping easier for you, we broke the ginormous category of "toys" down into five Duplo-simple blocks: infant and toddler toys; dolls and action figures; stuffed toys; electronic games; and miscellany.
Infant and toddler toys: Babies are wonderfully predictable. The same things we played with and loved when we were drooling and pooping in our pants are just as popular with our crawling and waddling progeny today. Babies like colors and buttons and lights, so get anything that has these features and you will pretty much be in like Flynt. Fisher-Price stuff always charms, and they offer an endless variety of playthings; from the stackable doughnuts (if you don't have these, by some freakish accident, get them) to this Sparkling Symphony selection. Playing-grown-up toys like toy phones and lawn mowers enjoy a limitless popularity.
Also big this holiday season will be electronic music toys like Music Blocks, which uses plastic removable sound cards that allow youngsters to rearrange melodies by Bach, Mozart, and others ($75). This is a sure bet (a hipster dad I know swears by the one they got for their daughter). If you have a nostalgic turn, equip your mobile tyke with the timeless Radio Flyer tricycle ($49.99) or their de rigueur red wagon ($89.99). And you'll be pleased to know that See 'n Say's Barnyard Bring-Along is still educating little folks in how to moo and baa for a mere $10.99.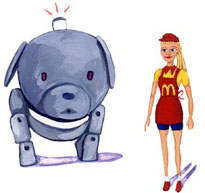 Dolls and action figures: You can buy Barbie dolls in a staggering array of incarnations. Barbie can do anything. She is a dentist, safari photographer, gymnast, fashion designer, and star ballerina in The Nutcracker. There even exists a Barbie who pops out of a giant cake. ("Bachelor-party Barbie"? Not even going there.)
African-American, Latina, and So-Cal blond 'n' bronzed, Barbie comes from every country on earth—she has mutated so many times, she is all but unrecognizable. Recently Barbie, already flawlessly lovely, has become … younger. A line of dolls called Generation Girls features Barbie-sized teens living hip "realistic" lives. We have Mari, a goofy techno-geek; the Diana-Ross-as-Mahogany-esque Nichelle; and even a rocker dude, Blaine, who has his own badass guitar and DJ turntable. For those seeking something more pedestrian, you can buy the McDonald's employee Barbie. Cheering fact: The Mickey-D uniform looks as bad on her as it does on everyone else.
Barbie prices are all over the map: Wal-Mart features selected Barbies for about $14; but some of the deluxe models can cost $100 plus no matter where you buy them (one 5-year-old friend of mine was intensely distressed when Mom said that the ravishing, $300 Bob Mackie-designed mermaid Barbie was simply out of the question). My choice would be the Fashion Model Barbie (around $40 for the pared-down, underwear-clad-only version) with her retro 1950s sidelong glance; she is the most stylish and the most versatile.
Virtually every kids-themed or fantasy movie now boasts its own line of action figures—last year we saw X-Men and Austin Powers dolls—and this year will be no different. It's a safe bet that the Harry Potter figures will be hot this season. You can get doll versions of most of the books' characters, and Mattel has had the good sense to make them small and reasonably inexpensive. (Gund makes more costly, larger, slightly softer figures with more detail for $28.) Also in evidence are Sully and Mike figures from Monsters, Inc.; these cuddly guys talk in John Goodman and Billy Crystal's voices, but are they worth $89.99? The movie isn't even out yet!
Stuffed toys: Most kids possess tons of stuffed toys, but do they ever really play with them? Howsoever it be, there is no shortage of plush animals out there.
Elmo was the sine qua non for the holidays a few years back, and he's still going strong: Tickle Me Elmo Surprise is ticklish in more places now, and he spouts a number of cheerful remarks (when you squeeze his paw—or whatever it is—he bursts forth with a stream of jolly but shrill phrases: "Elmo not very ticklish there!"). His "most ticklish place" is designed to change, keeping little kids guessing. When they get it right, Elmo erupts into spasms of delight.
There is also the more pricey Sing 'n Strum Barney ($39.99). My thoughts? Save your money and buy your kid some sneakers instead. She may not thank you for it now, but your household will be much happier. It is the most annoying thing on God's green earth.
For the slightly older child, there's a selection of Pokémon stuffed toys  so menacing as to make one wonder what kind of kid would request, let alone cuddle, them ($5.99 apiece). Ditto the more deluxe Furbys ($29.99).
FAO Schwarz has a line of exclusive stuffed toys, many of them charming. These Gund bears are my faves. They are soft and comforting, plus they appear to be smirking.
Electric and video games: It's hard for someone my age to get a handle on which of these games is hip. I had to get help from canny experts: my 12-year-old nephew, Noah, and his tres-cool buddies Logan and Conor. They told me (in laconic preteen tones) that StarCraft by Blizzard was happening. Bike and skateboard games, like Dave Mirra Freestyle ($49.99), were accorded elaborately blasé kudos, as were John Madden Football games by Electronic Arts, GameBoy Advance (around $150), Nintendo's GameCube ($399), and Xbox ($299).
Miscellany: Probably the most enduring toy fun can be had with LEGOs. I have watched 16-year-olds make fantastically sophisticated contraptions using the little plastic brainchildren of Danish toy designer Ole Kirk Christiansen. A basic set of 1,200 pieces costs $26. For younger kids, Duplo starter sets run only $20. LEGOs now has Harry Potter ensembles costing as little as $6.99. You cannot lose if you buy LEGOs.
Back to Basics Toys features a mouthwatering choice of games and toys that are such classics, chances are both you and your parents enjoyed them as small people. A prime example: wooden block sets with pillars, arches, and columns (a complete 102-piece set going for around $300. Yikes! Did Mom and Dad shell out that kind of dough for us?).
The same company offers the old spring rocking horse ($96.99), BRIO's marble labyrinth game ($64.99—remember trying to get the marble through the tipping maze?); Magic 8 Balls ($7.99); Slinky (also $7.99); as well as an impressive group of scooters, wind-surf scooters, and gas-powered scooters (much pricier; the gas one costs $799, the TerraSailor windsurf scooter is a jaw-dropping $1,199.99). I have it on good authority (Noah, Logan, and Conor) that Rupp minibikes are all the rage—cute-as-hell little scooters, they are also favored by portly Shriners on parade. (These are hard to find online; check out eBay or minibike clubs like this one for more info.)
Other good bets include remote-control cars (like the super-sized R/C Volkswagen Beetle for $149.99), Foosball ($229.99), pogo sticks ($27.99), adjustable stilts ($56.99), and dollhouses (most of the Back to Basics sets cost around $200 apiece). Bright-yellow Tonka dump trucks cost $45. If you love bumpin' little rides, don't forget Hot Wheels; you can stocking-stuff a HW gift pack with five bitchin' cars for just $8.99. I say, go for these: Everyone loves Hot Wheels.
If you're thinking that those Aibo robotic dogs from last year have to be cheaper this season, you're right, but they still cost a paralyzing $1,500. If your tots simply must have a robot animal in 2001, try the less expensive Otto Bot or Dino-Chi ($34.99 or $29.99 at FAO).
So, grab your checkbooks and go get toyed up. You'll be glad you avoided the crowds and still scored some awesome treasures for your beloved spawn. Then relax and let the holidays roll on.