Which Reader Has the Best Assignment for Slate?
Vote among seven great ideas we received from readers—and we'll do whichever one wins.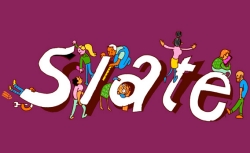 Voting is now closed.
Reader Ideas
Vote for the best!
We asked—and you answered. Slate readers sent in hundreds of assignments for us, ranging from broad editorial directives ("More podcasts") to inspired but practically challenging concepts ("I'd like to see David Plotz and Hanna Rosin participate in a wife-carrying competition") to brief yet specific topics ("environmental impact of pet cats"). Some people suggested stories we've already written (examine Etsy's manufacturing potential, explain the doctor shortage), but overall, we were blown away by your creativity. Here are the seven best assignments we received from readers. Vote for your favorite, and we promise to do it.
Which Reader Assignment Should We Carry Out?
See how readers put these story ideas in their own words:
"In the election, we always hear about voter demographics. Which presidential nominee will get the black vote, women's vote, Hispanic vote, etc. However, I never hear about the Asian vote. Does an 'Asian' vote exist, and if not, why doesn't it?"

"Make Farhad Manjoo review the most nontech gadgets you can think of—turn-of-the-century butter churns, cotton gins, trebuchets, etc!"
"I think there should be a thought leadership piece on scaffolding written by Seth Stevenson. Scaffolding is everywhere, and while it occasionally seems to be serving a purpose, it usually ends up staying in place for months, even years, after the project is over. It's ugly, dangerous, creates dark and dangerous blocks. How can we end the scourge of scaffolding? Is its ever-presence a mafia conspiracy? I hate scaffolding!!!"
"Dana Stevens should write a 'Completist' piece about Robert Altman."
"Troy Patterson should try all of the cheapest beers (Natty Light, Milwaukee's Best) etc and compare and rank them."
"I want Matt Yglesias to figure out why the heck hotel rooms cost so freaking much. E.g., the cheapest hotel room in my city's downtown is $90/night, while apartments run about $700-1000/month—closer to $30/night. The notion that big hotels have enough overhead for a threefold cost difference just feels downright wrong, especially when they're supposed to be benefiting from economies of scale."
"Why is having short hair masculine and having long hair feminine? A historical or then-and-now look at this would be interesting. As the short-haired mom of a 4-year-old girl, I see salon struggles in our future. I hated having short hair as a kid but now love it for myself and for my daughter."
This poll will close at 6 p.m. on Wednesday, Nov. 14.