It's Your Turn To Edit Slate
Give us your best ideas for the Slate Reader Takeover.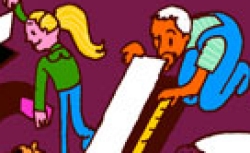 If there's one thing we know about Slate readers, it's that you're an opinionated bunch. In emails, tweets, and comments, you're never shy about telling us how you think Slate should be run. Well, now's your chance: During the Slate Reader Takeover, which will run for the next several weeks, you'll be able to dole out assignments to your favorite Slate writers—helping Brian Palmer pick the day's "Explainer" topic, for example, or telling Dana Stevens what movie to review.
To start, though, we want your best ideas for Slate stories. What ad should Seth Stevenson write about? Which Senate race should John Dickerson weigh in on? What crazy social experiment should David Plotz and Hanna Rosin try to replicate next? We're counting on you to dream up great assignments for our writers to tackle, to point out the subjects we aren't covering but should.

From now through Oct. 17, give us your best assignments in 150 words or less. (If you want to be credited with your idea, include your name.) After the submission period ends, we'll have readers vote for their favorite—and then we'll execute it.
This session is now closed.

Welcome, reader overlords! This month, it's your turn to edit Slate. In the box below, please send us an idea for a story you'd like to see Slate tackle. The more specific the better—if you've got an idea for Emily Bazelon or Emily Yoffe, we'd love to know what writer you have in mind. Submit as many as you like. We'll accept your ideas until Wednesday Oct. 17, then let readers vote for their favorite—and we'll execute it.
Submit Your Idea