The Beauty of the Airline Baggage Tag
It's a masterpiece of design.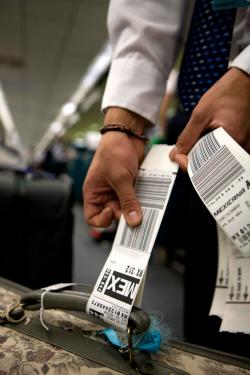 Bag tags must meet another set of contradictory requirements. They must be easy to attach, but impossible to detach—until, that is, the bag arrives safely at its destination and the traveler wants to detach it. Old tags were fastened with a string through a hole, but mechanized baggage systems eat these for breakfast. The current loop tag, a standardized strip of pressure-sensitive adhesive, looped through a handle and pressed to form an adhesive-to-adhesive bond, debuted with the ABT in the early '90s. And the ABT, unlike string tags and earlier loop-y tag ideas, is easily attached to items that lack handles—boxes, say. Simply remove the entire adhesive backing and the loop tag becomes a very sticky sticker.
The simple genius of the looped tag alone explains why so few bags get lost. On a string-tied tag, according to a spokesperson for Intermec, a tag and printer manufacturer, "the primary stress is applied to a very small section of the tag. With looped tags, force is distributed over the entire width of the tag." Of the few bags that are lost these days, only 3 percent involve "tag-offs," the industry term for a detached tag. It almost never happens. Thank you,oh looped tag.
Of course while tags must remain rigorously attached, they must also be easy for passengers to remove. Intermec's spokesperson raves about the adhesive's "excellent flow properties"—in layman's terms, simply grab the loop from the inside, with two hands, and gently pull apart to remove the tag. A couple of other clever innovations: Like the tags themselves, the adhesive must be all-weather. Early adhesives couldn't cope with extreme cold, so snowy tarmacs would end up littered with detached tags (and lost bags). Also, passengers don't want sticky residue left on their bag's handles—so the adhesive's backing is designed to stay in place on the inside of the loop.
Finally, let's look at what's on the tag itself. In the old days, tags were blank and would be filled in by hand, according to a spokesperson for SITA, an aviation technology group. Later on tags preprinted with the destination were introduced, eventually bearing the three-letter airport codes we know and love today (and some we no longer know—such as IDL, for Idlewild, the previous name for New York's JFK Airport). As airline operations became more complex, elaborate color schemes were designed to help handlers quickly identify where a bag was bound.
But preprinted tags, manually read by baggage handlers, couldn't cope with the world's ever-growing volume of passengers and bags, let alone the increase in connecting flights with ever-shorter connecting times at ever-bigger and busier airports. The solution was the ABT's combination of two features: custom printing and a bar code.
Just as you can track, step-by-step, a package you've sent by FedEx, airlines use bar-coded tags to sort and track bags automatically, through the airport, and across the world. That's a huge change from the old days, when bags were dropped into the "black box" of a manually sorted baggage system. But crucially, an ABT doesn't just contain a bar code—it's also custom-printed with your name, flight details, and destination. That made the global implementation of ABTs much easier, because early-adopters could introduce them long before every airport was ready—a huge advantage when it comes to seamlessly connecting the world's least and most advanced airports. And of course, ABTs can still be read manually when systems break down.
While bar codes have changed many industries, aviation has made special use of them. For example, bar codes reduce delays by computerizing the task of ensuring that every bag that's loaded on a plane is matched to a passenger who's actually boarded—an important security measure. And rough-and-tumble baggage systems present a much more challenging and three-dimensional environment than, say, a supermarket checkout. So note how the ABT's bar code makes two appearances on the tag, offset by 90 degrees. It's a small tweak that greatly improves readability by automatic and hand-held scanners.
Note, too, the small extra labels that each bear a copy of the bar code. Technically known as bingo tags, removable stubs, or stubbies, these were originally detached to help airlines track which bags were loaded. These days they're often placed on your bag as another safeguard against a detached tag. (Ironically, stubbies from your previous flight can confuse airport scanners on your next flight—be sure to remove them after each trip.)
What's next for bag tags? RFID tagging, which allows bags to be identified wirelessly: Think electronic toll collection on highways. Hong Kong, an early adopter, deployed RFID tags airport-wide in 2008. Until most airports can handle RFID tags, however, RFID tags can't replace today's standard bag tags. An early work-around was to add an extra RFID sticker to bags; now, the RFID tag can be embedded in the standard ABT loop tag. Other bag tag developments include self-tagging at the airport, as well as home-printed bag tags. But home-tagging passengers have to fold the tag into a plastic display case—hardly a high-tech solution.
In the very long term, perhaps the answer is the permanent bag tag—a durable, RFID-equipped tag that's yours to keep and attach to whatever bag you'd like to check in. Launched in Australia in 2010 for certain domestic flights, permanent tags make checking in a bag nearly painless. But these permanent tags can't go global until everyone's ready to use them. And there's no manual backup.
Permanent tags may offer one unexpected and welcome advantage. Melissa Keiser, the Smithsonian's archivist, laments that by the 1950s, practical concerns eliminated the last vestiges of beauty from luggage tags. But with permanent tags, the RFID mechanism is hidden inside, and there's no need for any data or machine-readable codes to appear on the tag itself. If permanent tags ever do go global, then in one sense they'll be a return to the golden age of travel: There'll be no excuse for them to not look good.