The Simple, Humble, Surprisingly Sexy Button
A visual history.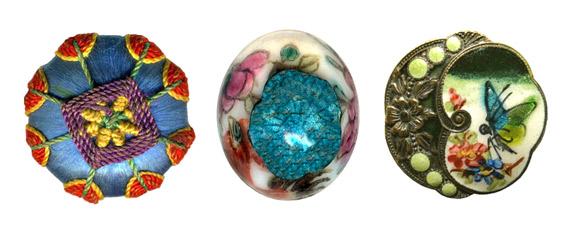 The button—with its self-contained roundness and infinite variability—has a quiet perfection to it. Running a cascade of buttons through your fingers feels satisfyingly heavy, like coins or candy; their clicking whoosh and blur of colors lull you. A button packs an extraordinary amount of information about a given time and place—its provenance—onto a crowded little canvas. Children learn to button and unbutton early in life, and they keep doing it until they're dead.
Buttons may seem humble today, but they have a decidedly racy side. The history of buttons tells the story of our increasingly form-fitting clothing, with buttons hugging all the right places. Buttons loudly announce wealth, and perfecting their manufacture brought with it boatloads of cash. It's not too much of a stretch to say buttons are the id of the wardrobe, an emblem of sex and money worn directly on the body. How did the button evolve to take on these meanings?
The earliest known button, writes Ian McNeil in An Encyclopedia of the History of Technology, "was originally used more as an ornament than as a fastening, the earliest known being found at Mohenjo-daro in the Indus Valley [now Pakistan]. It is made of a curved shell and about 5000 years old." Early buttons like these usually consisted of a decorative flat face that fit into a loop. (Reinforced buttonholes weren't invented until the mid-13th century). Buttons in this period almost never appeared in straight rows, but were used singly as sartorial flourishes.
Along with brooches, buckles, and straight pins, buttons were used in ancient Rome as decorative closures for flowing garments. However, none of these options worked perfectly. Pins poked unsightly holes into precious fabrics. Supporting yards of cloth at a single point required buttons of architectural heft, made of bone, horn, bronze or wood. Some designs took the functional pressure off buttons by knotting the fabric securely into position, then topping off the look with a purely ornamental button.
(Incidentally, as a button alternative, Mycenaeans of the Roman era invented the fibula, a surprisingly modern forerunner to our safety pin. This design was lost with them until it re-emerged in mid-19th century America.)
The button became more prominent among the wealthy in the Middle Ages. "About the middle of the eleventh century," writes Carl Köhler in A History of Costume, "clothes began to be made so close-fitting that they followed the lines of the body from shoulders to hips like a glove." Buttons helped that snug fit along. This didn't mean clothes were cut more sparingly; wealthy people still liked the costly display of excess fabric. But, on both men's clothes and women's, buttons helped accentuate lovely lines, of the arm, say, or the bosom.

The first button-makers guild formed in France in 1250. Still regarded as less-than-functional jewelry, buttons were so prized that sumptuary laws restricted their use. Books, Banks, Buttons and Other Inventions from the Middle Ages by Chiara Frugoni relates how, in a period tale, a magistrate quizzed a woman overly bedecked in buttons.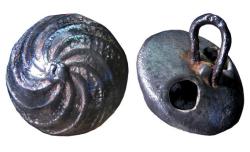 Buttons came in all shapes and sizes, but most often they were mounted on a shank; you ran thread through the shank's hole to attach the button to fabric. Unlike modern buttons with their iconic four-square holes, the shank style left the button's face totally free: a tiny blank canvas one could cover, carve, polish, or paint with luxurious abandon.
The medieval period was the era when wearing lots of buttons meant big money. Franco Jacassi, reputedly the world's biggest button-collector, describes this as a time when you could pay off a debt by plucking a precious button from your suit. Italians still describe the rooms where powerful leaders meet as stanze dei bottoni, "rooms of the buttons."
On women's clothes particularly, buttons traced the body's lines in suggestive ways, making clothes tight in all the right places or offering up intriguing points of entry. Along with ribbons, laces or bows, buttons were often used on detachable sleeves, a fad that ran from the 13th to 15th centuries. These sleeves could be easily swapped between outfits and laundered whenever they got dirty. Courtiers might accept an unbuttoned sleeve from a lady as a love token, or wave sleeves in jubilation at a jousting tourney.