Full Disclosure
I keep finding nude photos of a neighbor. How should I handle it?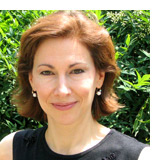 Get "Dear Prudence" delivered to your inbox each week; click here to sign up. Please send your questions for publication to prudence@slate.com. (Questions may be edited.)
Dear Prudie,
About six months ago, I was walking my dog in the neighborhood when I noticed a picture of a naked woman on the ground. It was a neighbor. A few months after that, another neighbor told me that his 12-year-old son had just found lying around on the street another picture of this woman in the buff. A few days ago, I found yet another picture. She is a married woman with two young daughters. I see her husband frequently on the commuter train to work. I have lots of questions: Why are these pictures finding their way to the streets of our neighborhood? Who is taking the pictures? Does her husband know? I don't mind seeing the occasional picture of a naked woman, but I don't want my daughters to find pictures blowing around. What should I do?
Dear Blowing,
If you discover the answers to your questions, please let me know. Since nothing on the photos says, "For a good time, call Cheryl," we can assume these aren't business flyers. Perhaps her husband gets an extremely kinky thrill by sitting on the train across from his neighbors, knowing they know how hot his wife is. Possibly someone else knows how hot she is, and a spurned lover is papering the neighborhood. But I'm afraid this is likely to end up as one of suburbia's enduring mysteries. I think, however, that the woman on display has the right to know what's floating around the neighborhood (if she doesn't already). Stick a photo in an envelope and mail it to her anonymously with a note saying that a litterbug has been leaving these around.
Dear Prudence Video: Christmas Overkill
Dear Prudence, 
I am newly married to my husband, and am also a new mom to a wonderful baby boy whom I love more than anything in the world. Things are good, except for one problem: My husband has two other children from a previous marriage, a teenage boy and a young girl. I really don't have any feelings for them and am actually resentful toward them. My husband doesn't know this. I've tolerated them in the past, and I'm able to act and stay civil because I want my husband to be happy. However, I have a very hard time even hearing their names. I dread every Christmas and summer, because that's when my husband has them. The rest of the year, they're with their mother, thank God! This feeling started when I got pregnant. Is it because of my maternal feelings toward my own child, or is it hormonal, or is it just personal? I look at my child and am glad that he's nothing like them, and I will do anything to make him not like them. In a way, they've served as a guide to what you don't want in a child. What can I do? I love my husband and my son, but hate the other two.
Dear Dreading,
And good tidings of the season to you, too. The next time they visit, you could say, "Darling Hansel and Gretel, I'm going to take you for a long drive into the forest and drop you off with a lovely woman who lives in a house made of gingerbread." Let me note that when you assert that you don't want your son to be like his sister and brother, their only offense seems to be that they exist. If your goal for motherhood is to turn your precious baby into the opposite of his siblings, then get back in touch in 15 years or so and tell me how that strategy worked out. I often wonder about the spouses in cases like this. Has your husband not picked up on the fact that your heart is a festering sore? Surely his children have; it's very hard for one person to hide that she dreads the sight of another. The one hopeful note I see is that this awfulness started with your pregnancy. Perhaps you are suffering from a hormonally based derangement. See your obstetrician right away, explain what's been going on, and ask for advice and a referral. Maybe with the proper treatment, you won't be the inspiration for a new fairy tale.