Tears for Fears
What to do when your religious child thinks you're going to hell.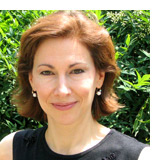 Get "Dear Prudence" delivered to your inbox each week; click here to sign up. Please send your questions for publication to prudence@slate.com. (Questions may be edited.)
Dear Prudie,
I am the father of a 13-year-old daughter whose mother has been taking her to an evangelical Christian church her whole life. I'm not a Christian and think that organized religion is harmful to her development into a rational adult. Her mother and I split up right before she was born, but I've been a very active parent and have her every other weekend. As my daughter has gotten older, she has become fearful that because I'm not a Christian, I'm going to hell. When I try to explain my beliefs (that I don't believe in God or a higher power), she cries. I'm not trying to deny her mother the right to take her to church, but I don't want to cut my two weekends a month short to take her back to her mother's to attend church. When I even try to broach the subject of religion (mentioning my belief in evolution or that homosexuals are not sinners), it upsets her greatly. This isn't what I want, but I do want to be able to communicate to her what I believe. Her mom thinks I'm denying her freedom by not taking her to church when I have her, but I'm just trying to help her to see that other people believe other things, and that having an open mind is a good thing. What should I do? And how can I talk to my daughter about this without making her cry?
Dear Rationalist,
I get a disturbing number of letters from nonreligious relatives of religiously raised children saying that the kids have been warning them of eternal damnation, and even threatening to stop seeing them, unless the relatives repent their Godless ways. Isn't it rather devilish, however, to raise children to be rude, and cruel, to loving family members? Of course you should be able to freely express your beliefs to your daughter, but your larger goal right now has to be to maintain a healthy relationship with her. At 13, she's old enough to understand the concept of "agreeing to disagree." There are many things a father and teenage girl can discuss besides religion. Certainly you don't have to hide your views about science and homosexuality, but you're only alienating her if you use your time together to give her a crash course in the Enlightenment. When these issues come up naturally, you can talk about how your views are different from hers and her mother's, but emphasize how important it is for people to be courteous to those they disagree with. Consider trying some rationalist jujitsu with her. You want to demonstrate what it means to be open-minded, so occasionally offer to take her to church.  Explain that since you know it's important to her, you respect her right to her beliefs, even if you don't share them.
Update: It is obviously the work of the devil that the letter from "Rationalist" also ran last week in Salon's advice column. You can compare the answers here.
Dear Prudence Video: The Cat Hater
Dear Prudence,
I am a 44-year-old adoptee who found her birth mother a little over a year ago. We e-mail, talk on the phone, and have visited each other's homes a couple of times. While my reunion with her was a welcome one, I still have an issue I need resolved. She was very happy to introduce me to her siblings (who were happily surprised) and best friend, but has yet to tell her children that I exist. Recently, my half sister—her daughter—was diagnosed with a brain tumor and has undergone surgery. My mother flew out to be with my half sister to help care for her and her children during the recovery. I was told that I would receive a phone call when she, my birth mother, returned home, but I haven't heard anything. I am extremely irritated about this whole situation. She also said she hadn't told my other siblings about me because they were dealing with problems of their own. While I understand my birth mother may have ambivalent feelings about telling her children about me, I really want to meet them. With the situation involving my half sister, I feel it's even more important that I meet them. Should I push the issue with my birth mother? I don't want to alienate or embarrass her, but at the same time, I feel after 44 years, what's the problem? I really want to meet them! What should I do?