We Can Dance If We Want To
Should I try to stop my children from frolicking naked with others?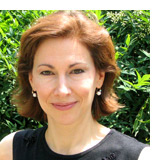 Get "Dear Prudence" delivered to your inbox each week; click here to sign up. Please send your questions for publication to prudence@slate.com. (Questions may be edited.)
Dear Prudie,
I am the mother of two girls, ages 2 and 4. I also have two nieces who are 3 and 4. They play together often and are typical, energetic little girls. I am concerned about something my 4-year-old said to me recently. We have discussed modesty and she understands that we keep our private parts covered, but I've tried not to make it an overly big deal. I recently allowed her to skinny-dip in her grandmother's swimming pool. The next day, she asked me if she could skinny-dip again with her cousins next time we're at Grammy's. Then she said she and her 4-year-old cousin like to "rub our butts together." I did see them doing this while changing clothes to go swimming. They were standing up and danced back to back and laughed. I just told them they were silly and diverted them to the pool. I asked her why she wanted to do that and she said " 'cause it's fun and it feels good." The last thing I want is to make her feel dirty or suggest that she is bad for doing this. But I don't want her to disrespect her body, either. Should I forbid this? Simply discourage it? While I was never abused, I do feel like I was sexualized much too young, and wish my mom had taught me to cherish my body. Unfortunately, she didn't, so I'm not sure how to teach my daughters this.
Dear Worried,
" 'Cause it's fun and it feels good" is such a wonderful response as to why two 4-year-old girls would like to dance naked with each other. Now that she's given you an irrefutable answer to your question, let this pair of cousins play around and skinny-dip in their grandmother's pool. Given your childhood, it's understandable you want your daughter to keep her innocence about her body longer than you kept yours. That's good, but the key for you is not to crush her natural, normal childhood sexual impulses by way of trying not to sexualize her too early. I'll re-recommend the book Everything You Never Wanted Your Kids to Know About Sex (But Were Afraid They'd Ask). It takes a relaxed, reassuring approach to the subject, which should help you be relaxed and reassuring about your daughter's body. And since the opportunity has presented itself, a word about the word butt. It's probably way too late to roll this back, but I hate that this has become the acceptable way for children to refer to their backsides. It sounds so crude coming out of those little mouths. Can't we tell them it's called a behind, a rear end, a keister, a tushie, anything but a butt?
Watch Prudence's latest video letter here.
Dear Prudence,
Over the past 20 years, I had the chance to help my mother financially with a check every month. I know that my mother was a private person and never wanted to be a burden to her eight children. A few years back, I got sick and had to leave the part-time job that allowed me to help her. I couldn't continue to send my mother money from the one job that I had. A counselor suggested that I contact my brothers and sisters to see if they could help out by sending her something each month. I wrote what I thought was a loving letter to each of them, seeking help. I told mom about this letter after it had been sent out. She was very quiet when we talked and I knew that something was wrong. This happened in November, and at the time, my mother withdrew from a lot of family activities. She didn't even attend the Christmas celebration at the clubhouse where she lived and that she had rented for all the family to gather. Shortly after New Year's, she died. Over these past three years I have been so full of guilt that sending the letter made her feel like a burden to her family, and she just gave up and died. How do I get over the guilt of this? How do I say I am sorry to my family?
Dear Sad,
You did not kill your mother. The letter had nothing to do with her death. Let's imagine another scenario—she knew she was desperately ill but she didn't want to worry her children. When you told her about the letter, she fell silent because she was moved by your concern but didn't know how to convey it and she didn't want to tell you her bad news. The obvious reason she didn't show up at the Christmas celebration was because she was dying. Have you mentioned your guilt to your siblings? I hope no one has expressed to you a belief that your letter hastened her demise. (If they have, there's a whole lot of back story here I'm not privy to.) If you haven't talked about it, at the next family gathering, explain that you've been suffering because you feel your letter upset your mother at the end of her life. If they don't reassure you that you're completely mistaken, please continue with therapy, because you've got to deal with some dark family dynamics.
Dear Prudie,
I feel like I'm one of the truly lucky ones. I'm in love with my best friend, have a great job, and amazing friends and family. I am 27, my love is 34, and he has two boys, ages 14 and 11. I don't have any children of my own, unless I'm allowed to claim his amazing boys. After his divorce, he took steps to make sure that he would have no more kids. When we started dating, he was open and honest about the situation, and I was honest with him about wanting to have a family of my own. I think walking in, neither of us expected to fall in love, but here we are. We split up for a few weeks because of the baby issue, but he came back to me, saying that he would consider having one baby with me if I would just come home. He said he will do whatever it takes to keep me in his life. So, I moved back in, he's a man of his word, and I love him. I know that he doesn't want to have another baby, but he will to keep me happy. I know that he would love that baby and be an amazing dad, just like he is with his boys. How do I decide to have a child with this man, knowing that this is not what he wants? Should I give up the dream of having my own family and enjoy what we have now?
Dear Hungry,
There seem to be some unresolved issues here. First, are you planning to get married? I know this is now commonly dismissed as a useless prerequisite to having a family, but if you do plan to have a child with this man, take that step first. And second (or maybe first), I infer that your boyfriend has had a vasectomy. This would seem to present an obstacle to your goal. Yes, vasectomies can be reversed, but this is significant surgery that does not guarantee resumption of fertility. That aside, no, I don't think you should give up your dream of having a child. That is too big a sacrifice, and you're too young to make it. Eventually your longing would damage your relationship. But you don't have to make that sacrifice, because your boyfriend has had a change of heart. Sure, it comes out of his desire to save his relationship with you, but he understands what his decision means. Since he is a loving, devoted father, if you two are able to have a child, he will end up wondering how he ever could have thought he didn't want any more.
Dear Prudie,
I am a fairly happy newlywed. The first time I met my husband, I thought he was gay. Even months into our friendship, I still thought he was. Then he asked me out and we kissed and I was convinced otherwise. Now I am constantly flooded with suspicions. It's driving me crazy. I sometimes catch him staring at a man or standing in a weird way. When we first started dating, one of his jerky friends told me that they'd had sex. I was told that was a joke. Just when I've convinced myself that I'm wrong, he goes and screams like a girl or crosses his legs or doesn't ask for sex or doesn't tell me I'm sexy or any number of things that are driving me bonkers. I've confronted him a couple times and he denies it up and down, but gets kind of defensive. I'm getting miserable.
He must be a really good kisser, because from your letter, I'm having a hard time figuring out what led to your marriage. Let's examine some of the causes of your suspicion that he's gay. Crossing of legs is inconclusive. Being told by a male friend of his that they had sex is more conclusive (even if it was dismissed as a "joke"). Given everything, it sounds as if there's a strong possibility that at the very least, your husband is bisexual. Whatever his orientation is, the basis for your marriage is rather shaky if you're constantly on the lookout for signs he's gay, and he constantly denies it to you. You two need some serious couples counseling to figure out exactly what this marriage is all about.