Smells Like Sexual Harassment
My co-worker makes comments about my scent. What should I do?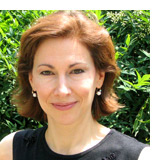 Get "Dear Prudence" delivered to your inbox each week; click here to sign up. Please send your questions for publication to prudence@slate.com. (Questions may be edited.)
Dear Prudie,
A co-worker of mine never fails to mention my perfume when he stops by my office. This would be no big deal, but I can't help being slightly skeeved out by the "I could just stand here and smell you all day," "Your smell is what gets me through the day" type commentary. Even writing that was difficult, it strikes me as so creepy! I realize that he could just be awkwardly trying to make conversation, and I can handle it if this is as far as it goes. But I don't want to look back and say to myself, "The warning signs were all there!" after something more insidious occurs.
Dear Fragrant,
I detect a top note of sexual harassment. Your co-worker's behavior stinks and you have to put an end to it. The next time Mr. Olfactory Gland stops at your door, sniffs the air like a basset hound on the scent of a rabbit, and mentions how your aroma keeps him going, look up and say coolly, "I'd appreciate it if you'd immediately stop making such personal remarks." If that doesn't shape him up, keep notes about his behavior, then go to your human resources department or his boss and explain how his comments are poisoning the atmosphere.
Watch our first Dear Prudence video.
Dear Prudence,
I've been happily married to my wife for 10 years. She is a very nice, easygoing, even-tempered lady. I know women tend to be more emotional around that time of the month, but occasionally she turns into a completely different person. I don't just mean crying or getting angry over petty things. I mean she suddenly becomes physically violent toward me, cries like someone might cry when told about a death in the family, and so on. In the past, I ignored these episodes, mostly because afterward she is apologetic and seems genuinely sorry. The last one, however, really scared me. After a normal evening together, she became moody, then suddenly burst into hysterical tears and locked herself in the bathroom. I had no idea what was going on, so I tried getting her to tell me. She kept saying she wanted "it" to go away, but wouldn't explain what "it" was. After I picked the lock, I tried comforting her, but she demanded that I leave. I eventually did. The next day, when she was better, she admitted sneaking into the kitchen and cutting herself with a knife! I really don't know what to do!! Her episodes happen infrequently, so I don't want to be an alarmist. Her family doesn't know and I don't know how to tell them without freaking everyone out. Is this normal hormonal behavior? If not, how do I tell people without them thinking she is crazy? I love my wife and know she is sane, but I'm scared that one day I won't know what is wrong and she'll do something drastic.
Dear Concerned,
You may not want to be alarmist, but I do. You have a wife who episodically becomes violent against you and herself, who is hallucinating, and who gets hysterical. She needs a medical and psychiatric evaluation right away. Once you have a better understanding of what is going on, then you can talk to her family about what you've found out. If your wife refuses to get help, then you should enlist them to convince her that she needs to seek professional care. You know you're in a serious situation when you worry that she may be on the verge of doing herself (or you) real harm.
Dear Prudie,
This is my first job out of college, and I work for a very small company. There are only two other women here, but they're the top executives. I looked up to these two women for their intelligence, ambition, and style, and felt  they thought of me as their protégée. A few days ago, I overheard them making fun of the way I dress. I dress appropriately for my business-casual office, but they made snide comments about the stores where I buy my clothes—not designer, but also not bargain basements—and how often I wear the same outfits—apparently referred to as the "10-Day Rotation." One even said, "Why can't she just buy some decent clothing?" I thought, "You hired me, you know what my salary is!" I'm disappointed that these women I admire could stoop to such junior-high levels, and angry because the men in the office could all wear the same thing every day and no one would notice, and embarrassed by my apparent lack of style. I can't sleep at night because I'm thinking about what to wear the next day, and I can barely look either of these women in the eye now. I thought about blowing a paycheck on a fantastic designer outfit, but that's not reasonable. Should I approach these women about what I heard? Any fashion tips? I do enjoy my job, but now every day is stressful.
Dear No,
Your bosses may be a couple of mean girls, but their gossiping has done you a favor. While you can dismiss how you dress as superficial, it's not superficial if it's holding you back. Instead of projecting "young executive on the way up," your business-casual look may say, "Every day feels like Friday!" Do not blow a paycheck on a single outfit that will make you feel as if you're playing dress-up with the boss's clothes. But since you are unlikely to find a fashion guru with access to free designer clothes like the one in The Devil Wears Prada, you will have to do this yourself. Start looking through fashion magazines and books to get tips on building a professional wardrobe. Come up with a budget, and see if a midrange department store offers free consultation on slowly adding better-looking pieces to your rotation. This is only the first of many bumps you'll encounter as you build your career. Don't let yourself crumble over something snide and substantively insignificant. If you truly want to be a protégée of these women, you will turn their overheard remarks to your advantage—showing just how intelligent, ambitious, and stylish you are.
Dear Prudence,
I just finished my first year at a college where overachieving, superbrilliant academic all-stars are a dime a dozen. However, because I try not to take myself too seriously, don't discuss or flaunt my academic achievements, and enjoy a strong drink and a good laugh, I've acquired a reputation as something of a silly party girl who doesn't take anything seriously. This doesn't bother me particularly; I know my intellectual muscles measure up to those of my peers, and since I got to experience what it's like to be a brainiac in high school, I don't mind sitting back and letting others take the glory. What does bother me is the tendency to make snide comments about my "flakiness." My friends' comments, usually "joking," don't make me feel inferior, but they are irritating, rude, and hurtful. I've maintained a standard of excellence in my academics and extracurricular activities, but try to let my personality speak more loudly than my résumé. How can I let my friends know that their comments are hurtful? Should I be worried about my reputation? If so, how can I repair it without coming off as a braggart or a bore?
Dear Not,
You may be at a college where everyone is jockeying to drop the most references to their grades, their internships, and their knowledge of Foucault. This is sophomoric, but as you and your classmates are about to be sophomores, it's understandable. Also sophomoric, and understandable, is that you decided to shed the good-girl brainiac personality you've had most of your life and instead become a hard-drinking party girl. However, that personality is working out poorly for both you and Lindsay Lohan. The issue for your friends, and the source of their comments and "jokes," may not be that you don't show off your intellectual accomplishments but that you spend too much time drunk. So, why don't you try this for sophomore year: Stop the excessive drinking and see what you're really like. If you can't imagine giving up the "strong drink," then you must consider whether you're developing a drinking problem. You have three more years of college, and if you spend most of them sober, your reputation will take care of itself.