Gone to the Dogs
The strange rituals—and stranger people—you find at the dog park.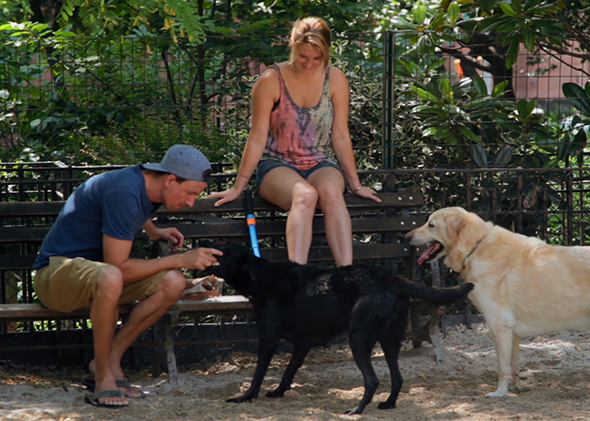 My dog is not a morning person, so he didn't immediately react when I tried to wake him up at 5:35 on a cold, gray Manhattan day. Normally the word "walk" elicits all manner of canine gesticulation (spinning, jumping, barking), but at that hour it elicited a strange and suspicious stare. "Now?" he seemed to be thinking.
I'd decided to spend a full day at the Tompkins Square Dog Run in the East Village. I was researching a book about dogs in America, for which I would soon be driving around the country with my dog, Casey, and meeting dog-obsessed Americans—including dog-wielding hitchhikers, K-9 cops, pet psychics, gay cowboys, and "Dog Whisperer" Cesar Millan.
I knew that if I wanted to understand the place of dogs in contemporary America, I had to spend some time in dog parks, where everyone knows your dog's name—and some even know yours. Dog parks are a relatively modern invention, a "kind of victory over the anonymity and transience of life," as writer Mary Battiata put it. They're a place of long-lasting friendships, longer-lasting feuds, and dog-park know-it-alls who disapprove of the job you're doing with your pet. At a dog park in Boston, where I live, the park's queen bee once asked me what I was feeding Casey.
She didn't like my answer. "Well, you can certainly feed him that if you want to kill him," she barked.
I'd come to New York City to experience the rituals and rhythms of the city's oldest dog run. The New York Times has described Tompkins Square (also called First Run) as a lively and contentious place, one brimming with dog-park politics and the kind of class-related tension that led one woman to declare that some dogs deserved to get "roughed up because they wore sweaters." Maybe I'd get lucky and see a brawl. Even if I didn't, Casey would get a full day of chasing tennis balls and humping dogs.
We got to the run a few minutes after 6 a.m. (when it officially opens), but the gates were locked. Casey sniffed a fire hydrant while I tried to figure out what to do. A few seconds later, I spotted a woman and her large dog slipping through a hole in the park's fence. "We're in!" I told Casey, who pranced along next to me, suddenly game for this early-morning adventure.
The woman was the only person in the run when we arrived. She sat on a bench in the section for large dogs, which was separated from the little-dog area by a gigantic wooden dog bone sculpture attached to a 3-foot-high fence. The woman's name was Robyn, she told me, and her dog's name was Charlie. A big, friendly black and gray Siberian husky, he'd been a gift from her ex-husband.
"We'd separated after 30 years together," she explained, "and he gave Charlie to me hoping that I would get back with him. Basically, he tried to bribe me with a dog!"
"Well, yes and no. I didn't take him back at first. But, four years later, we did get back together."
"You made him sweat it out."
"Well, you know ... " she said with a guilty smile. "Once I had Charlie, I didn't even really feel like I needed a husband. You know what I mean? Dogs can be a lot more fun than husbands. And Charlie is the most amazing gift in my life. Dogs are the most amazing gift!"
A few minutes later, a man arrived with two dogs in tow. "He's a dog walker and has been coming here longer than just about anybody else," Robyn explained as she introduced us. (He asked that I not use his name, so I'll refer to him here only as "The Man.")
"Yeah, I have no real life to speak of," The Man told me, eyeing me with suspicion. "But enough about me. Who the hell are you?"
"This guy's writing a book about dogs," Robyn explained. "He's spending all day at the run."
"All day at the run?" The Man guffawed. "Dude, you're nuts. And your poor dog! He's going to hate you by the end of the day."
We heard the clacking of the gate at the entrance to the run, where a woman in her early 40s entered with her retriever mix, a cup of coffee, and that morning's New York Times.
"This dude's writing a book," The Man told her as she plopped down next to me.
"Congratulations," she said.
"No, about this dog run," he clarified.
"Oh, well, there are plenty of crazies here. You'll have lots to write about."
The Man laughed. "There's this saying—to own a dog in Manhattan, you have to be crazy," he told me.
"Or rich," the woman said. She looked at me, then Casey. "Is this your yellow Lab?"
Casey stuck his nose in her lap, and she fawned over him for a few seconds before her dog started humping him. "He likes Casey!" The Man said. As if on cue, Casey starting humping Charlie.
I asked the morning group if any celebrities were regulars at the run. The Man proudly ticked off a dozen names, including Molly Ringwald, Parker Posey, and Josh Lucas. The woman rolled her eyes. "You're such a star-fucker," she said.
"There's a lot more," he went on, undeterred. "Elijah Wood comes here sometimes. You know, the hobbit. He has a girlfriend who lives nearby and who has three small dogs. A dog park is really a great place to meet people. We've actually had a few marriages happen between people who first met each other here."
"I try not to date where my dog shits," the woman countered, shaking her head.
The conversation turned to her love life. "I've been single for so long," she lamented. "If you're a woman and you're reasonably successful in your career, you're fucked. Men are intimidated by it."
"Any new prospects?" The Man wanted to know.
"Actually, yeah. I have a live one."
"Well, he's a former Marine, so I would imagine he's a V-8," she said. "One can hope."
The Man turned his attention to me. "So, Benoit, what's your type? You straight, bi, gay?"
I laughed. "Is this pretty typical? You ask newcomers what they're into?"
The woman patted my leg. "Of course! You're totally fresh meat."