Talking to Flannery Mullins
The first interview with one of the teens charged in connection with the death of Phoebe Prince.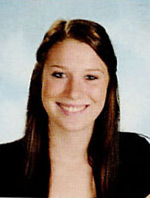 Listen to a Slate podcast with Flannery Mullins, one of the teenagers who faced felony charges based on accusations that bullying led to the suicide of Phoebe Prince. After more than a year of court proceedings—and intense media glare—Mullins, now 18, admitted to facts relating to minor misdemeanors. She received probation; when she completes it, the charges against her will be dropped and she will have a clean record. In this interview with Emily Bazelon, Flannery and her mother, Jennifer Mullins, talk about the impact the swirl of accusations and rumor has had on them. In the first part of the podcast, Emily talks to Slate producer Jesse Baker. If you've been following this story and want to go straight to the interview with Flannery and her mother, go to the 8:40 minute mark. For more background, here are links to Emily Bazelon's series on the death of Phoebe Prince and its aftermath, and on cyberbullying.