The Future of the Past
Cleansing our minds of crime and vice.
But the memory doctors of the 1990s were trying to help people. They just didn't see that they were going in the wrong direction. That's the danger of doctoring memories: The future is as cloudy as the past.

No one knows the perils of memory planting better than Loftus does. She ran the experiments. She proved the damage. She literally wrote the book.
Now she has tasted the power of memory therapy. She sees before her all the good things a memory doctor might do. She thinks she can avoid the hazards. But to see where you're going, you have to understand how you got where you are. And that's the irony of her story. To me, her experiments and papers are more than a body of work. They're the trail of bread crumbs that fell out of her pocket on her way into the forest of memory doctoring. That trail is the way in. It's the way out. And it's a warning to anyone who fears the forest.
Today, Loftus struggles with her impulses and the implications of her work. She's preparing a report on a new experiment involving U.S. military personnel in survival training. First, the trainees were brutally interrogated. Then, through bogus photographs, their memories were altered so that they could no longer identify their interrogators. The experiment is an inadvertent blueprint for getting away with war crimes. Loftus worries about who will use it. At the same time, she continues to seek evidence that people are willing to take memory-dampening drugs. The subjects in her experiments keep saying no. She keeps looking for scenarios or information that might persuade them to say yes.
In this 2009 speech, Loftus worried that military enemies would exploit her research on altering memories of interrogations

The last mystery I tried to resolve in my conversations with Loftus is a paper she published with two colleagues in 2007. It describes an experiment aimed at getting people to drink less caffeine. Imagination exercises did the job, but they also created a problem: People who imagined drinking less caffeine came to remember themselves as having consumed less in the past than they really had. This made it hard to detect real reductions. It also created a problem for health research. People with altered memories, the authors noted, would underreport their intake, thereby obscuring caffeine's effects.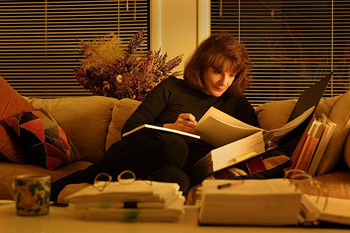 These are the same concerns Loftus had raised earlier in her career, before she took up therapeutic tampering with food memories. When I saw the 2007 paper, I thought she might be backtracking. I was mistaken. The initial experiment, it turns out, was done a dozen years ago. It's a ghost from her past. And if Loftus wrote the warning about health research, she has no memory of having done so. The bread crumb has blown away.
How does her story end? Does she go deeper into the forest? Does she come out? Does she find a safe way through it? And what about the rest of us? What is the future of our past?
None of us can say for certain. But Loftus has left us a warning:
When we have mastered the false memory recipes, we will need to worry about who controls them. What brakes should be imposed on police, lawyers, advertisers? More than ever, we'll need to constantly keep in mind that memory, like liberty, is a fragile thing.
Wise words. Let's not forget them.