A History of Heckling at the International AIDS Conference
Who showed up to and who snubbed one of the strangest but most important scientific meetings?
Posted Thursday, July 19, 2012, at 6:09 PM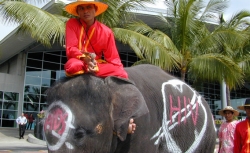 A protester and his elephant at the 2004 International AIDS Conference in Bangkok.
Photograph by Jon Cohen

The International AIDS Conference has returned to the United States for the first time in 22 years in recognition of President Obama's HIV/AIDS policies. Many world leaders have addressed the meeting in person (those in color images, below), while others have not (in black and white). Obama is not attending in person, which may be taken as a snub. Will his video address be greeted with shouts of "Shame! Shame! Shame!"?







Correction, July 20, 2012: This article originally misidentified Thaksin Shinawatra as the president of Thailand. He was the prime minister.
MYSLATE
Jon Cohen writes for Science magazine. You can reach him at jcohen1@cox.net.
Andrew Morgan is a Slate designer.