Pepper Goes to Washington
The most important animal-welfare law in America began with a stolen dog.

The beagles in the basement were kept there by the hundreds, locked in cages 2.5 feet wide and 3 feet long. In November 1959, just a month before Ruff's photo shoot, nationally syndicated journalist Ann Cottrell Free published her first account of the animal quarters at the South Building of the Department of Agriculture, where government scientists tested food dyes on animals that were deprived of exercise for years at a time. "Hundreds of dogs flung themselves against the bars of their cages, piled tier on tier," she wrote. "They were barking, screaming, whining, mute—and drooped their heads in the dark corners. Others circled ceaselessly in their cages."
The revelation that dogs—adorable beagles!—were being so cruelly mistreated just a 20-minute stroll down Independence Avenue from the Capitol Building had an immediate impact. Free distributed her articles to key members of the Senate appropriations committee, and Congress soon delivered $100,000 for new animal quarters in Beltsville, Md. During the same congressional session, Sen. John Cooper introduced the first comprehensive federal bill to protect laboratory animals.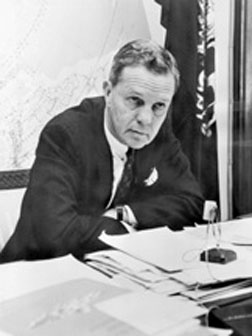 Prohibitions against cruelty to animals had been on the books of every state in the union (plus Alaska and Hawaii) since the start of World War I, but most of these were based on a New York statute from 1867, drafted by the gentleman activist and founder of the ASPCA, Henry Bergh. That law, and many of those that followed, made a point of excluding animals subject to "properly conducted scientific experiments or investigations."
Cooper's 1960 bill would have established animal-care standards for any facility receiving federal research grants. Authored by Abe Fortas (a few years before he was named to the Supreme Court), the proposal drew heavily from the United Kingdom's Cruelty to Animals Act of 1876, which required that all users of laboratory animals register with the government and make annual reports of their research. An additional certification was required for anyone who wanted to perform painful experiments and yet another for painful work with dogs or cats.
Those terms may seem rather modest by today's standards, but in 1960 they set off a long debate over the extent to which scientific progress had been retarded by the laws in Britain. Indignant testimonials from British scientists were read before Congress, and the results of British surveys were published in the New York Times. American researchers attributed their extraordinary breakthroughs in open-heart and thoracic surgery to liberal policies on the use of dogs, and the Brits countered that they had, in fact, received more Nobel Prizes for Physiology or Medicine than the Yanks, per capita.
In any case, Cooper's bill—which had the support of Christine Stevens and the Animal Welfare Institute—was ridiculed by hard-core anti-vivisectionists, who lobbied against it as "a snare, a delusion and a fraud." A more restrictive version favored by the Humane Society soon followed, along with a scaled-down bid from the American Humane Association and an NSMR-backed pitch for the upgrade of government-funded animal facilities. Laboratory-animal bills of all types would be introduced by the dozens over the next five years; newspaper endorsements piled up. While angry debates raged among the animal rights activists, not a single proposal came close to being passed.
"Passions were high," remembered Ann Cottrell Free, "because nothing was happening."

Congress had little interest, at first, in the fact that someone's dog had perished in a medical experiment. It was Pepper's 10-day ordeal in the hands of scurrilous dog dealers that had inflamed Rep. Joseph Resnick and her journey across interstate highways that inspired his "dog-napping" bill in the summer of 1965. At hearings in September, he dispelled any notion that his proposal was intended to aid the anti-vivisectionists: "This bill is concerned entirely with the theft of dogs and cats," he said, "and, to a somewhat lesser degree, the indescribably filthy conditions in which they are kept by the dealer."
Indeed, the law didn't seem to have much bearing on the issues that were most important to animal-welfare groups. It focused only on dogs and cats and gave enforcement authority to the Department of Agriculture, which had close ties to the livestock industry. Worse, it took no position on the actual practice of research—all regulation would stop at the laboratory door. For Christine Stevens and her fellow moderates, though, the pet-theft bill was a chance to move forward.
They knew Pepper's story would strike a chord with the American public. Dog ownership was on the rise through the 1960s—one study found it increased by more than one-third—and stolen purebreds had been the subject of the enormously popular 1961 Walt Disney feature, 101 Dalmatians. ( Lady and the Tramp, with its own sad portrayal of canines in captivity, was reissued in 1962.)
In a matter of weeks, eight more dog-napping bills were brought to the floor of the House, and Joe Clark—whose office took the first call on Pepper's disappearance—introduced one in the Senate. By the following spring, Resnick's bill had spawned a total of 33 others.
Stories of pet theft multiplied just as rapidly in the newspapers. After tracing Pepper to Montefiore Hospital in July, activist Fay Brisk turned her attention to a purebred, black-and-white English setter that had vanished from a farm in Boyce, Va. That dog turned up at the NIH in Bethesda and was returned to its owner in August. A few months later, Brisk found a stolen Irish setter named Reds at a hospital in New York and sent him home to a family in suburban Philadelphia. Then there was Alvin, a black cocker from New Jersey, and Peanuts, a German shepherd from Falls Church, Va.