A Death in Yellowstone
On the trail of a killer grizzly bear.
The euthanization of the bear known as "the Wapiti sow" was the culmination of a series of horrifying events that had gripped Yellowstone for months, and alarmed rangers, visitors, and the conservation biologists tasked with keeping grizzly bears safe. In separate incidents in July and August, grizzlies had killed hikers in Yellowstone, prompting a months-long investigation replete with crime scene reconstructions and DNA analysis, and a furious race to capture the prime suspect. The execution of the Wapiti sow opens a window on a special criminal justice system designed to protect endangered bears and the humans who share their land. It also demonstrates the difficulty of judging animals for crimes against us. The government bear biologists who enforce grizzly law and order grapple with the impossibility of the task every day. In the most painful cases, the people who protect these sublime, endangered animals must also put them to death.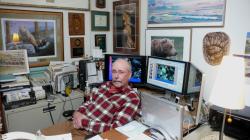 Whenever a grizzly bear commits a crime in the continental United States, Chris Servheen gets a call at his office at the University of Montana in Missoula. Servheen has been the Grizzly Bear Recovery Coordinator for the U.S. Fish and Wildlife Service for three decades, and his phone usually rings with news of mundane grizzly malfeasance: a bear breaking into garbage cans in the tiny town of Cooke City, Mont., or a grizzly being spotted getting too close to a rancher's cows somewhere in Wyoming. But a call he got late last summer was much more sinister. On Aug. 25, for the second time in two months, a grizzly bear killed a human being in Yellowstone.
It is hard to overstate how unusual this is. Servheen's bushy handlebar mustache barely twitches as he runs through Yellowstone's many hazards and explains how rare grizzly attacks are in comparison. Park visitors are more likely to die by drowning in one of Yellowstone's rushing rivers, or falling off a cliff during a hike, than they are to be slain by a grizzly. Other dangers abound: Several-hundred-degree hot springs can boil off your skin in huge sheets right before you die; bison can gore you with their blocky horns.
Though he says he was surprised and disturbed by the call on Aug. 26, Servheen's flat Western tone betrays little of that emotion. As the government's head bear manager, he must walk a fine line when he's discussing the dark side of grizzly behavior. He knows that whenever he and the other managers decide that a grizzly must die, there will be lots of opinions from both sides. Everyone wants a say, from local ranchers whose livestock gets picked off by roaming bears, to environmentalists who don't always agree with the government's conservation policies. It's to Servheen's benefit to sound as neutral as possible when talking about violent attacks.
Servheen got into grizzly management because he wanted to study bear behavior—what types of dens they use, what kinds of foods they eat, what their traveling patterns look like. But mostly he joined FWS because he wanted to repopulate the grizzly bear in the Western wilderness—a line of work he'd wanted to get into since he watched a National Geographic special as a teenager, about a pair of identical-twin bear biologists named Frank and John Craighead. In the late 1960s, after he'd moved out to Missoula from Pennsylvania for his undergraduate degree in zoology and wildlife biology, Servheen earned a Ph.D. with John Craighead as his mentor. "I ended up with a dream job," he says from behind a desk decorated with a massive grizzly skull and a glass statue of a bear. But the last few months had been more like a nightmare.
In July, Servheen had been alerted about a bear attack on a couple, Brian and Marylyn Matayoshi hiking on the Wapiti trail in Central Yellowstone. Brian had been killed. Now, Kerry Gunther was telling him about another fatality, this time on the Mary Mountain Trail, about 8 miles from the site of the first killing. Once again, it looked like a grizzly was the culprit. Servheen couldn't believe the news. Until the summer of 2011 there hadn't been a grizzly-related death in Yellowstone in 25 years.
Before Servheen, Gunther, and their bear management colleagues could decide what to do, they'd need a lot more information. Was a grizzly bear in fact responsible for this second death? If so, which bear did the mauling? And what were the circumstances that led up to attack—was it provoked or had some hiker just been caught unaware? The answers to those questions would determine whether a precious animal would need to die.
The first extensively documented death by grizzly within Yellowstone Park's borders was the fatal mauling of 61-year-old government laborer Frank Welch in 1916. And the park's first extensively documented judicial execution of a grizzly soon followed. Some historians suspect the bear that killed Welch was abnormally ill-tempered because his toes had been ripped off when he escaped from a trap in 1912. Whatever the bear's motives, though, Welch's fellow laborers decided that "Old Two Toes" deserved to die for his crimes. Men from the road camp where Welch had been working placed some edible garbage in front of a barrel filled with dynamite. When the bear began to eat, they blew it to smithereens.