Why Should Evangelical Christians Care About Climate Change?
Here are five reasons from an evangelical Christian climate scientist.
3. The Bible does not approve of letting the world burn. Hayhoe agrees with the common liberal perception that the evangelical community contains a significant proportion of apocalyptic or end-times believers—and that this belief, literally that judgment is upon us, undermines their concern about preserving the planet. But she thinks there's something very wrong with that outlook, and indeed, that the Bible itself refutes it.
"The message that, we don't care about anybody else, screw everybody, and let the world burn, that message is not a consistent message in the Bible," says Hayhoe. In particular, she thinks the apostle Paul has a pretty good answer to end-times believers in his second epistle to the Thessalonians. Hayhoe breaks Paul's message down like this: "I've heard that you've been quitting your jobs, you have been laying around and doing nothing, because you think that Christ is returning and the world is ending." But Paul serves up a rebuke. In Hayhoe's words: "Get a job, support yourself and your family, care for others—again, the poor and the vulnerable who can't care for themselves—and do what you can, essentially, to make the world a better place, because nobody knows when that's going to happen."
4. Even if you believe in a young Earth, it's still warming. One reason there's such a tension between the evangelical community and science is, well, science. Many evangelicals are young-Earth creationists, who believe that the Earth is 6,000 or so years old.
Hayhoe isn't one of those. She studied astrophysics and quasars that are quite ancient; and as she notes, believing the Earth and universe to be young creates a pretty problematic understanding of God: "Either you have to believe that God created everything looking as if it were billions of years old, or you have to believe it is billions of years old." In the former case, God would, in effect, seem to be trying to trick us.
But when it comes to talking to evangelical audiences about climate change, Hayhoe doesn't emphasize the age of the Earth, simply because, she says, there's no need. "When I talk to Christian audiences, I only show ice core data and other proxy data going back 6,000 years," says Hayhoe, "because I believe that you can make an even stronger case, for the massive way in which humans have interfered with the natural system, by only looking at a shorter period of time."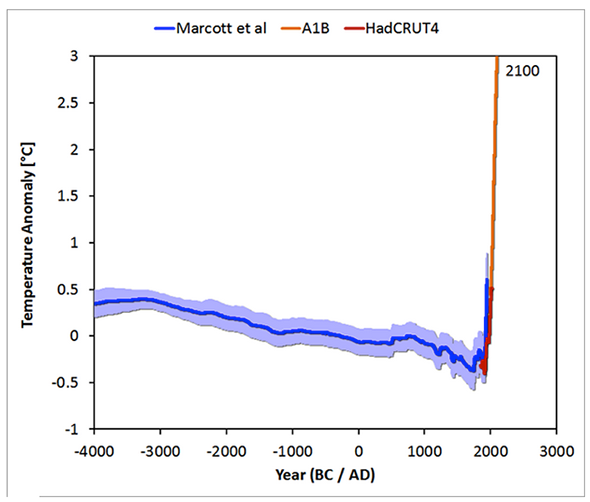 "In terms of addressing the climate issue," says Hayhoe, "we don't have time for everybody to get on the same page regarding the age of the universe."
5. "Caring for our environment is caring for people." Finally, Hayhoe thinks it is crucial to emphasize to evangelicals that saving the planet is about saving people ... not just saving animals. "I think there's this perception," says Hayhoe, "that if an environmentalist were driving down the road … and they saw a baby seal on one side and they saw a human on the other side, they would veer out of the way to avoid the baby seal and run down the human." That's why it's so important, in her mind, to emphasize how climate change affects people (a logic once again affirming the perception that the polar bear was a terrible symbol for global warming). And there's bountiful evidence of this: The just-released Intergovernmental Panel on Climate Change's "Working Group II" report on climate impacts emphasizes threats to our food supply, a risk of worsening violence in a warming world, and the potential displacement of vulnerable populations.
So is the message working? Hayhoe thinks so. After all, while only 44 percent of evangelicals may accept modern climate science today, she notes that that's considerable progress from a 2008 Pew poll, which had that number at just 34 percent. Ultimately, for Hayhoe, it comes down to this: "If you believe that God created the world, and basically gave it to humans as this incredible gift to live on, then why would you treat it like garbage? Treating the world like garbage says a lot about how you think about the person who you believe created the Earth."
To listen to the full interview with Katharine Hayhoe, you can stream below.