The New Dad Mag
Here's to the dads who never miss a playdate and always roll their jeans just so.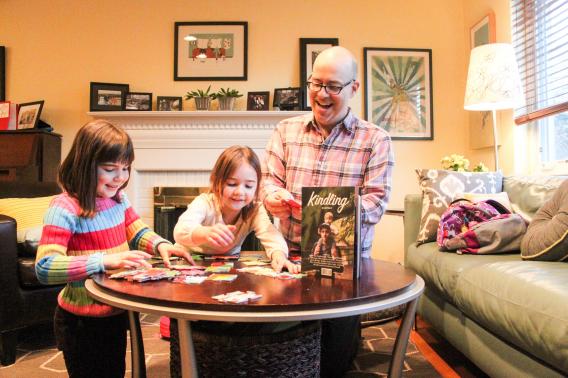 You can also listen to Dan Kois read this piece.
In the first issue of Kindling, a handsome quarterly journal about handsome dads, the editor, David Michael Perez, opens things up with an essay musing on images of fathers in American culture, and joins me and every other dad I know in bemoaning a certain archetype: the comically befuddled dad, "pushing a stroller, hapless and overwhelmed, the implication being that this is laughably unnatural."
But then, Perez notes, there exists the opposite kind of dad, an archetype so new and so far to the other end of the parenting continuum as to be unrecognizable to our forefathers:
Upwardly mobile men spend hours crafting homemade toys and costumes for their kids. These fathers take on an air of almost mystical parenting capability … Instead of being laughed at, they are dismissed as caricatures, their devotion too uncomfortable to be taken seriously.
Kindling is a magazine for those kinds of fathers, fathers like me who are sick of our devotion, our shoebox decorating, our kid-schlepping, our cookie-baking not being taken seriously. We are the kind of dads who, when we take our kids out to the park or the village square or the local haberdashery, bristle when fussed over by older ladies who coo, What a great dad you are! We are not great dads. We are just doing what we always do: parenting. I mean, yes, we are great, but all dads should be like us, so we shouldn't be viewed as great, although thank you, you're very kind. Also, we are feminists: "And of course," Perez writes in his introductory note, "the corollary injustice is that these devoted fathers are only doing what women have been doing for centuries, but without substantive praise or appreciation."
So view Kindling as a corrective to the long-standing stock image of the doltish dad, with heartfelt apologies to all the mothers and the sisters and the wives and friends. Oh, and to dads of color: "Already in this first issue there is a troubling lack of racial, cultural, economic, and sexual diversity that we strive to correct in subsequent issues," Perez notes. I want to tell him: Don't feel so bad about the only sign of a black person in your magazine being the Jay-Z quote that kicks off the issue. I believe your sincere apology! Because the editors of Kindling are extremely sincere.
The first issue's contents are somewhat uneven. (I myself was somewhat uneven in my first days of dadhood.) I really liked the interview with handsome dad Shawn James Seymour, who lives in Japan and makes music for kids and adults with his wife in a duo called Lullatone. I have already downloaded the awesome Lullatone app, which allows your child to make music quickly and easily (while wearing headphones, obviously). I am deeply in love with the furniture that handsome dad Jason Roskey makes in his Hudson, N.Y. studio, and also his daughter Beatrice is adorable. (Critics of the Times Sunday Styles section, please note this observation from Roskey: "Warren Street in Hudson is beginning to look more and more like a very toned down Bedford Avenue with a lot more antique stores.") I like that most every interview asks the handsome dad in question about how his day breaks down, childcare-wise, and I like the honesty of all the dads' answers. "She is with Cormac during the day (post school)," handsome comedy writer and Thing X creative director Joe Randazzo says of his wife. "God knows what they do!"
On the other hand, a bit in which a writer basically live-tweets a viewing of Mr. Mom is pretty disappointing, as is a "feature" about artist Dan Funderburgh in which the writer simply watches him play soccer. On the other other hand, Funderburgh is the handsomest of all the handsome dads, and the accompanying photo spread made me covet his apartment, his artwork, his rolled-up pants, his orange sweater, his New Balance shoes, his son's polka-dot coat, his LIFE Science Library DVDs, his nunchucks, and his perfect salt-and-salt-and-pepper hair. So, mission accomplished, Kindling.
These spreads of handsome dads playing with their perfect children are no more ludicrous, of course, when they star dads than they are when they star moms. Why shouldn't dads get to see photos of other dads holding their kids on a bridge near the Prospect Park Lake with beautiful autumn foliage in the background? "On him: FairEnds Camp Hat, $45. In God We Trust Bomber Coat, $560. Lotuff Leather Duffle Travel Bag, Chestnut, $1,050. On her: Manimal Fringe Baby Bootie, $60." After all these years, haven't dads earned this caption?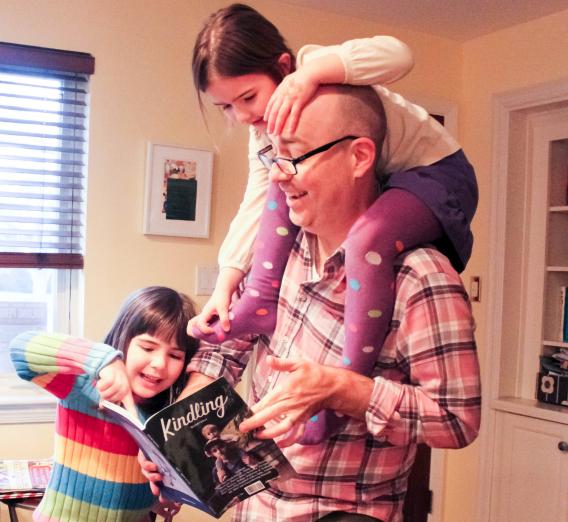 So, yes, Kindling is also a magazine for dads who can afford to buy a $560 coat, or at least who want to entertain the notion. (I do—it's a really nice coat.) In this way it is like every upscale magazine that ever existed, so I'm not going to begrudge Kindling that. I feel certain that future issues will conscientiously feature the lives of poor dads, rich dads, foreign dads, black dads, Bronx dads, non-bearded dads, gay dads, even—oh, God—ugly dads, as the mean price of bomber coats pictured in its pages rises like the sea.
The real lack of diversity in Kindling is in the troubling nonappearance of dads who sometimes don't love dadding. Perez notes the "sappy epiphanies" to which he is reduced when trying to explain dadhood: "becoming such a better version of myself, the sudden and almost total absence of selfishness, suffering what I can only describe as happiness panic attacks, etc." Elsewhere, Randazzo proclaims that parenting changed him, because "you don't know how selfish you are until you have to be selfless every single day in ways you could never predict." These quotes make me want to ply these dads with beers until they admit that sometimes their kids drive them crazy, sometimes they're panicked in a not-happy way, and often, particularly when very, very angry at their disobedient children, they are actually worse versions of themselves. I want to take them out late until they admit that some days, they feel like total frauds as dads, just like me.
But maybe this happy-dad overload is another reason to view Kindling as a step in the right direction. Moms have only very recently begun to air their bad-mommy dirty laundry, after years spent worrying about whether they can ever measure up to the oppressively beautiful, capable, effortless mothers in magazines, in movies, and on TV. With the launch of the totally enjoyable and only-sort-of laughable Kindling, it's finally dad's turn to fail.