They All Cheat
Take our "men in government who can't keep it in their pants" quiz!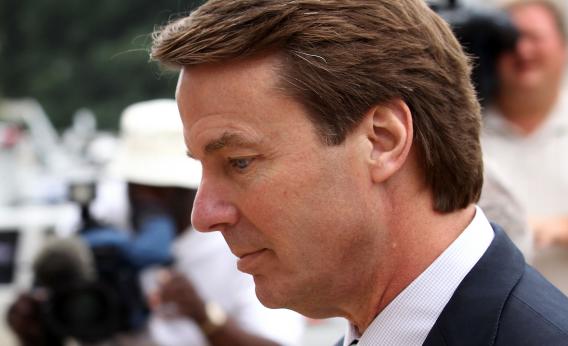 Why did David Petraeus risk everything on an affair, asked Slate's Fred Kaplan last weekend. The more pressing question, however, is: Why are we surprised? I mean, guys, where have you been these past few years/decades/always? Powerful men with a lot to lose seem to have one thing in common: They cheat. Or, as our colleague Will Saletan recently wrote in an email: "I just don't understand how anyone arguing for intelligent design against evolution explains the dick."
Here, just a small sampling of powerful men in American government whose screwing screwups have come to light in the past five years. See if you can match the man with his indiscretion — cause it's all just a game, right?
Click and drag each head to the correct indiscretion.

Round 1
Cheated on his wife while he was running for president.
What didn't the former Democratic senator, John Kerry's running mate, and two-time presidential candidate John Edwards do? He cheated on Elizabeth with campaign aide Rielle Hunter, denied the affair after being caught by the National Enquirer, fathered a child with Hunter, denied fathering that child on national television before finally admitting to it, and was indicted for violating multiple federal campaign contribution laws but not convicted. All while Elizabeth battled cancer.
Outcome: John and Elizabeth separated in 2010. She died before the divorce was finalized.
Show More
Show Less
Cheated on his wife with the wife of one of his top aides.
A Republican senator from Nevada, Ensign became the target of FBI, Federal Election Commission, and Senate investigations for allegedly using his position to help Douglas Hampton, the husband of Ensign's mistress, get a lobbying job after Hampton learned of the affair and for allegedly having his parents pay the Hamptons $96,000.
Outcome: Ensign resigned in May 2011. He and his wife Darlene are still married.
Show More
Show Less
Cheated on his wife with "D.C. Madam" prostitutes.
In 2007, the Louisiana senator's phone number was found on a client list of "D.C. Madam" Deborah Jeane Palfrey, who was under investigation at the time. Soon after, the "family values" senator held a press conference with his wife Wendy by his side, during which he apologized for his sins and said that he believed he had "received forgiveness from God."
Outcome: Vitter is still a senator and is still married. Palfrey was convicted for racketeering in 2008 and committed suicide soon after.
Show More
Show Less
Cheated on his wife with an Emperor's Club prostitute.
In 2008, the New York Times reported that Spitzer, then the Democratic governor of New York, had been frequenting an Emperors Club VIP escort service. Known as "client 9" in court documents, Spitzer became the subject of Alex Gibney's 2010 documentary, Client 9: The Rise and Fall of Eliot Spitzer.
Outcome: Spitzer resigned a week after the scandal broke, telling reporters, "I cannot allow for my private failings to disrupt the people's work." He and his wife Silda are still married. He hosts a show on Current TV and is a Slate contributor. Spitzer's escort Ashley Dupre posed for Playboy in 2010.
Show More
Show Less
Posted shirtless photos of himself to Craigslist.
Lee, a Republican congressman from New York, trolled the transgender online dating scene with an ad that read: "New to area. Very fit, classy, successful guy. 39, 6ft 190lbs, blond/blue. Smooth hard body. Looking for a sexy ts/cd that i can spoil. I promise not to disappoint."
Outcome: Hours after Gawker posted Lee's shirtless pics in 2011, he resigned, citing his "profound mistakes." As far as we know, Lee and his wife, Michelle, remain married.
Show More
Show Less
Round 2
Cheated on his wife with a newscaster.
A 2007 New Yorker profile revealed that, while spouse Corina was undergoing treatment for thyroid cancer in 1994, Villaraigosa found solace in the arms of a family friend. Then, in 2007, after resolving to rehabilitate his marriage, the mayor of Los Angeles got it on with Telemundo reporter Mirthala Salinas.
Outcome: As of 2010, Corina and Antonio are so very divorced. His mayoral term ends next year.
Show More
Show Less
Tweeted crotch shots to ladies who were not his wife.
New York Rep. Anthony Weiner sent Gennette Cordova, a 21-year-old college student from Seattle, inappropriate pictures and DMs of his man parts, but she wasn't the only one. Other victims may have included Megan Broussard, a 26-year-old single mother in Texas and two underage girls.
Outcome: Following an investigation by the House Ethics Committee and a nice try at lying, Weiner resigned from Congress in 2011. Weiner is still married to Hillary Clinton aide Huma Abedin. They recently had their first child, and Weiner returned to Twitter last week.
Show More
Show Less
Cheated on his wife with his nanny.
The former Republican governator of California is no stranger to infidelity: First he cheated on then-girlfriend Maria Shriver with the actress Brigitte Nielsen. Then, in 1996, just weeks after impregnating Shriver, he took advantage of her vacation to sleep with household staffer Mildred Baena while alone in town filming Batman and Robin. The affair, which was finally revealed in 2011, produced one child.
Outcome: Shriver filed for divorce in 2011. Arnold wrote a tell-all book and has returned to making movies.
Show More
Show Less
Cheated on his wife, who also publicly admitted to cheating on him.
One day after being sworn in as New York's governor, replacing Eliot Spitzer, who had just resigned for cheating, Paterson and his wife Michelle took the unheard of step of simply disclosing their previous extramarital affairs in a news conference. Paterson admitted to having "several," including with a state employee.
Outcome: No one really cared. Paterson kept his job, did not run again, and is now a talk-radio host. He and his wife separated in September.
Show More
Show Less
Cheated on his wife with an Argentinean lover.
The now former Republican governor of South Carolina flew to Argentina to be with Maria Belen Chapur for six days in 2009 while telling his staff that he was off "hiking the Appalachian Trail." Busted, Sanford held a gripping news conference soon after his return and admitted to being unfaithful to his wife, Jenny, but clearly lovesick for Chapur.
Outcome: Remained governor until the end of his term, but resigned as head of the Republican Governor's Association and was censured by the South Carolina House of Representatives. Jenny Sanford filed for divorce in late 2009. Mark Sanford and Chapur are now engaged to be married.
Show More
Show Less
Round 3
Cheated on his wife with his biographer.
Show More
Show Less
Cheated on wife No. 1 with wife No. 2. Cheated on wife No. 2 with wife No. 3.
It has the makings of a super depressing nursery rhyme. The former House speaker and Republican presidential candidate had an affair with Marianne Ginther while married to Jackie Battley then had an affair with Callista Bisek while married to Ginther. Gingrich finally admitted to the latter affair in 2007. We'd say that bonus points go to Newt for playing the field while Battley underwent cancer treatments, but sadly that's not a unique circumstance on this list. Newt was cheating while trying to oust Bill Clinton for doing the same. (Clinton's affair, like so, so, so many others, fall outside of the five-year restriction for this quiz.)
Outcome: Newt and Callista Gingrich are still married.
Show More
Show Less
Cheated on his wife with his chief of staff and lied under oath about it.
It may not be 20,000 pages of emails, but the former Democratic mayor of Detroit exchanged over 14,000 text messages with his married chief of staff, Christine Beatty, during their two-year affair. Some of the texts referenced a romantic relationship, while others showed the two conspiring to fire Police Deputy Chief Gary Brown. Ruh-roh. A few years earlier, Kilpatrick had also been embroiled in a scandal involving strippers and the murder of exotic dancer Tamara Greene.
Outcome: After resigning as mayor in 2008, Kilpatrick was slapped with 10 felony counts, including perjury and obstruction of justice. He pleaded guilty to reduced charges and was released from jail after 99 days for good behavior. Then, in 2010, he forgot about good behavior and was sentenced to up to five more years for violating his probation. He and his wife, Carlita, are still married.
Show More
Show Less
Charged with DUI and bailed out by his mistress.
When the former Republican congressman from New York was pulled over in 2008 for running a red light and found to have a blood alcohol level of .17, he called his mistress, retired Air Force Lt. Col. Laura Fay, for help. At the time, he and Fay had a 3-year-old daughter. He'd told Fay that he and his wife, Mary Pat, were divorced.
Outcome: Fossella chose to serve out the rest of his term after the arrest but declined to run for re-election. In 2009, he served four days in jail for the drunk driving incident. He and his wife are still married.
Show More
Show Less
You scored out of  out of 14
Rank: