DoubleX Gabfest: The Bunga Bunga Botox Edition
Listen to Slate's show about Ariel Levy's New Yorker article on Italian PM Silvio Berlusconi, Michele Bachmann and Sarah Palin's potential White House bids, and two articles on aging.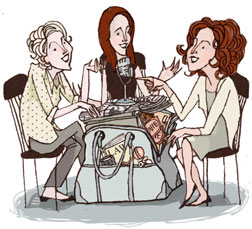 To listen to the DoubleX Gabfest, click the arrow on the player below:
The DoubleX weekly "coffee talk" endorsements:
Jessica Grose is embarrassed to be recommending makeup (especially such naughtily named makeup) but she swears that four people have called her "glowy" since she started wearing NARS' orgasm blush.
Hanna Rosin is getting into Geraldine Brooks' novel Caleb's Crossing, which is about the first Native American graduate of Harvard.
Here are some links to other things we discussed this week: