DoubleX Gabfest: The Three Balls Edition
Listen to Slate's show about the federal budget and Planned Parenthood, tycoon Lynn Tilton and women in business, and the movie Hanna.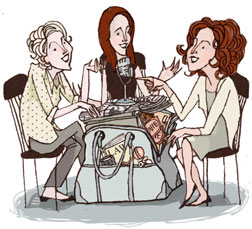 To listen to the DoubleX Gabfest, click the arrow on the player below.
The DoubleX weekly "coffee talk" endorsements:
Nina Shen Rastogi recommends the EP Valusia by the nu-goth artist Zola Jesus. She says it is the perfect music to listen to while walking around the city late at night in the mist.
Hanna Rosin was blown away by Synetic Theater's adaptation of King Lear, in which the classic Shakespeare play is performed without words. The theater's website describes it as "packed with apocalyptic visuals, farce, knife-play and acrobatics." Knife-play!
Jessica Grose enjoyed Siri Hustvedt's novel The Summer Without Men, about a middle-aged poet who has a psychotic break after her husband cheats on her, and decides to spend a summer in her small Minnesota hometown. It's a great beach read—slight in length but not in spirit.
Here are some links to other things we discussed this week: