DoubleX Gabfest: The Winning the Future Edition
Our editors discuss Charlie Sheen and domestic violence, a new sex survey showing more young adults are abstinent, and Callista Gingrich.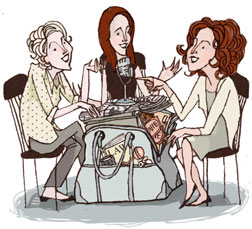 To listen to the DoubleX Gabfest, click the arrow on the player below.
In this week's gabfest, DoubleX founding editor Hanna Rosin, managing editor Jessica Grose, and editor Nina Rastogi discuss Charlie Sheen's history of domestic violence, a new sex survey from the National Survey of Family Growth showing a rise in abstinence among young adults, and the sudden prominence of Callista Gingrich, the third wife of Newt Gingrich.
The DoubleX weekly "coffee talk" endorsements:
Hanna Rosin endorses Karen Russell's fantastic debut novel Swamplandia!, which takes place at a downtrodden tourist attraction in Florida. It is also the Slate Audio Book Club pick for the month of March (look out for the podcast on Monday, March 28).
Jessica Grose is gaga for "Glass Tambourine," a new song from the lady super-group Wild Flag. Wild Flag includes former Helium front woman Mary Timony, along with ex-Sleater-Kinney members Carrie Brownstein and Janet Weiss.
Here are some links to things we discussed this week: